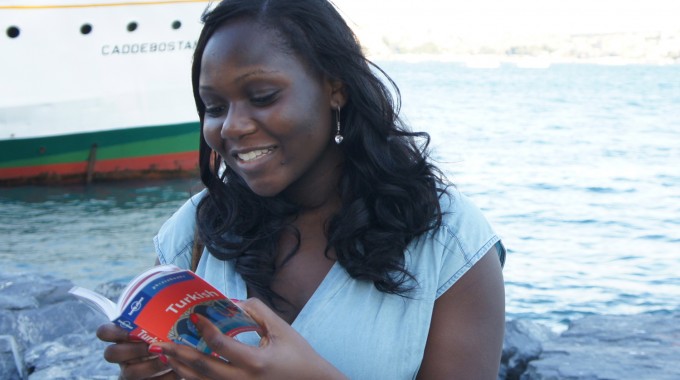 Class of 2013 Senior Profile: Norita Mengu
Norita Mengu CC'13 was inspired by courses in Arabic and Middle Eastern studies and summers in Lebanon and Turkey to pursue international human rights law.
Norita Mengu '13 wanted to be President of the United States.
The San Jose, Calif., native was always interested in politics and diplomacy. She applied to college as a political science major and planned to go to law school.
But Mengu's Arabic courses, prompted by the College's language requirement, along with summer experiences in Lebanon and Turkey, motivated her to add a second major: Middle Eastern, South Asian and African Studies. And her courses, trips to other countries and desire to live in a better world inspired an alternate future: international human rights law.
"One thing that my travels have shown me is just how interconnected the world is," Mengu says. "I realize this may come off as over-optimistic, but I often feel as though I have an obligation, as a citizen of the world, to advocate [for] and defend the rights of others [who] are unable to do so themselves."
With a mother in California, a father in Spain and parents from Cameroon, Mengu always belonged to many worlds. As one of only 3 percent of African-Americans in her hometown, she chose Columbia for its diversity.
Once on campus, Mengu set out to meet new people, travel to new places and prepare for her legal career. She became involved with the Columbia College Student Council (CCSC) Elections Board, mentored recently-immigrated middle-schoolers with Community Impact's Heights-to-Heights program and worked in the Law School's International Programs Office, where she helped facilitate communication between international applicants and professors.
To hone her first-year Arabic skills, Mengu traveled to Jounieh, Lebanon, in summer 2010 to teach English with GeoVisions Conversation Corp. She returned the following summer on a grant from Columbia's Middle East Institute to organize college-prep workshops through America-Mideast Educational and Training Services in Beirut.
As a junior, she traveled to Thessaloniki, Greece, for a Spring Break trip with the Hellenic Studies Program and interned at SALT Research, a cultural institution in Istanbul, through the Center for Career Education's Columbia Experience Overseas program. There, she applied her academic knowledge to investigate archival collections from the Ottoman Empire and translate 19th-century French and Arabic documents.
"I was always wanted to go away from California and go away as far as possible," Mengu says. "I've always been about seeing and trying new things and getting out of my comfort zone."
CCSC also granted her the opportunity to try new things — meeting a range of students and administrators, being exposed to new and different ideas and influencing change. From 2011–13, Mengu recruited candidates, moderated debates and coordinated school-wide elections.
Mengu hopes to build upon all of these experiences — and continue traveling — after graduation. This summer, she will start a job as legal assistant for Shearman & Sterling in New York City.
"If I had to pinpoint just one way that Columbia has had an impact on me, it would be through the opportunities it's provided to explore the world," she says. "I look forward to bridging my career pursuits with my travel experiences."
- Grace Lee PH'14
Last updated Friday April 18, 2014