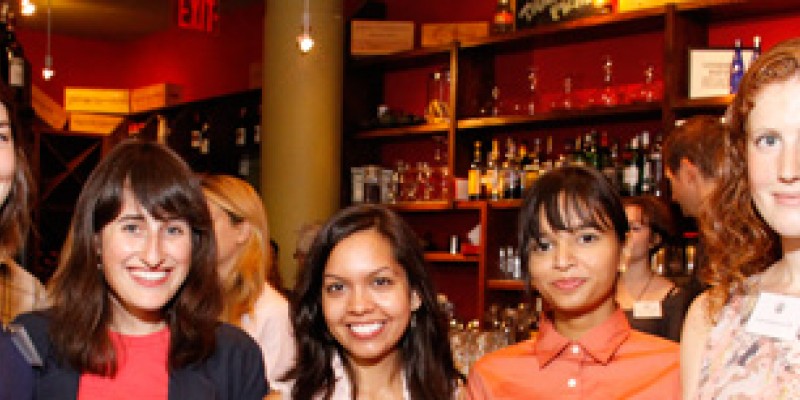 Columbia College Women
Columbia College Women was founded by College alumnae in 1989 with a mission of creating networks within the alumni and student communities while building the legacy of women at Columbia College. If you're a woman and you graduated from Columbia College, you're a member of CCW.
Through our Mentoring and Scholarship efforts, CCW provides resources and programming for both alumnae and students, linking these women to the larger Columbia community. CCW celebrates the success of College alumnae and fosters the achievements of future alumnae.
CCW continues a Columbia tradition of volunteer-led programming, and we rely on alumnae for our ongoing success. From attending events, to mentoring, to joining a committee and planning an event, we encourage you to get involved!
Programs and Committees
Mentoring Program
Since 1993, the CCW Mentoring Program is now in its twentieth year of matching accomplished College alumnae with College students for career mentoring and general guidance. CCW also fosters experiences for alumnae and students in a shared industry to network around common career interests and to attend specific events tailored to their industry. This system creates opportunities for professional mentoring for alumnae, introduces students to those with shared professional concerns on campus and helps facilitate consistent contact with mentors and students.
Within our six-month program, mentors and mentees commit to maintaining monthly contact and are invited to attend signature events with notable alumna speakers during the course of the program. In 2012-2013, we matched 175 students with mentors. This program relies on dedicated alumnae volunteers and a student liaison for its success. The Mentoring Committee is chaired by Selby Drummond '09, Michelle Estilo Kaiser '87 and Emily Dreibelbis '14 (student chair). We welcome your interest and participation.
Scholarship Committee
The CCW Scholarship Committee focuses on funding a current-use scholarship to support a high-achieving student with demonstrated financial need. As students, many of us benefited from the generosity of alumni through scholarships that made attending Columbia possible. For all of us, the diversity of our classmates' perspectives enriched our Columbia experience. The committee develops and implements innovative strategies for support, and in doing so, strengthens the legacy of College alumnae.
CCW is proud to announce our 2012-13 scholarship recipient, Nicole Delgadillo '15. A classically trained ballet dancer, Nicole hopes her future career will allow her to combine her passions for dance, psychology and the Spanish language. She represents the epitome of a Columbia student — diverse in both her background and in her interests — and we are honored to support her this year.
The Scholarship Committee is chaired by Zila Acosta '11. We encourage you to join us.
Getting Involved with CCW
Get involved with CCW! Please contact us regarding
becoming a mentor,
joining the Scholarship or Mentoring Committees,
supporting the scholarship
any other questions about CCW
For more information or to volunteer, contact Kim Diamon, Associate Director of Alumni Relations, at ccwomen@columbia.edu or 212-851-7977.
CCW Executive Board
The CCW Executive Board is charged with overseeing CCW's strategic and programmatic direction.  Board members' responsibilities include contributing to the overall strategic programming plan, attending board meetings, serving as a committee chair, promoting and participating in CCW events and supporting the efforts of CCW's fundraising projects.
The Executive Board is chaired by Siheun Song '07.
PHOTO: Rebecca Castillo '94 '06J