When CCT first spoke with Shazi Visram '99, BUS'04, in 2007, she was celebrating the one-year anniversary of her organic baby food line, Happy Baby. Ten years later and with an explosion in the organic food market, CCT checked back in to ask: Where is she now?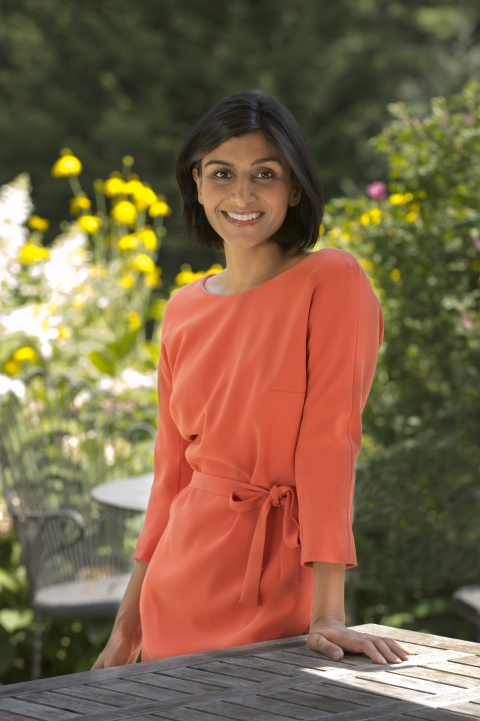 Shazi Visram '99, BUS'04 launched Happy Baby with a simple goal: to give babies a better start in life through organic, nutritious foods. From that vision — inspired by seeing a friend, a new parent, struggle to find organic baby food at stores — Visram has expanded the company's (now called Happy Family) scope to include expectant mothers, toddlers and older kids, providing everything from probiotic supplements to blended veggie pouches to multi-grain snack packs.
What's more, Visram's perspective has changed in a personal way. Now a mother to a 7-year-old and a nearly 1-year-old, she approaches her business as both CEO and consumer, which she says "keeps things very relevant to me."
Visram says that when she first developed the idea for Happy, organic baby foods made up only 4 percent of the entire baby food market; now organics are 30 percent of the total market and, 11 years into Happy Family's existence, it's a $175 million a year force in the organic food industry. "The first time that a lot of people come into the [organic] category is when it's about a baby — specifically, their baby," says Visram. With the success of Happy Baby, Visram realized there was an opportunity for growth, as the parents who trusted the company with baby food naturally turned to it as a reliable source for organic foods for toddlers and young children (as well as for prenatal nutrition).
As the brand has grown, so has its focus on giving back. Happy Family sources foods from farms that use sustainable practices. Says Visram, "There's a nice win-win that comes from creating a sustainable product, because the more of it that you sell, the more you are changing the sustainability of the food system."
Visram also has strengthened the company's commitment to what she calls the "democratization of organics and the democratization of information." The company launched a breast-feeding support line with access to lactation support consultants, and its website offers free recipes and guides to early childhood nutrition, such as how to manage picky eaters and how to navigate food allergies and intolerances. Happy also supports Project Peanut Butter, which helps feed children in Africa. When asked where she imagines the company in 10 years, Visram is confident: "I think that you'll see that our mission of changing the way children are fed in our country — which I first wrote down on loose-leaf paper in 2003 — has evolved to changing the way children are fed in our world."
"I always had a really big dream and a really big vision for what Happy could become," Visram says. "I feel like we're really just beginning to scratch the surface of what's possible. I'm really proud of how far we've come but I'm not satisfied yet — there's still a lot to accomplish. Thirty percent of the market being organic is not enough; I think every baby deserves clean, organic food."