| | | | | | | |
| --- | --- | --- | --- | --- | --- | --- |
| | | || | | || | | |
COVER STORY
Living Façades
Adam Van Doren '84's graceful watercolors capture the exuberance of classical New York
By Rose Kernochan '82 Barnard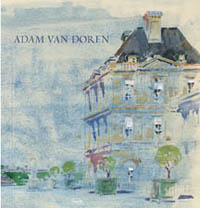 Adam Van Doren '84, '90 Arch., a tall curly-haired painter with cheerful eyes, stands to greet a visitor to his one-man show at his West 57th Street studio. As he sits down at his desk, his head is framed by the windows that stretch behind him. They are double-height tiered bay windows, set with wavy glass; through them, one can see the heavily ornamented fašade of the Calvary Baptist Church. Van Doren talks and gesticulates against a gray backdrop of refracted light and English Gothic tracery. It is how a visitor comes to think of him, sunny-faced and surrounded by the faint lines of history.
Most people have families and forebears. Adam Van Doren has something more like a pedigree. On the East Coast, he can trace his family's roots to Pieter van Doorn, who came to New Jersey in the 17th century. More recently - and famously - there were Carl Van Doren '11 GSAS and Mark Van Doren '21 GSAS, the sons of a country doctor and farmer. The brothers, in turn, moved to New York, became Columbia professors, won Pulitzer Prizes and became literary editors at the Nation. Each married an accomplished and bookish woman; Mark's wife, Dorothy, was a novelist, and The New York Times described Carl's prominent editor wife, Irita, as "one of the city's leading literary figures." Then there were the talented children - Adam's father, John '52 GSAS, who edited the Encyclopedia Britannica's annual Great Ideas Today, and Adam's uncle, Charles '59 GSAS, a Columbia professor who enjoyed fame and then notoriety as the champion on the rigged TV quiz show Twenty-One. Were the Van Dorens running the New York literary world? Maybe not, but "at a certain point, we were ubiquitous," admits Adam. An old New Yorker cartoon shows a puzzled, plump matron standing at a bookcase and asking her librarian, "Which Van Doren was it I enjoyed so much?"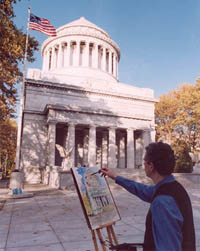 Mark Van Doren, one of Columbia's most legendary English professors, was Adam's grandfather, so the institution was familiar to him even as a child. "It was part of our intensely private family's background," he says. When he was 9, Adam's family moved from Cambridge, Mass., to Illinois - where the Encyclopedia was based - but the John Van Dorens still came East for summers and Christmas. In his grandfather's residence, an 18th-century Connecticut farmhouse, there were old papers and black-and-white pictures for a bored child to pore through. "They had all this Columbia stuff . logbooks of students' names and grades. You'd look and see 'John Kerouac' and think 'That must be Jack Kerouac ['44]!'" In the living room was a photo of Grandfather with Thomas Merton '38, who was wearing Trappist robes. ("I always just thought it was this friend of his who was a monk.") And Grandmother would reminisce about students like poet John Berryman '36, who might phone constantly when he was "in some sort of crisis."
Mark Van Doren seems to have been one of those rare professors whose teaching could deflect the course of a student's life (Kerouac famously quit the football team "to spend more time studying Shakespeare with Van Doren," according to the late Allen Ginsberg '48). Even more unusual was the fact that he achieved this not simply with his astute insights, but with the quality of his listening. "He rarely interrupted his students," read his Times obituary, "for he insisted that the art of teaching is the art of assisting discovery to take place." One student recalled, "When you sit down in Professor Van Doren's class, suddenly, for one very remarkable hour, everything is perfectly fine in the world."

"I've got to get moved first, and then I can paint it."

The Van Dorens were known for their talent with words, but Adam, from early on, was set on a different course. His mother is Mira Jewabnik, a painter from a cultured Polish refugee family. Their Cambridge, Mass., Victorian house, where Adam spent his early years, had a studio at the top, and he remembers easels and the smell of paint. He began drawing cartoons at 6, tutored by a talented classmate, Henry Kissinger's son, David, and inked out a series of comics, "Adam's People." By the time Adam was 11, he was represented by an art agent, and for a while did a small mail-order business in greeting cards and postcards.
As a teenager, Adam studied watercolor technique at the Artists Guild of Chicago and oil painting at Chicago's famed Art Institute. The year he turned 18, his oils were displayed at the Art Institute. An art school might have been the next natural step, but instead Adam chose Columbia College. Like his family, he believed that he could profit most from a well-rounded liberal arts program. The Core Curriculum - and the visual arts scene in New York - drew him to Morningside Heights.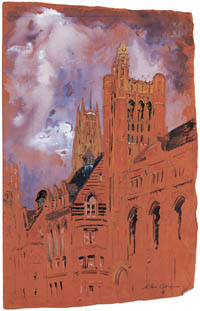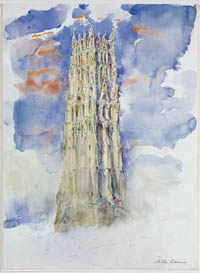 A Van Doren attending Columbia could not help but feel "special," as Adam puts it. Even though his grandfather had retired decades before, he still cast a long shadow: the Mark Van Doren Teaching Award was, and still is, given out by students each year to an outstanding member of the faculty. The Core classes that Adam took were courses that his grandfather had helped to define. Even the little-changed campus buildings could stir reflections. "A lot of my classes were in Hamilton Hall," says Adam. When he took a Shakespeare class, "I couldn't help but think that he'd been teaching 50 years ago in the same room."
Much of Adam's most important learning, however, took place in Schermerhorn Hall, in a dingy room among "rickety old drafting tables." There was no fine arts major at the time, so Adam enrolled in the undergraduate architecture program, where he was taught by postmodern architect Robert A.M. Stern '60, now dean of Yale's Architecture School. Stern's forceful, tradition-based approach proved difficult for some of Adam's more modern-minded classmates: "No way I'm going to make a gabled roof!" is one remark he remembers. In the top-floor studio, there was "groaning with each new reference to Palladio." But Stern's way was ideal for Adam, who was infatuated with the classical idiom.
Stern took a Core-type approach to the curriculum, insisting that students first learn the fundamentals, then the basic visual vocabulary of classical architecture. Stern was single-handedly trying to "transform our studio into the ╔cole des Beaux Arts," recalls Adam. As part of a rigorous program, Stern insisted that students learn to draw the traditionalist buildings he wanted them to know. Then, they had to learn how to paint them - the Beaux-Arts technique was to do renderings in watercolor. A Beaux-Arts draftsman used "a multitude of washes - you might have 20 - and dramatic shadows. 'I just want to see if you guys can do a beautiful fašade,'" Adam says, faintly mimicking Stern's theatrical voice.
As it turned out, Adam could do a beautiful fašade. Learning watercolor renderings in Stern's classroom was like being "cast under a spell." His freehanded facility with a pencil was praised by his professor, which gave him new confidence. "When the grueling term ended," wrote Adam in a nostalgic essay, "I never looked at buildings the same way again."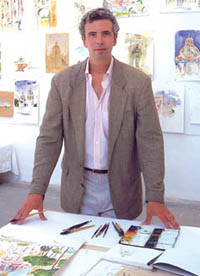 PHOTO ABOVE: MIMI CAPONE

Like many of his fellow architecture majors, Adam had enrolled in an architecture school (he chose Columbia's Graduate School of Architecture, Planning and Preservation) after graduation. Like them, he was a draftsman and apprenticed with architects. But his heart wasn't in the practice of architecture, especially the modern kind, which he found boxy and sterile. Instead, during the next two decades, he concentrated on learning how to paint historic buildings in his own way.
The upshot of Adam's efforts could be seen at his third solo New York show at the Renaissance Studios, October 26-December 19. In tandem with the show, Hudson Hills Press published a thick volume of his work, titled simply Adam Van Doren. In this monograph, Richard Boyle, the former director of the Pennsylvania Academy of Fine Arts and adjunct professor of fine arts at NYU, quotes British architect Sir Reginald Bloomfield's dictum that there are two types of architectural drawing. One is practical, the design for a house or hall that can actually be built. The other is more like a sandcastle: It's a fantasy, the Platonic ideal of a building. "This is the kind of drawing that was often executed by a 'delineator,' " writes Boyle, "generally a non-practicing architect engaged to produce elegant, seductive drawings to impress a client." From the start, Adam's watercolors of buildings were like a delineator's, vibrantly subjective.
"I get excited," Adam says, and animation sparkles in his dark, observant eyes. Specifically, what turns him on is history: the narrative of the building that he might want to paint. "I've got to get moved first, and then I can paint it," he remarked in an interview with art historian Avis Berman. "I look at a particular capital or an arch and the interplay of the orders, and I understand not just the architectural vocabulary, but the struggles in the artists' lives - they'd have revolts over where you'd put that arch. I see all this encapsulated in the building in front of me."

"I hear the echoes of a world I didn't really know."

The results are distinctive images of buildings, half-emerged from, half-submerged in some shadowy past. On brown paper, with dark gouache, watercolor and graphite, Van Doren depicts the Pont Notre Dame in Paris. The blue of its stone gleams faintly, as if seen through the murk of history. On paler papers, in Venice and Rome, he paints villas, palazzos and piazzas, Italian buildings aflame with color. The skies are giant, gorgeous smears of pinks and yellows and blues. Even these radiant watercolors are only partly filled in, and so they have a holographic quality, like the bright ghosts of memory.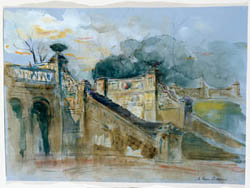 Adam's colors hang on a draftsman's thrillingly thin lines, the scaffolding of fantasy. They curl around pillars and pedestals, spread over the curves of duomos, wash in shadows over carved fašades. "I can like a modern building," he admits, "but I would never want to paint it. With great older buildings, there is so much intricacy, and I get lost in that."
Other architects clearly admire Adam's informed yet exuberant renderings of classical buildings. His commissions include series of watercolors for the New York Landmarks Conservancy, the Harvard Club of New York and the National Architectural Trust in Washington, D.C. In 2004, he was a visiting artist at the prestigious American Academy in Rome, and his works are among the private holdings of collectors such Bob Pittman and Christine MacArthur. As one might expect, he is sometimes employed by those who want him to paint the buildings they admire. His favorite was the elderly Italian count who stopped him on Park Avenue as he was painting and asked him to do his villa.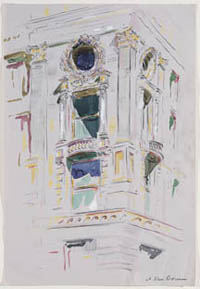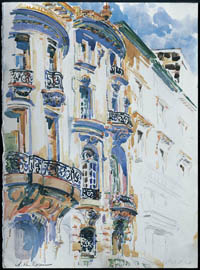 Adam lives in a 19th-century New York City brownstone, with his wife, Charlotte, and twins, Henry and Abbott. Like the building that houses his West 57th Street studio, the townhouse has been in his family since the '40s. It has "a Romanesque fašade," he notes in a pleased tone; even better, it's just a short walk to the Metropolitan Museum. "I can take the kids in their pajamas on Friday nights," he jokes, remembering how he once lost Henry in the African collection.
Adam's eyes light up again. He wants to talk about one more thing that excites him: his painting group. In 1987, American Heritage editor Byron Dobell '47 (yes, one of Mark Van Doren's former students) invited Adam into a group of downtown painters, founded by New York Review of Books cartoonist David Levine and portrait painter Aaron Shikler. Now he is a regular member of The Painting Group. Together, the artists - Levine, Shikler, Daniel Bennett Schwartz, Walter Bernard and others - meet weekly in a SoHo studio to paint a model from life. The model they used one day in October was retired Supreme Court Justice Sandra Day O'Connor; the portraits that came from that session might be displayed at the National Portrait Gallery this spring. Boyle describes the group as "a band of realists who stubbornly defy the modernist trends in art." It seems fitting, somehow, that Adam is part of a renegade group of traditionalists, looking back toward the past - less the Salon des RefusÚs, more the Salon des Refusants.
In New York City, Adam is thinking about painting the high stone facades of Central Park West. Up in his wide, light studio, where the American Impressionist Childe Hassam once painted, and outdoors in the streets of New York, the past is also the present. "I hear the echoes of a world I didn't really know, but I can imagine it," he says.
To view Adam Van Doren's work, contact him: 212-586-8342 or avd130w57@aol.com to make an appointment.
---
Rose Kernochan '82 Barnard is CCT's assistant editor. She previously has written for The New York Times Book Review and The London Sunday Times Magazine.
| | | | | | | |
| --- | --- | --- | --- | --- | --- | --- |
| | | || | | || | | |


CCT Home


This Issue


Previous Issue

CCT Masthead