| | | | | | | |
| --- | --- | --- | --- | --- | --- | --- |
| | | || | | || | | |
WITHIN THE FAMILY
Oh, the People You Meet
By Alex Sachare '71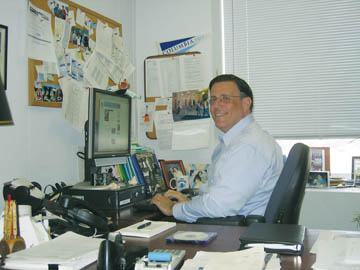 One of the most enjoyable parts of this job is the people you encounter, day in and day out. In the nearly nine years since I've been back at Columbia, I've met so many interesting alumni through the magazine, at events such as Homecoming, Dean's Day and Reunion or at other alumni functions.
The CCT staff often is asked where we find people to profile in the magazine. The answer is all around us, in the incredibly rich body of Columbia alumni, faculty and students. To sample this for yourself, attend any one of the many events run by the College and the alumni office throughout the year.
These events always are invigorating and recharge the batteries. One of my favorites is Dean's Day, which this year will take place on Saturday, March 31. Alumni, parents and guests return to campus and become students for a day, selecting from 15–20 lectures by some of Columbia's finest faculty, as well as administrators who speak on topics such as admissions and networking for jobs.
To better serve alumni outside the metropolitan New York area, the alumni office takes this event on the road in the form of Columbia College days. Washington, D.C., was visited in November [see page 8], and on the docket are Florida on January 27, San Francisco on March 10, Los Angeles on March 11 and Boston on April 19. If you live in these areas, I urge you to check these events out. For more information, log onto the College's alumni events website: www.college.columbia.edu/
alumni/events or call the alumni office at 1-866-CC-ALUMNI.
Another great annual event is the Dean's Scholarship Reception, which took place on November 1 [see page 10]. Alumni and other benefactors joined many of the students who benefit from their generosity in a heartwarming reception in Roone Arledge Auditorium in Alfred Lerner Hall.
It is always a pleasure to walk between the tables and watch generations of Columbians interact at this event, to listen to alumni talk about how Columbia was in their day and to watch students soak it all up. Elizabeth "Libby" Mooers '07 spoke eloquently about how the generosity of these alumni and other friends of Columbia has impacted her life and the lives of so many students like her. Dean Austin Quigley likes to talk about the multigenerational community of Colum­bians, and nowhere is this better seen than at the Dean's Scholarship Reception.
I regularly attend meetings of the College Alumni Association's Board of Directors and of the College Board of Visitors (an alumni group that offers advice and counsel to the dean and his staff and advocates on behalf of the College) and have developed tremendous respect and admiration for these volunteers who so eagerly give of their time, resources and expertise for the good of the College.
There surely are many other ways that these people could spend their time, money and effort. That they choose to give so generously to the College is inspiring. It makes me feel better about the small contribution I make, and makes the day-to-day aggravations so much easier to keep in perspective.
When you walk into a room full of Colum­bians, you are never among strangers. I've benefited from the experience and wisdom of Columbians 30 years my senior as well as the energy, drive and perspective of those 30 years my junior, and hope I'll continue to be part of this mix when I'm at the elder end of the scale.
C ongratulations to Coach Kevin McCarthy '85 and the women's soccer team upon winning the 2006 Ivy League championship with a 6–0–1 record. It was only the second winning Ivy record in the 21-year history of Columbia women's soccer. The 10–5–3 overall record was the seventh winning overall mark, all since McCarthy took over as coach in 1994.
The Lions were led by a core of seven seniors. Shannon Munoz '07 topped the team in scoring and won Ivy League Player of the Year honors, but it was Aubrey Medal '07 who scored the only goal in the title-clinching 1–0 win at Harvard. The other seniors were Cassie Hamar '07, Meghan Hurlbut '07, Emma Judkins '07, Jillian Raybould '07 and Becky Schroeder '07.
Congratulations as well to football coach Norries Wilson, whose team won its last two games to finish at 5–5, Columbia's first non-losing season since going 8–2 in 1996.
In their first four games, the Lions beat non-league opponents Fordham, Georgetown and Iona but lost their Ivy opener to Princeton at Homecoming. After four more Ivy losses, the Lions regrouped and salvaged the campaign with a 21–14 win over Cornell and a rousing 22–21 victory at Brown. Jon Rocholl '09 kicked a 27-yard field goal with three seconds left to cap a 14-play, 63-yard drive that gave Columbia its season-ending victory.
When asked last summer by what measures he wanted Columbia supporters to judge his first season as football coach, Wilson said, "How many games did we win, and also how many games were winnable, close with six or seven minutes to go? How did our kids respond to adversity? Were the kids prepared to play on Saturday?"
By those reasonable measures, Wilson's first season can only be judged a success.
| | | | | | | |
| --- | --- | --- | --- | --- | --- | --- |
| | | || | | || | | |