| | | | | | | |
| --- | --- | --- | --- | --- | --- | --- |
| | | || | | || | | |
FEATURES
Rescue on Top of the World
Myles Osborne '03 abandoned his dream of reaching Mount Everest's summit to save a fellow mountaineer's life
By Joshua Robinson '08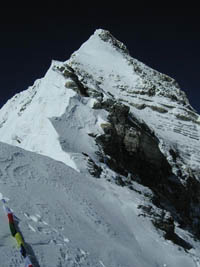 Photo: © Dan Mazur, summitclimb.com

Just two hours from the highest point on Earth, Myles Osborne '03 - who had spent the past two months fighting his way up Mount Everest - was feeling pretty good about his summit attempt.
"It was a perfect day," he says, recalling the early morning hours of May 26, 2006, "and we were feeling really strong."
Osborne was about to become the youngest Briton ever to reach the top of the world. But suddenly, he and the three climbers with him spotted something. It was a man, just sitting there, barely two feet from a 10,000-foot drop. They didn't know who he was or what he was doing there. The man's head jerked around and his eyes couldn't focus; he was hallucinating. He also had sustained severe frostbite in all 10 fingers.
The man was dying, and Osborne and the rest of his party knew they had to stop and help - even though, because of the quickly changing weather, to do so meant the dream of reaching the summit was over. Osborne never gave it a second thought.
"Trying to sleep at night knowing that I summited Everest and left a guy to die isn't something I ever want to do," he says. "The summit's always there, after all."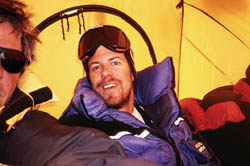 Photo: Courtesy Myles Osborne '03

Osborne, 26, now is at Harvard working on a Ph.D. in Kenyan history. He grew up in Warsash, England, and hadn't even thought about mountaineering until he came to Morningside Heights. Instead of taking his freshman summer to chase a suit-and-tie job in midtown, Osborne went to Kenya and climbed Mount Kilimanjaro (19,340 feet, 5,895 meters). "It was just part of a deal I cut with a friend," he explains. "I would climb Kilimanjaro with him for a week if I got to lie on the beach in Zanzibar for the following week and drink piņa coladas."
Despite neglecting the prep work that he and his friend Phil Killingley were meant to do for the climb, Osborne made it back down and to the beach. But he came home with more than a tan. Mountain climbing had gotten under his skin.
While still at Columbia, Osborne scaled Washington's Mount Rainier (14,410 feet, 4,392 meters) with a group of friends. Paying for the trip turned out to be as difficult as the climb itself, but he scraped together the funds working in Columbia's general counsel's office and in local bars. Right after commencement, Osborne headed to Alaska to climb Mount McKinley (20,320 feet, 6,194 meters).
But the Holy Grail is Mount Everest, the world's tallest peak (29,028 feet, 8,848 meters).
So, Osborne worked several jobs a year for the next three years to raise the necessary $25,000. Last spring, he headed for Tibet. On March 25, Osborne and 13 others left Katmandu and within days reached Base Camp at 20,340 feet (6,200 meters). But, as Osborne points out, "That's where the real climbing starts."
And that is where the months of running, cycling and hiking, along with the extra 20 pounds he had put on, were about to pay off. For the next two months, despite wearing a knee brace to offset ligament damage, he hauled 30 pounds of equipment while fending off various combinations of frostbite, fluid in the lungs, constant chest infections caused by the dry air and an altitude-induced swelling of the brain, known as cerebral edema.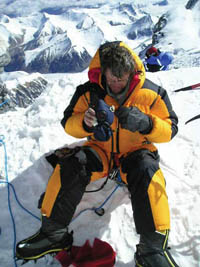 Photo: © Dan Mazur, summitclimb.com

If things weren't already challenging enough, Osborne's experienced party went up what he calls the "more technical" North face with its 60 degree slopes.
As temperatures dropped to minus 30 degrees Fahrenheit, the group reached High Camp at 27,230 feet (8,300 meters), the final checkpoint before a push for the summit. Conditions were far from ideal, as thunder rumbled in the sky and lightning lit up the snow. It was six nights later before the weather cleared enough to encourage Osborne and the others to try for the summit. Until then, they could only sit in their tents talking, eating chocolate and building up excitement. "We left around 11 p.m. hoping to reach the summit mid-morning," he says. "We carried only food, water and oxygen inside our down suits."
For the next eight hours, they battled the mountain. But after climbing through the night, a yellow form materialized up ahead - the stranded climber, who greeted them with, "I imagine you're surprised to see me here."
It turned out that the man, Australian mountaineer Lincoln Hall, had reached the summit the night before and fell ill on the way down. Hall's party had tried to revive him, but quickly pronounced him dead and returned to camp.
"He seemed to be in deep distress, shivered uncontrollably, and kept trying to pull himself closer to the edge of the cornice. We held him back and eventually anchored him to the snow," Osborne recalls.
Other climbers walked by, ignoring Osborne and his team - which included Dan Mazur, Andrew Brash and Jangbu Sherpa - as they tried to save Hall. They spent four hours giving him food and oxygen. Eventually, a rescue team of 12 sherpas that had been climbing up to reach them carried Hall down the mountain, and Osborne could think about resuming the climb. "But now we couldn't reach the summit until at least 2 p.m., and by then, it was being pounded by snow and wind."
Osborne had to bite the bullet. "An incredible sense of disappointment came over me. But if we'd gone for it, we wouldn't have made it back. I took one last look at the summit, standing between a 10,000-foot drop to my left and a 7,000-foot drop to my right. And then we started down as quickly as we could."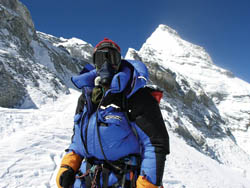 Photo: Courtesy Myles Osborne '03

As of now, Osborne doesn't think he will attempt to scale Everest again because of the crowd of inexperienced people who "make it a circus" and the cost. "There's no question we could have made it to the top," he says of last spring's effort. "For the first day or two afterward, I was absolutely gutted with disappointment. But by the end of the second day, I got over it. I'd never make a different decision."
It is that decision to which Hall owes his life. The two men have remained close, relieved to be exchanging e-mails rather than oxygen bottles. "He's a great guy," Osborne says of Hall, "really laid back, with a penchant for bad jokes."
Osborne has since been shortlisted for the British Life Savers Award. This comes on top of the satisfaction of raising $40,000 with his climb for Naomi House, an English children's hospice.
That experience behind him, Osborne was ready for something more relaxing and spent last summer in Kenya. But that's when his girlfriend mentioned that she'd like to climb Kilimanjaro. Now a full-fledged climbing junkie, Osborne obliged, and they took the five-day excursion in late August. "Although you have an almost inevitable headache at the top, it can't alter the incredible experience," he says.
These days, he doesn't need piņa coladas to sweeten the deal. "I'll climb anything," says Osborne, leading one to believe he might change his mind about giving Everest another try.
---
Joshua Robinson '08 is majoring in history and political science. He was sports editor of the Columbia Daily Spectator in 2006.
| | | | | | | |
| --- | --- | --- | --- | --- | --- | --- |
| | | || | | || | | |