| | | | | | | |
| --- | --- | --- | --- | --- | --- | --- |
| | | || | | || | | |
LIONS ROAR
Women's Soccer Wins First Ivy League Championship
By Joshua Robinson '08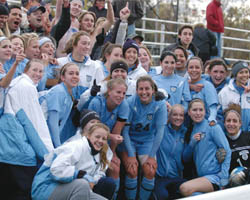 Photo: Laurene Aigrain '08E

By now, it may have reached New Jersey.
Drifting well below the blue-green surface of the water somewhere around Manhattan is a piece of metal about the size of a marble. It's probably too insignificant for the currents to sweep it very far, but it must have turned some heads in its time.
It's an Ivy League championship ring. Kevin McCarthy '85's championship ring. And a few years ago, he threw it in the river.
When he took over as head coach of the women's soccer team in 1994, McCarthy knew what it took to be a winner. In his four years as a central defender on the Columbia team that was once among the top sides in the country, he won four straight titles and played in a national championship game. Then, when he returned to Columbia as an assistant coach in the men's program in 1993, having taught high school English and coached at the youth level, he won his fifth championship. So when he took the women's head coaching job, he already had a ring for every finger on one hand.
But reality hit him quickly, and it hit him hard.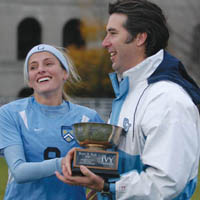 Photo: Laurene Aigrain '08E

Already looking to the end of the 1994 season, which would conclude with a long trip to Hanover, N.H., McCarthy had set his sights on a familiar prize. "I expected to get off the bus at Dartmouth and be seeing my breath and be competing for the Ivy League title because that's the only thing I'd ever known. Of course, I had no idea. I had to learn that we were way out of our depth."
Columbia's 1-5-1 Ivy record left no doubt about that. In fact, in the first
10 years of Columbia women's soccer (1986-95), the Ivy record was a dismal 5-57-3.
By the late '90s, Mc¬Carthy had been around Ivy League women's soccer long enough to realize one August that his squad might actually have a shot, even though the Lions had never cracked the top half of the league. Leading them through their preseason paces, McCarthy finished up one team run by the boathouse at Baker Field. That's when he turned to his players, took off an Ivy ring and lobbed it into the Harlem River.
The stunned players didn't have a moment to process what they had just seen before their coach challenged them.
"Now let's go replace it; I need a new one," he said.
At the season's end, McCarthy was still missing a ring. That 1998 team finished 3-2-2 in Ivy play, Columbia's first winning season but still short of the championship.
But on November 4 in Cambridge, Mass., beneath a gray, overcast sky, the 2006 team made it happen. With a 1-0 victory over Harvard, the Lions won the first Ivy title in the program's 20-year history and rewarded McCarthy's 11 years at the helm.

"It's a good thing we have it on film,
because a lot of it is just a blur."

"As a player, I came into a program that was ranked as one of the best in the country, and I was fortunate to contribute to four championships in a row," he said. "This one is probably a bit more special, though, because I have gone through the full circle of feeling entitled to championships to seeing how difficult it actually is to build a program."
During the past 13 years, that entailed a slew of challenges that McCarthy had never seen as a player, such as recruiting elite student-athletes, creating a style of play and setting a program's philosophy.
After the team's first seven games, few people would have believed that this side was capable of finishing its Ivy League campaign with a 6-0-1 record. Two wins, three losses and two draws against non-league opponents hardly made for an auspicious start. Still, belief was higher than ever in the lockerroom as the players found positive signs.
"We joked about doing better this year than we ever have because we tied our home opener, and we usually lose it," said defender Emma Judkins '07. "That was a step forward, and we knew that if we just carried our positive attitude into the Ivies, it would come together for us."
When the eighth game of the season rolled around, it seemed as if Judkins was right. "Cornell was the most difficult team of the year for us," she said. "They're usually one of the lowest teams in the league and yet we always lose to them; it never fails."
Indeed, Columbia hadn't beaten the Big Red since 2001, but 2006 was a year of firsts, and the Lions started collecting them from the beginning. Within four minutes, they were ahead and on their way to a 2-1 victory. That night, the Lions were atop the league standings. Of course, none of the other teams had played a league game yet, but it gave the players a taste of what was to come.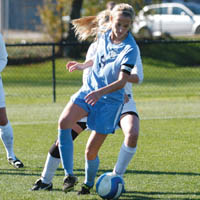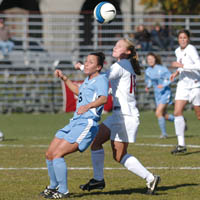 Photos: Laurene Aigrain '08E

Columbia followed that with a scrappy tie at Brown and a win at Penn, proving that unlike paat teams, this club could hold its own on the road. Up until this year, the difference between home and road records for Columbia had been staggering. From 2003-06, the Lions were 19-8-1 at home and 4-16-2 away.
Striker Shannon Munoz '07 attributed the turnaround to the unique balance of the team, with older players drawing out the best from everyone. "A lot of the freshmen didn't know what it was like to lose, and we remembered exactly what it was like to lose," she said.
Munoz was one of seven seniors in the most experienced squad in recent memory. After sitting out the 2005 season with a broken toe, she came back to be the team's top scorer and win the Ivy League Player of the Year award.
When the Lions returned to New York to take on Princeton on October 14, Munoz scored once, but it was a first-year who stole the show. Sophie Reiser '10 had a hand in every goal, scoring once and assisting on the other two goals in a 3-2 victory that tested Columbia's nerves until the dying seconds. "That was a true testament to our defensive unit as a whole," Judkins said. "Everyone came back, everyone helped out and we kept ourselves in the game."
With a lot of character and a little bit of luck, the Lions held on for the win. Suddenly, everything looked a lot like 2005 when most of the league had faded away and Columbia was in second place, controlling its destiny and about to face off against the nationally ranked team in first place. Only this year, it was Dartmouth in first place instead of Yale.
Not having to make the long trip to Hanover was a victory in itself, but beating the Big Green at Baker Field would mean that Columbia would leapfrog into first. A pair of road victories over less-than-spectacular Yale and Harvard sides would then guarantee the 2006 championship, regardless of Dartmouth's results. It was quite simply the biggest game in the program's history. And, when the teams took the field on that electric night of October 21, everyone in the stadium knew it.
On top of everything else, it was senior night and emotions were running high as seven players knew that they might be playing their final game at Baker Field. After they were recognized for their service to the team, tears were brushed away and the players lined up for the Star-Spangled Banner. They turned toward the flag and silence fell over the stadium. Then there was more silence.
So the fans took it upon themselves to sing the anthem a cappella. And if sports movies have taught anyone anything, it's that Columbia couldn't lose after a display like that.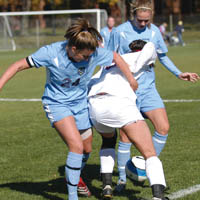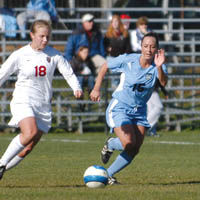 Photos: Laurene Aigrain '08E

After being under pressure for the first 45 minutes, the Lions earned their distinction as a second-half team and turned the game on its head. In the 60th minute, Dartmouth's goalkeeper sent a poor goal kick straight to Munoz's feet. Clean through on goal, Munoz didn't miss. Twenty-five minutes later, the Lions doubled the advantage and for the second time this season, Columbia was on top of the league.
"Being on top is the hardest place to be, and we had nothing to lose," Munoz said. "Dartmouth can have the lead all season, but we broke through when it counted."
In 2005, Columbia had beaten Yale to give itself a title shot, too. But that team only made it as high as second place, and two defeats down the stretch eventually dropped them to fourth. Avoiding a similar collapse would require beating Yale again.
Without great fuss, the Lions traveled to New Haven, Conn., and did the job. But by disposing of Harvard, Dartmouth did its job, too.
Heading into the final weekend of Ivy play, the Lions had their work cut out for them. Beat Harvard and they were champions. Anything less and Dartmouth could steal it with a win of its own. As for the seven seniors, "We were just playing for more time together," Judkins said. They were 90 minutes away from the Ivy crown and the program's first NCAA Tournament berth.
During a scoreless first half, it looked as if Columbia's season might have run out of steam.
"We were kind of slow and we had to light a fire under us," Judkins remembers. "At halftime we said, 'This is unacceptable, we need to pick this up.' In the second half we dominated. We didn't play their soccer. We had been lulled into their slow pace and possession game and we weren't playing our high-paced soccer."
Throughout the second half, the Lions piled on the pressure but the ball stayed out of the net. Goal line clearances, near misses and great saves came thick and fast. Columbia took more chances to try to get the first goal, throwing more players forward, leaving acres of space at the back. "I didn't want to go into overtime," Munoz said. "We knew that Dartmouth was facing off against Cornell and that they would beat Cornell. We didn't care about a tie."
In the 82nd minute, the pressure paid off. It wasn't pretty, but it didn't matter. Aubrey Medal '07, who has been one of the team's quietly efficient playmakers for four years, muscled her way into a goalmouth scramble and poked the ball home. Columbia had the goal it needed.
"It would have been great if we had been up 2-0 in the second half so I could have been composed and prepared my post-game speech, but I'm certainly not going to complain about it," McCarthy said. "We really couldn't get that game over fast enough. Those last eight minutes were probably the most unfocused we were the whole last month of the season because we were so excited."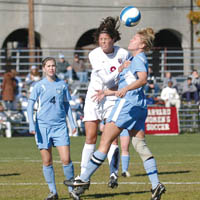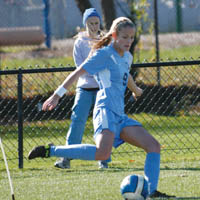 Photos: Laurene Aigrain '08E

When time finally ran out, Columbia had an Ivy championship and no one could contain their emotions. Not the Columbia fans who journeyed up to Cambridge and stood for the whole second half. Not McCarthy, dripping from a Gatorade bath. Certainly not the players. "It's a good thing we have it on film, because a lot of it is just a blur," Munoz said. "I was on a different planet."
The celebrations on the field eventually had to be taken into the lockerroom, since another game was waiting to start. The players sang a team favorite, Celine Dion's "It's All Coming Back To Me Now," into their hairbrushes so loud that Munoz was convinced they would break a window.
Director of Athletics M. Dianne Murphy was among the fans and saw the team's achievement as a sign of things to come for the entire athletics program. "Anytime you win a championship when you've played so well during the year," she said, "it really sets the expectations for everyone else to do the same."
Forty-eight hours later, the team had left Cambridge and gathered at ESPN Zone in midtown Manhattan to follow the NCAA Tournament draw. The Lions would face the University of Connecticut. The players seemed less worried about UConn's recent record - it had played for a national championship in 2003 - than by the question, "Where is Storrs, Conn.?"
Five days later, they found out. Though two defensive mistakes dragged the Lions to a 2-1 defeat, they hung with the Huskies until the bitter end in a game that could have gone either way.
"Maybe in the eyes of Columbia students and faculty, winning the Ivy League was the pinnacle," Judkins said. "But in the eyes of other schools and other programs, being in the tournament and doing great has served us well."
The season may be over, but this team has one more date on its schedule. On February 9, at halftime of the men's basketball game against Yale, the women's soccer team will be presented with its Ivy League championship rings.
This time, McCarthy's won't end up in the river.
---
Joshua Robinson '08 covered the women's soccer team's 2006 season for Spectator, where he was sports editor. It was his third season covering the program. Robinson's articles have appeared in The New York Times and The Washington Post.
| | | | | | | |
| --- | --- | --- | --- | --- | --- | --- |
| | | || | | || | | |