| | | | | | | |
| --- | --- | --- | --- | --- | --- | --- |
| | | || | | || | | |
OBITUARIES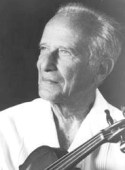 Milton Katims, conductor, Seattle, on February 27, 2006. Born into a musical family in Brooklyn, Katims played violin from a young age and later switched to viola. He majored in psychology at the College while studying music and conducting. Katims became assistant conductor for the NBC Symphony Orchestra in 1947 under Arturo Toscanini and taught at the Juilliard School for several years. During his 22 years as music director of the Seattle Symphony, starting in 1954, symphony subscriptions more than quadrupled. Katims helped to establish Seattle's Opera House, from the fundraising stage to conducting the opening night concert in 1962. He also launched a chamber music concert series that attracted top soloists, including violinist Isaac Stern. After leaving the Seattle Symphony Orchestra in 1976, Katims became artistic director of the School of Music at the University of Houston, where he remained for eight years. He returned to Seattle in the early 1980s. In addition to his wife of 70 years, Katims is survived by a daughter, a son, a brother and two grandchildren. Memorial contributions may be made to Katims Fund for Kids, Seattle Symphony Orchestra, PO Box 21906, Seattle, WA 98111.


Gilbert Y. Steiner, scholar and author, Chevy Chase, Md., on March 1, 2006. A New York City native, Steiner entered with the Class of 1944. After serving in the Army from 1943–46, he earned a master's in political science from GSAS in 1949 and a Ph.D. from the University of Illinois in 1950. Steiner was a faculty member at the University of Illinois from 1950–66, directing the Institute of Government and Public Affairs. He was a fellow of the Social Science Research Council in 1957 and a Ford Foundation Fellow from 1961–62. Steiner joined the Brookings Institution in 1966 as a senior fellow in the governmental studies program. From 1968–76, he directed the program and from 1976–77 was acting president. In 1989, he retired and was designated a Brookings senior fellow emeritus. As director of the governmental studies program, Steiner created a program concerned with the workings of governmental institutions and policy design. As a scholar, Steiner examined the role of congressional conference committees, the subject of his first book. Survivors include his wife of 55 years, Louise; children, Charles, Daniel and Paula; and six grandchildren.


Herman Roiphe, psychoanalyst, New York City, on December 14, 2005. Born in Brooklyn, Roiphe earned his M.D. at P&S in 1951. After training at Yale and the New York Psychoanalytic Institute, he was an assistant professor of psychiatry at the Albert Einstein Medical College at Yeshiva University from 1967–78. In 1978, he was named associate professor of psychiatry at the Mount Sinai School of Medicine, where he remained until his death. Roiphe drew on his clinical practice and time spent with children in nurseries to refine existing Freudian notions of when children begin psychosexual development. The research resulted in the book Infantile Origins of Sexual Identity (1981), which showed that by 18 months children start feeling differences between boys and girls. Roiphe and his second wife, Anne, a novelist, whom he married in 1967, collaborated on Your Child's Mind (1985), which looked at mental health aspects of divorce, spanking and toilet training, and explained possible causes and therapies for autism and child psychoses. Roiphe's first marriage ended in divorce. In addition to his second wife, he is survived by five daughters: Katie, Rebecca '93, Margaret, Emily and Jean; and five grandchildren.


Arthur J. Galligan, retired attorney, Alexandria, Va., on January 4, 2006. Galligan was born in New York City and earned a B.A. in geology from the College and a law degree from NYU in 1953. In 1957, he was the third lawyer to join the New York law firm Dickstein & Shapiro, which now has 375 lawyers in three cities. Galligan became a founding partner of Dickstein Shapiro & Galligan, now Dickstein Shapiro Morin & Oshinsky. He was a partner in the firm's New York office until he moved in 1974 to Washington, D.C., where he remained a partner until retiring in 1995. During the mid-1960s, Galligan pioneered procedures for the administration of consumer claims in an antitrust class action involving tetracycline. During the Red Scare, he helped represent blacklisted directors, writers and actors. For many years, Galligan was counsel to the George W. Henry Foundation, an organization affiliated with the Episcopal Church that provides legal protection to gays and lesbians. He is survived by his wife of 32 years, Maura (née Crowe); children from his first marriage to Carol Galligan, which ended in divorce, Jessica Goldsmith and Zachary; children from his second marriage, Gregory and John; and three grandchildren.
Vincent Pascucci, retired language teacher, Andover, Mass., on March 26, 2006. Growing up above his family's Yonkers restaurant, Pascucci spoke English and Italian, and through his studies at the College and time in Germany with the Army learned five more languages: Latin, Greek, French, Spanish and German. Pascucci earned a master's in classics in 1957 from GSAS and a doctorate at Brown. He began teaching at Manhasset H.S. on Long Island and joined Phillips Academy (Andover) in 1964. Pascucci received an honorary degree from Georgetown and was a Fulbright Scholar in Rome and visiting professor at Dartmouth. He was former chair of the World Languages Department and a member of the Andover community for 37 years, teaching Latin, German, Ancient Greek and Italian before retiring in 2001. He coached tennis and annually taught the senior class to sing "Gaudeamus Igitur" for Commencement. Pascucci recovered from a stroke to tutor students in Latin and Greek until four weeks before his death. He is survived by his children, Scott, and Victoria Aloiau; sister, Norma Austin; brother, Louis; two grandchildren; and companion, Patricia Maroni. Memorial contributions may be made to the Phillips Academy Fund in memory of Vincent Pascucci, c/o the school.

1949

Fergus Nicol, engineer, The Villages, Fla., on February 4, 2006. Nicol worked for General Electric Co. for 33 years as a military jet engineer and accident investigator, spending 10 years in Germany. He is survived by his wife, Mary; and children, Colin, Cynthia, Laura, Mary Lee, Bruce and Scott.
Kenneth E. O'Shaughnessy, businessman, East Granby, Conn., on February 13, 2006. Born in Plainfield, N.J., O'Shaughnessy grew up in Seaford, N.Y. At the College, he was a member of the wrestling team, president of the junior class and earned the 1949 Award for Leadership. O'Shaughnessy graduated from the Business School in 1953. He served in the Army during the Korean conflict and then worked for many years at Torin Corp. An avid photographer, he also enjoyed making furniture for his children. O'Shaughnessy is survived by his wife, Virginia (née Campbell); children, Jane, Julie and her husband, Jeff Woods, K.C. and his wife, Beth, Eileen and her husband, Steve Smith, Bill and his wife, Jacqui; four grandchildren; brothers, Henry F., Richard and his wife, Winnie, and Raymond and his wife, Carole; and sisters-in-law, Mary O'Shaughnessy and Elinor Feihel. He was predeceased by a brother, John; sister-in-law, Tomi; and niece. Memorial contributions may be made to the SEA Scholarship Fund, Simsbury H.S., 34 Farms Village Rd., Simsbury, CT 06070 or St. Bernard Church, 7 Maple St., Tariffville, CT 06081.


Arthur Parton, real estate executive, El Paso, Texas, on December 21, 2005. Born in 1930 in Brooklyn, Parton received a B.S. in mechanical engineering from the Engineering School in 1953. After serving as a naval officer, he was a management consultant to a wide variety of domestic and foreign companies. Later in life, Parton founded a real estate agency with his wife of 36 years, Martha, and was the real estate broker for their company. He is survived by his wife; daughters, Elizabeth, Susan and Lisa; sons, Anthony, Bill and Mark; 14 grandchildren; and four great-grandchildren.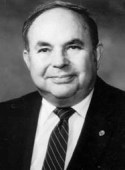 Thomas J. Swisher, investment adviser, Fort Myers, Fla., on March 29, 2006. Swisher was born in Mansfield, Ohio, in 1931 and graduated from the College with a pre-law degree. He served in the Navy from 1953–56. Swisher was v.p. of training and education at Columbus Mutual Life Insurance Co. He moved to Fort Myers in 1979 and received his C.L.U., RHU and ChCF designations and later established Cornerstone Financial Advisory. Swisher was a dedicated member of the Optimist International Service Organization for 48 years, volunteering with the youth of his community wherever he lived, and was Optimist International's president-elect at the time of his death. He is survived by his wife of 53 years, Gwendolyn (née Baker); daughters, Pamela Fredericksen and her husband, Jeffrey, Jill Johnson, and Lori Eldred and her husband, Dennis; nine grandchildren; two great-grandchildren; a brother; two sisters; nieces and a nephew. He was preceded in death by a grandson. Memorial contributions may be made for scholarships to Optimist International Foundation, 4494 Lindell Blvd., St. Louis, MO 63108.


James H. Schwartz, neurobiologist, New York City and East Hampton, N.Y., on March 13, 2006. Born in Manhattan, Schwartz earned his medical degree from NYU and doctorate from Rockefeller University. He became an assistant professor of microbiology at NYU in 1964 and professor in 1972. Schwartz joined Columbia in 1974 and held appointments in physiology, cellular biophysics, psychiatry and neurology. He helped found Columbia's Center for Neurobiology and Behavior and co-edited the textbook Principles of Neural Science (1979), now in its fifth edition. From 1984–91, Schwartz was an investigator for the Howard Hughes Medical Institute. He collected coins and gems and published papers in the American Numismatic Society journal, specializing in coins of the Vandals in northern Africa in the fifth century and gems of Egypt and the eastern Mediterranean from the second to fourth centuries. Schwartz was a fellow of the American Association for the Advancement of Science, a trustee of the American Numismatic Society and a fellow at Columbia's Center for the Ancient Mediterranean. His first wife, Frances, died in 1984. He is survived by his wife, Catherine Lipkin; daughter, Daisy Salzman; son, Peter; stepson, Jonathan Lipkin; and five grandchildren.
Stephen D. Strimpell, actor, New York City, on April 10, 2006. Strimpell was best known for his role as Stanley Beamish, an innocent gas station attendant who morphed into the title character, a flying superhero, in the 1967 cult television classic Mr. Terrific. Born in New York City in 1934, Strimpell was a junior Phi Beta Kappa at the College and earned a degree from the Law School in 1956. He was a member of the New York Bar before embarking on his acting career. A popular acting teacher at HB Studios and in private classes, Strimpell played the title role in The Disintegration of James Cherry at Lincoln Center and appeared in such Off-Broadway plays as To Be Young, Gifted and Black and The Exhaustion of Our Son's Love. At the American Shakespeare Festival, he appeared in plays with Katharine Hepburn, among others. He also had featured parts in more than a dozen films. Strimpell directed at the Mark Taper Forum in Los Angeles and appeared there in The Miser with Hume Cronyn and Jessica Tandy. He is survived by a brother, Charles.


Richard L. Pearlman, opera center director, Chicago, on April 8, 2006. Born in Norwalk, Conn., in 1937, and raised in Tucson, Pearlman majored in English at the College. After graduation, he served a series of apprenticeships in opera and theater. In 1961, Pearlman was directing a chorus for the Chicago Lyric Opera, when the director abruptly cabled his resignation and Pearlman was thrust into directing his first opera. His formal debut came in 1964, when he directed the first American staging of Hector Berlioz's Beatrice et Benedict for the Washington Opera Society. Pearlman was staff director at the Metropolitan Opera from 1964–67, then general director at the Washington Opera Society for two years, where his 1969 The Turn of the Screw, with live action and film, created a lively debate. He freelanced for several years, directing productions at venues throughout North America. Pearlman served from 1976–95 as director of the Eastman Opera Theatre at the Eastman School of Music in Rochester, N.Y. He took a post at Chicago's Lyric Opera Center for American Artists in 1995, where he groomed and launched young singers and was director at the time of his death.


Ira B. Black, neuroscientist and brain researcher, Skillman, N.J., and Andes, N.Y., on January 10, 2006. Black was born in the Bronx and attended the Bronx H.S. of Science. In 1965, he earned his M.D. from Harvard. From 1975–90, Black was director of Cornell's division of developmental neurology. He authored The Changing Brain: Alzheimer's Disease and Advances in Neuroscience (2002) and Information in the Brain: A Molecular Perspective (1991). Black was an early advocate for stem cell research and a founder of the state-financed Stem Cell Institute of New Jersey; in 2004, when New Jersey legislation approved stem cell research, Black was appointed the institute's first director. He also chaired the department of neuroscience and cell biology at the University of Medicine and Dentistry of New Jersey. His research involved investigations of neurons and brain function as well as the origins of neurons. In 2000, Black and others succeeded in forming cells similar to neurons from stem cells taken from the bone marrow of humans and rats and published their results in The Journal of Neuroscience Research. Black's marriage to Janet Linquist Black ended in divorce. He is survived by a son, Reed; and his fiancée, Janet Davis.
Lisa Palladino
Other Deaths Reported
Columbia College Today also has learned of the deaths of the following alumni (full obituaries will be published if further information becomes available):
1928 : Henry J. Hettger, retired, Arlington, Va., on May 14, 2006.
Gerald M. Schumann, physician, Carlisle, Ariz., on March 15, 2006. Schumann earned a degree from P&S in 1933.
1941 : Frank C. Austin Jr., retired, Orlando, Fla., on October 20, 2005.
1949 : Theodore J. Zaremba, Colorado Springs, Colo., on August 7, 2004.
1951 : James H. Hammon, v.p. and creative director, New York City, on May 26, 2004.
G. Harold Pickel, Québec, on January 22, 2006.
1956 : Harold B. Shorr, dentist, Woodcliff Lake, N.J., on May 17, 2006.
1957 : Richard P. Brickner, novelist, memoirist and critic, New York City, on May 12, 2006.
Henry "Hank" Marksbury Jr. , retired, Middleburg, Fla., on March 25, 2006.
1958 : John W. Hammond, Toronto, on September 12, 2004. Hammond is survived by his spouse, Bruce Eves.
2005 : Zanyon M. Camprise, Uddevalla, Sweden, on May 1, 2006.
Obituary Submission Guidelines
Columbia College Today welcomes obituaries for College alumni. Please include the deceased's full name, date of death with year, class year, profession, and city and state of residence at time of death. Biographical information, survivors' names, address for charitable donations and high-quality photos (print, or 300 dpi .jpg) may also be inclouded. Word limit is 200; text may be edited for length, clarity and style at the editors' discretion. Send materials to Obituaries Editor, Columbia College Today, 475 Riverside Dr., Ste 917, New York, NY 10115-0998 or to cct@columbia.edu.
| | | | | | | |
| --- | --- | --- | --- | --- | --- | --- |
| | | || | | || | | |


CCT Home


This Issue


Previous Issue

CCT Masthead