| | | | | | | |
| --- | --- | --- | --- | --- | --- | --- |
| | | || | | || | | |
ALUMNI UPDATES
Tze Chun '02: Breaking Through at Sundance
By Jennifer Preissel '05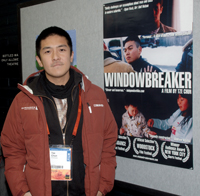 PHOTO: KEN LEVINE/SUNDANCE FILM FESTIVAL VIA WIREIMAGE.COM

Last fall, Tze Chun '02 finally got the call. After several failed attempts, one of his films — the short Windowbreaker — had been accepted to screen at the Sundance Film Festival.
"As soon as the shorts program was released, people started calling me from New York and L.A.," says Chun, who had accomplished one of the goals of every upstart indie director. "It opened up a lot of doors that were closed to me just a week before." Agents, managers and development executives were calling to "find out if I had feature projects I was working on."
Chun has accrued quite a résumé since he graduated from Columbia. Subsisting on commissions from his artwork (his watercolors have been exhibited in SoHo's CVZ Contemporary gallery; clients in New York, Boston and Philadelphia and New Orleans have commissioned him to paint portraits; and he designed the poster for the recent film by Anna Boden '02 [see here], Half Nelson), commercial videography and assisting the family business in Boston, he earned enough keep to make numerous short films, despite the fact that he did not attend film school. Granted, the films have been low-budget affairs — his budgets have rarely surpassed $2,000 — but Chun's creativity and dedication to his projects have yielded high production values despite his limited resources.
"It started in high school," says Chun, who grew up in Randolph, Mass. "When I was a sophomore at Milton Academy, my friends and I decided to make an action movie. We planned to meet up somewhere to shoot action scenes. No one showed up, so I just started filming stuff." After pursuing an independent study in film at Milton, Chun began making features. "More than a few nights I would sneak into my school's editing facility to play around on the machines, and I would get caught by security guards because I wasn't supposed to be there. I would have to call my mom at 3 in the morning to pick me up. Luckily, she was very supportive."
At Columbia, Chun majored in film studies. Enrolled in James Schamus' graduate-level "Seeing Narratives" course at SOA, he was profoundly impacted by the professor's approach to story-based films. In the class, "We didn't watch a lot of movies, it was more about aesthetics," says Chun. Though Columbia's film major focuses primarily on film history and theory, Chun continued to write scripts independently and directed two shorts and a feature while an undergraduate.
After graduating, Chun set a goal to pen one feature film every nine months and make a short film every six months in lieu of going to film school. "I felt like it was expensive and I didn't feel it was necessary," he says of film school. "It would have been great to have a support system of other filmmakers, but I was self-motivated enough that I could do projects on my own and save money and time." Partnering with college friend Sheila Dvorak '03, Chun formed the collaborative The Complications, and co-penned and co-directed an interwoven pair of three-part films called Pink and Blue and Two Histories and a Summer in 2002. The films centered around a group of 20-something New Yorkers and had what Chun describes as a Woody Allen-esque feel. Of the duo's unique pseudonym, the director says it refers to the focus of their films: "We wanted to our films to depict the complications of everyday situations."
Chun's successive output has been prodigious. His films have tackled a range of genres, from the socially concerned period piece (Back to the Front) to the tragic drama (The Long Wave Goodbye) to the comic kung fu sci-fi flick (Cold Feet, Wet Dreams and the Kitchen Sink). He was a quarterfinalist in the Slamdance Screenplay contest and a finalist in the annual Writemovies.com contest. His dedication to filmmaking has been unflagging, and he has served in many capacities on film shoots: writer, director, producer and occasionally stand-in costume designer. While shooting Back to the Front, he sewed stripes on soldiers' uniforms, constructed a shed in his friend's backyard and even "drove the equipment van into my friend's house one morning because I was so tired."
Windowbreaker, which screened at Sundance in January, has gone on to several other festivals, winning the audience award at the New York City Short Film Festival and the best short film award at the Vietnamese International Film Festival. The film drew from Chun's experience growing up in Randolph. "In the early '90s, a lot of Chinese people moved into what had been primarily a Caucasian neighborhood. In the late '90s, a lot of Vietnamese moved in, creating this strange, but kind of funny, three-way paranoia" among the groups. When a series of break-ins occurs in a residential community, neighbors become suspicious of those living in their own backyards. Chun's film depicts discrimination along subtler racial gradations, as a Chinese woman warns her children to watch out for the Vietnamese kids in on the block. Independentfilm.com called Windowbreaker "a subtle look at race and class relations in Suburbia [that] forces the viewer to confront the topical issues of safety and security in the modern age."
Chun is now shopping his next project, a feature based on his mother's childhood as an orphan in Singapore. After recording video footage and audio of his mother and other relatives in Hong Kong and Singapore, amassing more than 600 pages of research and 30 hours of video interviews, Chun has written the screenplay for the ensemble drama You're a Big Girl Now. "It's the project I feel most passionately about," says Chun, "because it's personal and it's inexhaustible. I've been working on it for 10 years."
To read more about Chun, visit www.tzechun.com.
---
Jennifer Preissel '05 is the History Project coordinator at the San Francisco Film Society.
| | | | | | | |
| --- | --- | --- | --- | --- | --- | --- |
| | | || | | || | | |


CCT Home


This Issue


Previous Issue

CCT Masthead