| | | | | | | |
| --- | --- | --- | --- | --- | --- | --- |
| | | || | | || | | |
A Year to Remember
Promoting Peace and Cooperation
Columbians compete for many honors, but it's hard for anyone to plan what Hyun Bo Sim '96 and Anne Kang Sim '96 achieved at the stroke of midnight, January 1, 2004.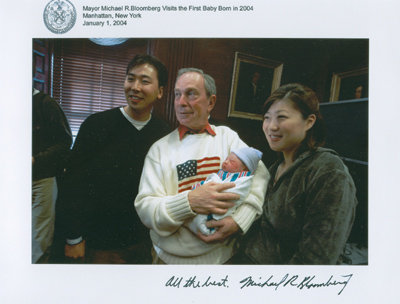 New York Mayor Michael Bloomberg holds New Year's baby Emmanuele Ana Sim, flanked by the proud parents, Hyun Bo Sim '96 and Anne Kang Sim '96.

The couple's daughter, Emmanuelle Anna Sim, was born at New York Hospital at 12 a.m., which tied her with a Brooklyn baby for the honor of the city's First Baby of the New Year.
Emmanuelle's due date was December 27, and the Sims were told she would probably arrive ahead of schedule. But the due date came and went, and any thoughts of a New Year's baby didn't come until well into the evening of December 31, when doctors and nurses in the obstetrics department of New York Hospital started getting excited over the possibility of a midnight delivery.
"What really got Anne's competitive juices flowing was when a doctor came in and said, 'There's another woman pushing and she might have the New Year's baby,' " Hyun recalls.
As midnight approached, the delivery room filled with cheerleaders wearing New Year's hats. With Dick Clark on television in the background, Emmanuelle appeared as the ball dropped and "2004" illuminated. She was 8 lbs., 6.5 oz. and 213–4 inches.
What followed was more than the usual New Year's celebration and birth celebration combined. Without much sleep, the Sims appeared on segments of Good Morning America that were taped at 3:30 a.m. By mid-morning, Mayor Michael Bloomberg had paid a visit and held a press conference with the family that led to reports on several local television and radio stations and in the New York newspapers.
"This is the future of America, this is the future of New York," Bloomberg announced as he held up Emmanuelle. He also offered the Sims his babysitting services, then joked about how Emmanuelle would grow up into a teenager.
Hyun and Anne met as juniors at an Intervarsity bible study meeting. They married in 1999 at the Central Park Boat House, and in 2000, both graduated from the University of Chicago — he with a law degree, she with a business degree. Hyun is an associate at the law firm Hughes, Hubbard, Reed. Anne works in the business planning department of Disney.
Shira Boss-Bicak '93
| | | | | | | |
| --- | --- | --- | --- | --- | --- | --- |
| | | || | | || | | |