| | | | | | | |
| --- | --- | --- | --- | --- | --- | --- |
| | | || | | || | | |
BOOKSHELF
Fixing the World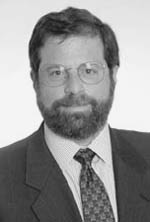 Sam Hart is a man accustomed to warfare. When we first meet the hero of Richard E. Witten '75's novel, Divided Loyalties (Booksurge, $15.99), he is a soldier in the 14th Infantry, dodging bullets during World War II. Later on, he's a corporate general, head of the trading division at a New York investment bank. "Thirty years of battle" on Wall Street have left him scarred, feeling empty, inclined to drink a little more than he needs to. So far, not an abnormal suburban story.
But as we read on, Hart begins, surprisingly, to undertake an unusual inward journey. He recovers, at first with ambivalence, a few of the painful wartime memories he's tried so hard and so long to suppress. He befriends Anton, a concentration camp survivor. As their friendship grows, he feels more and more able to acknowledge both guilt and searing pain. The slow process of healing begins. A Hebrew phrase of Anton's sounds again and again through the book, like a tolling bell, as Hart slowly repairs his life: tikkun olam , or "fix the world."
Witten's novel is so moving and memorable that a reader could be forgiven for guessing that it might be based on a true story. In fact, the reader would be right. Witten, a University trustee and senior managing director of The Orienta Group, says that the novel was the result of "serendipity," a story that fell into his lap.
His late father-in-law, Harold Hayes II, Witten says, was a man whom he loved deeply. Hayes was "a very inwardly turned person, with very few surface emotions;" but "deep down you knew that he was this incredibly sweet and wonderful person." Unbeknownst to his family, Hayes — like Hart — was concealing a past that he found too difficult to face. As a World War II soldier, he had gone through the horrors of liberating a concentration camp. Still more painfully, he had taken part in the postwar forced repatriation of Russians: a hushed-up Allied conspiracy which sent more than a million people back to imprisonment and death under the Stalin regime.
Thanks to his friendship with a concentration camp survivor, Hayes began to open up to his family about his wartime experiences. And that's how the story came to Witten, a comparative literature major at Columbia who says that he was "always an aspiring writer." However, Witten attended Harvard Law School, practiced corporate law and rose to prominence as a managing director at Goldman Sachs, where he says he "grew up on the currency desk."
Recently, after 25 years as an investment banker, he was ready for a new kind of challenge. And Hayes' story was, to Witten, one that demanded to be told, with a juxtaposition of events that was "almost too amazing to be real."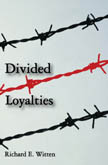 So how much of Divided Loyalties is based on actual events? Witten tells the story of a College pal who would write on his papers, inscrutably, "TFP," with a number written after it. "Truth for percentage," explains Witten — the percentage of what he'd written that was actually true. The TFP on his own war story, he says, is "about 70." The facts are fleshed out by research; early on, Witten even thought of writing the book as nonfiction, but changed his mind when he realized the scope of the original research (in various languages) that he'd have to do.
Not surprisingly, Witten's Wall Street scenes are grippingly real. It's a tribute to Witten's writing that he can make the political death-struggle between Hart and his aggressive boss, Stanley, or the rise and fall of currencies, seem as thrilling as the hailfire of German bullets during an ambush. Hart continues to disobey his boss's commands to terminate a beloved (and highly competent) employee, and eventually his world, at first filled with crisis, begins to right itself. Evil, in this book, seems to follow when orders are unthinkingly executed; and evil is turned aside when Witten's characters begin to think for themselves.
tikkun olam seems like the ideal motto for a busy philanthropist, which Witten is. He is a vice chair of the University Board of Trustees, a member of the board of the Columbia Investment Management Co., a co-chair of the $4 billion Columbia Campaign and serves on the investment committees of a number of nonprofits. (In his spare time, he works on a second novel, Fillmore East ). A sense of moral yearning pervades Divided Loyalties . The concept that the world is like a shattered vessel which once held godliness, and that our task is to put it back together, clearly resonates with him. The idea of tikkun olam , he says, is "a wonderful antidote to that sense of hopelessness … If each individual takes responsibility, maybe there are answers."
Rose Kernochan '82 Barnard
| | | | | | | |
| --- | --- | --- | --- | --- | --- | --- |
| | | || | | || | | |


CCT Home


This Issue


Previous Issue

CCT Masthead