| | | | | | | |
| --- | --- | --- | --- | --- | --- | --- |
| | | || | | || | | |
WITHIN THE FAMILY
Dean's Day Marks a Decade
By Alex Sachare '71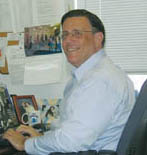 If the many events and programs run by the Alumni Office, one of my favorites is Dean's Day. It was the first event I attended after coming back to Columbia 10 years ago, and I haven't missed one since.

Dean's Day is an opportunity for alumni to return to campus and be students for a day, to sit in the same classrooms and listen to some of the same teachers they had as undergraduates or sample a new generation of faculty. For parents, it's a chance to experience a bit of what their children are experiencing right now, maybe spend an hour in a sample class taught by one of the same faculty their children are learning from. And if they are really persuasive, they can get their children to join them, as Dean's Day is open to students as well.
In addition to lectures by some of Columbia's finest faculty, Dean's Day includes a welcome breakfast and a "State of the College" address from Dean Austin Quigley as well as a series of information sessions hosted by representatives from the Center for Career Education. There's even a lunch offered in Low Rotunda, or you can sample the fare along Broadway or Amsterdam Avenue — sometimes there's even a street fair the same day.
In one of my first Dean's Days, I was spellbound as one of Columbia's legendary teachers, James P. Shenton '49, wove his seminar around his experience as a medic in WWII during the liberation of the concentration camps in Eastern Europe. Though confined to a wheelchair, he spoke with the verve and passion that enthralled so many Columbians and cemented his place in the University's faculty pantheon.
Other highlights of recent Dean's Days, for me, include environmentalist Don Melnick describing the importance of making sustainability an economically viable issue, and Nobel Prize-winning economist Joseph Stiglitz discussing how to make globalization work. It's not every day you can hear such accomplished educators give their unique perspectives on vital issues — but it is every Dean's Day.
If you haven't experienced Dean's Day but wonder what it would be like to take a class at alma mater, try it out on Saturday, April 12.
---
On April 1 (no fooling!), I will celebrate my 10th anniversary of being back at alma mater after a hiatus of 27 years, during which I spent much of my professional life watching very tall men shoot an inflated leather sphere through an elevated hoop. I've learned there is life after basketball, if I had to go back to my roots to find it.
Older readers will remember the saying, "I got my job through The New York Times." Well, that's how I got my job, browsing through the Sunday Times one morning, spotting an ad from Columbia College for a magazine editor and thinking (a) I'd be right for that job, (b) It might be fun to work at my old school, and (c) A steady paycheck does have some advantages over life as a freelancer. CCT's editor, Jamie Katz '72, was moving on after a distinguished quarter-century at the top of the masthead, and I was fortunate to step in when the College was looking for an experienced editor to expand the magazine and the Alumni Office's other communications efforts.
It has been a fascinating time. I have come to appreciate the dedication of the professionals whose day-to-day efforts make this College the remarkable place that it is. I have come to respect the devotion of the legions of volunteers who eagerly give of their time and expertise to help guide the College's administrators, while also giving generously of their money to help fuel the engine. And I have come to marvel at the intelligence of the faculty and the brilliance of the students, who make the campus on Morningside Heights one of the most amazing places in the world.
CCT has come a long way in the past 10 years. We've expanded our content, modernized our design and grown into a bimonthly publishing schedule, all aimed at achieving our mission of better connecting our readers — alumni, parents, students and others in the Columbia family — with each other and with the College.
I'm pleased to report that we seem to be achieving this goal. In a recent College-sponsored survey, a randomly chosen sample of alumni was asked, "Which of a list of 25 items (if any) would be of interest to you and perhaps encourage your greater connection to Columbia College?" "Reading Columbia College Today" finished No. 1 on the list. And when asked how often they read at least some of CCT, 78 percent responded "always" or "most issues."
Such survey results support the anecdotal evidence I gather at events; it always makes my day when an alumnus or alumna walks up to me (recognizable, of course, from the snappy picture above, to say nothing of the gold nametag Alumni Officers wear) and says, "Great job with the magazine, I look forward to reading it." And I look forward to hearing your ideas for stories or other ways to improve CCT.
Thank you for your support. I hope the next 10 years will be even better.
| | | | | | | |
| --- | --- | --- | --- | --- | --- | --- |
| | | || | | || | | |