| | | | | | | |
| --- | --- | --- | --- | --- | --- | --- |
| | | || | | || | | |
AROUND THE QUADS
Alumni, Parents Can Become Students at Dean's Day 2007
By Alex Sachare '71
Alumni and parents will have the opportunity to become students for a day and hear the latest College news from Dean Austin Quigley by participating in Dean's Day 2007 on Saturday, March 31, on the Morningside Heights campus.
Guests may choose from five academic tracks taught by some of Columbia's finest faculty, plus offerings in career education and student affairs, as they take part in what has become a College and Alumni Association tradition. "There are few events on our calendar that bring together so many members of our College community — faculty, alumni, students and parents," observed CC Alumni Association President Brian C. Krisberg '81.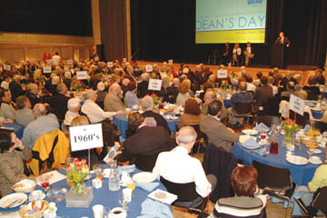 Photo: Eileen Barroso

Quigley and Krisberg open the program by hosting a continental breakfast in Roone Arledge Auditorium of Alfred Lerner Hall, during which Quigley will address the guests about the latest happenings and issues facing the College. Afterward, alumni have a chance to relive the classroom experience and parents may sample some of what their sons and daughters experience by attending informative lectures and lively discussions with popular faculty, as well as information sessions hosted by professionals from the Center for Career Education and the Office of Student Affairs.
There's something for everyone among the academic offerings. University Professor Joseph E. Stiglitz, a Nobel Prize-winning economist, will lead a session on "Making Globalization Work," and C. Lowell Harris Professor of Economics and Professor of International Affairs Richard Clarida will discuss "The U.S. in the Global Economy." Interested in the arts? Steven Chaikelson '89, chair, theatre division of the School of the Arts, will lead "From Screen to Stage and Back Again"; Tom Kalin, associate professor film division of the School of the Arts, will discuss "Nonfiction Before Filmmaking"; and Walter M. Frisch, H. Harold Gumm/Harry and Albert Von Tilzer Professor of Music, will lecture on "Schoenberg in Context."
If preserving the environment is of concern to you, Thomas Hunt Morgan Professor of Conservation Biology Don J. Melnick's class, "It's Not Easy Being Green — or Is It?" should be of interest. For those with a passion for literature, associate professor of Slavic languages and literatures Liza Knapp will head a session on "The Russian Point of View: Dostoevsky, Tolstoy and Virginia Woolf." Urbanologists should enjoy "The Origin of Cities: Evidence from History, War and Peace," led by professor of economics Donald R. Davis, and for scientists, the offerings include "Bringing the Biotechnology Revolution to the Cell," taught by associate professor of chemistry Virginia Cornish '91 and "The Biology of Eden," led by professor of ecology, evolution and environmental biology Shahid Naeem.
Additional scheduled academic sessions include "Demon Drug du Jour," Carl L. Hart, associate professor of psychology; "The Poetics of Recycling: The Cento, the Collage, the Erasure and the Mashup," Timothy Donnelly, assistant professor of poetry, writing division, School of the Arts; "Their Drug Problem and Ours: The Challenge of Pharmaceutical Company Marketing to the Medical Profession," David J. Rothman '58, Bernard Schoenberg Professor of Social Medicine; "Death and the Origin of Mexican Popular Culture," Claudio Lomnitz, professor of anthropology; and "The Michelin Guide Crosses the Atlantic," Priscilla Ferguson, professor of sociology.
The Center for Career Education's offerings, led by Dean Kavita Sharma, Richard W. Kurz and Yuri Shane '99, include a panel discussion on what informs student choices while at the College, targeting parents and families of current students; a student panel that will discuss cross-cultural programming and the role of the Office of Multicultural Affairs; and a session entitled "Developing Responsible Leadership in an Increasingly Complex and Global Society."
Dean's Day, which is offered at a nominal cost to alumni and parents, is also open to students, for whom it is free. Parking and child care are available. In addition to the opening brunch and the lecture series (one in the morning, two in the afternoon), the program also includes lunch (at a modest extra fee) and a closing reception.
For alumni who can't make it to campus, the Alumni Office coordinates similar College Days throughout the year, bringing faculty and deans to cities around the country. Upcoming College Days are scheduled for San Francisco on March 10 and Los Angeles on March 11.
For further information on Dean's Day or College Days or to register, please refer to the brochures mailed by the alumni office, visit the Dean's Day website or contact Christina Liu, assistant director of alumni affairs: 212-870-2768 or cl2161@columbia.edu. Early registration ensures a choice of lectures before they reach capacity.
| | | | | | | |
| --- | --- | --- | --- | --- | --- | --- |
| | | || | | || | | |


CCT Home


This Issue


Previous Issue

CCT Masthead