| | | | | | | |
| --- | --- | --- | --- | --- | --- | --- |
| | | || | | || | | |
ALUMNI UPDATES
Harley Frankel '63 Helps Open College Doors
By Justin Clark '04J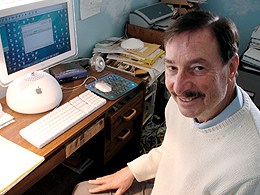 PHOTO: JUSTIN CLARK '04J

Harley Frankel '63 knows all about overcoming adversity. The first in his family to attend college, he was one of the few Columbia College first-years not to go home for winter break — instead, he spent it at Butler Library, studying incessantly. The product of an average, rural Virginia high school, he felt woefully behind classmates who'd gotten more rigorous high school educations in New York City.
"In those days, they gave finals after the break, and I was certain I was going to flunk," says Frankel with a laugh. "So I studied and studied, and I was shocked when I made the dean's list."
Frankel didn't forget his experience when, inspired by political science professor Joseph Rothschild, he went to Washington, D.C., some years later (after Harvard Business School). There, he helmed the National Head Start program, helped develop the forerunner to the Pell Grant program, was senior executive for the Children's Defense Fund and even helped to select the first secretary of education while Frankel was serving as a senior aide in the Carter administration. Frankel also had the honor of naming a major cabinet department, Health and Human Services, created from what remained of the department formerly responsible for education.
Yet after decades of working in education policy, it wasn't until his son prepared to go to college that Frankel learned that one of the toughest barriers to college wasn't one his generation had faced.
Frankel had sent his son to one of Los Angeles' most prestigious prep schools. He'd paid for SAT prep classes and a private college counselor, and spent hours navigating the complicated admissions and financial aid forms.
"What I realized was that the admissions process has become a full-time job," says Frankel. "And that's for a kid with all the advantages — how hard must it be for those kids in South Central and East L.A.?"
And so in 2003, Frankel, a gentle giant whose favorite word is "lovely," came out of retirement to solicit corporate and private support for his brainchild, College Match. The nonprofit's mission is simple: giving prep school-quality admissions assistance to talented and motivated students at high schools such as Garfield High, where Stand and Deliver teacher Jaime Escalante famously found success teaching AP calculus to remedial math students.
Unlike Escalante's students, Frankel's already are dreaming about college. What Frankel does is help them dream in Technicolor. He and two professional counselors, Julie Neilson and Kara Miller, visit five underprivileged high schools every year, asking teachers, principals and counselors to help identify academically advanced students in need of admissions counseling. It isn't easy whittling down the recommendations to the number College Match's current budget permits — 110 students this year.
Frankel emphasizes to students that the free program is a serious commitment. Every student receives around 100 hours of SAT prep, raising the average score by a sizeable 329 points. When scores still aren't high enough, Frankel helps the students write, and rewrite, essays that demonstrate their determination. Ninety-two percent are admitted to US News and World Report's top 50 university and small colleges. Forty percent find their way to the Ivy League, although none has made it to Columbia College yet, Frankel wistfully admits. But all of his "kids" are thrilled by a challenge they never thought they'd face.
"My high school doesn't get too many recruiters from big schools like UCLA, let alone Columbia or Harvard," says 18-year-old Josimar Luna '11E. Luna's older sister and older brother had already attended UC schools, yet Luna had scarcely considered options at more prestigious schools before Frankel visited his school, Bell H.S., two years ago.
For Angelenos such as Luna, one of the most helpful parts of College Match was a chance to tour East Coast colleges with dozens of fellow participants. Among others, the colleges include the Ivy League schools, five "Top Ten" small colleges and five schools that don't require SATs. Since three-quarters of College Match's participants are female, one tour includes four women's colleges.
Seeing 25 colleges in 10 days would be dizzying for anyone. What made up Luna's mind, eventually, was learning he could play intramural soccer at Columbia — exactly what he needed to hear to give up sunny California.
"I feel like I can go to him for anything," Luna says of Frankel. "If you have any financial problems or problems in your schoolwork, he's very approachable, and he'll respond immediately."
After four years championing deserving high school students through College Match, some of them are returning the favor. Last summer, the Mexican Bar Foundation presented Frankel with its annual Community Service Award. Normally, recipients ask to be introduced by the heads of foundations or prominent politicians. Frankel chose to be introduced by 19-year-old Betsy Perez, who found her way to Trinity College with College Match's help.
"As my mother has put it so many times, 'He's like a fairy godfather,' " Perez said. "I guess it's because of all the wishes he's made come true."
---
Justin Clark '04J writes for numerous publications, including LA Weekly and Nerve.
| | | | | | | |
| --- | --- | --- | --- | --- | --- | --- |
| | | || | | || | | |