| | | | | | | |
| --- | --- | --- | --- | --- | --- | --- |
| | | || | | || | | |
WITHIN THE FAMILY
Alumni Voices
By Alex Sachare '71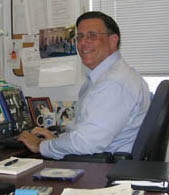 Columbia College Today is an alumni magazine, and we want to hear alumni voices. When we assign stories to freelance writers, we try to assign them, all things being equal, to members of the Columbia family – alumni, faculty or students. After all, who knows our audience better, and who can speak to our audience better?
We encourage our writers to write in their own style. We have editorial guidelines, like most other publications, but these serve to bring consistency to the magazine rather than to stifle creativity.
At this year's Editors Forum, an annual gathering of college and university magazine editors organized by the Council for Advancement and Support of Education, author, humorist and keynote speaker Roy Blount Jr. described an editor he encountered at Sports Illustrated. Blount was not especially fond of this editor, but then, most writers are not especially fond of most editors, whom they tend to regard as heavy-handed ogres who take pleasure in ravaging writers' pristine copy.
That prejudice aside, Blount's hackles were raised because this editor took not a hands-on approach to editing, but a hands-all-over approach. "You give me the lumber, I'll build you a house," was the editor's philosophy, as Blount recalled it. This editor wanted writers who would do the reporting and bring him the facts, then he'd craft them into a suitable story.
This is well and good, I guess, for a newsletter or a corporate brochure. But not for Sports Illustrated, and not for CCT.
We don't believe that the magazine should have just one voice. That would not be the Columbia way. After all, we are a school that takes pride in its culture of constant questioning, pushing the envelope and challenging convention. Put six Columbians in a Hamilton Hall classroom, toss out a controversial question and you'll likely get a half-dozen disparate responses.
One place where many voices speak out loud and clear is in Class Notes. We are proud that our Class Notes section is as large and vibrant as you'll find in just about any alumni magazine, and our class correspondents are afforded the freedom to write in their own style.
We constantly look for ways to get more voices into the magazine. We have a "First Person" feature in which members of the Columbia family describe their experiences in their own words. We print "Letters to the Editor" as space permits, and we ask our readers to contact us with story ideas.
CCT is your magazine, and we want to make sure your voice is heard. Let us know what's on your mind.
| | | | | | | |
| --- | --- | --- | --- | --- | --- | --- |
| | | || | | || | | |