| | | | | | | |
| --- | --- | --- | --- | --- | --- | --- |
| | | || | | || | | |
AROUND THE QUADS
New Features at Reunion 2006
By Lisa Palladino


Make your plane reservation, get your car tuned up or make sure your MetroCard is full — Alumni Reunion Weekend 2006 is set for June 8–11. This year the Alumni Office welcomes back to campus graduates from classes ending in 1 or 6 as well as the College's young alumni (see box). The weekend will offer Lions the chance to participate in campus activities, cultural outings, discussions and panels, and share great meals, cocktail parties and memories.
The weekend kicks off on Thursday, June 8, with check-in starting at 3 p.m. in Alfred Lerner Hall, registration headquarters and the place to find the most up-to-date information. On Thursday evening, visit with classmates at cocktail parties and receptions, then enjoy the night on your own or attend the American Ballet Theatre or a Broadway show: Sweeney Todd, The Color Purple or Tarzan.
Friday morning features "Back on Campus" activities, such as mini-Core courses and walking tours of Morning­side Heights, Butler Library and Manhattanville. While free, these events require registration. Also planned are class-specific activities; check the class schedule you receive at Lerner Hall. After lunch, attend the annual Alumni Representative Committee reception (for ARC members and those who wish to join) or participate in another Back on Campus event, then enjoy class-specific events such as barbecues and wine and cheese receptions before settling in at your class' cocktail party, reception or dinner. Those who observe the Sabbath are invited to join friends, family and classmates from the College, SEAS and Barnard for evening services and Shabbat Kiddush.
Friday activities continue late into the night with one of reunion's most popular events, Casino Royale at the Hammerstein Ballroom. The tables will remain in play after 10 p.m., when College, Barnard and SEAS alumni from the Classes of 1996–2006 are invited to gather for the sixth annual Alumni Dance Party.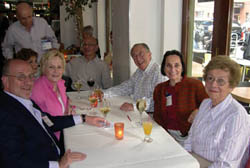 Regroup on Saturday morning with Morning(side) Yoga and Exercise in Lerner Hall, then enjoy breakfast in Roone Arledge Auditorium at the Dean's Brunch and Convocation, when Dean Austin Quigley, celebrating his 10th year as dean, will address alumni and present the President's Cup and other awards. Immediately following, join Professor Michael Rosenthal for the Alumni Reunion Weekend Lecture as he discusses his book, Nicholas Miraculous: The Amazing Career of the Redoubtable Dr. Nicholas Murray Butler [Class of 1882].
Lion cubs will be well taken care of on Saturday at the Children's Program; supervised activities and meals will keep them busy from 9:30 a.m.–10 p.m. with activities suitable for children ages 3–12. Other childcare services are available; check your reunion materials for more information.
At lunchtime on Saturday, join other alumni for the Alumni Reunion Weekend Clambake on campus, which will offer tasty lunch options, including vegetarian and kosher, for alumni from the Classes of 1971–2001 and their families. Other classes have arranged class-specific meals at various campus venues.
After you've eaten, get ready to learn and share your knowledge and experiences at class-specific class panels and discussions, amp up your career by attending a Career Education presentation or find out just how competitive the College is today at "The College Admissions Process." Later in the afternoon, enjoy "Great Wines for Under $20," then join classmates for the formal Saturday night dinners, which feature class photos. Don't leave before the Starlight Reception, which allows you to dance the night away on Low Plaza with plenty of champagne and desserts to keep you going.



Reunion Weekend wraps up on Sunday morning with a service of remembrance for deceased alumni; and a bagel, cream cheese and lox brunch, hosted by Columbia Athletics.
Online registration, a complete program of reunion events, and information on housing, parking, childcare and other frequently asked questions may be found on the Alumni Reunion Weekend website: http://reunion.college.columbia.edu. For answers to any other questions, please contact the Alumni Office: 212-870-2288 or toll-free, 1-866-CCALUMNI.
Young Alumni Reunion for '02–'05
New to Reunion Weekend this year is a young alumni component, open to the Classes of 2002-05. On Thursday night, June 8, join fellow Columbians at a cocktail party at the Frying Pan. On Friday night, June 9, dance, eat, drink and gamble with "Columbia Cash" at a pre-casino party with open bar and food at the Hammerstein Ballroom, which leads into Casino Royale and a dance party that includes SEAS and Barnard alumni. On Saturday, June 10, join fellow young alumni attendees at a wine tasting and dinner on Furnald Lawn followed by dancing and dessert at the Starlight Reception on Low Plaza. Register at http://reunion.college.columbia.edu.
| | | | | | | |
| --- | --- | --- | --- | --- | --- | --- |
| | | || | | || | | |


CCT Home


This Issue


Previous Issue

CCT Masthead