| | | | | | | |
| --- | --- | --- | --- | --- | --- | --- |
| | | || | | || | | |
ALUMNI UPDATES
Examining the Legacy of Dr. Leo Rangell '33
Psychoanalyst Dr. Leo Rangell '33 has lived through the Great Depression, five wars, segregation, desegregation, the infiltration of television into daily life, the first man on the moon, the rise of the computer age and countless other historical milestones. Today, at 95, he is honorary president of the International Psychoanalytic Association, a seat previously held by Sigmund Freud's daughter, Anna Freud, the adept psychoanalyst who is regarded as the founder of child psychoanalysis.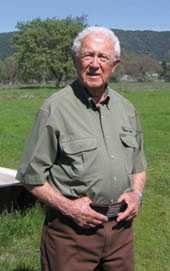 Born in 1913, Rangell experienced the College during a time when the country was in the grips of despair and poverty. An ambitious high school student from Sheepshead Bay, Brooklyn, he made the hour-plus commute to campus and says that his Columbia experience is one he will "cherish the rest of his life."
As he juggled the course load of a pre-med student, he enjoyed watching tennis and worked at Baker Field. Rangell graduated with honors and received his M.D. in 1937 from the University of Chicago, where he became interested in neurology and neurosurgery. An internship brought him back to New York and he did his neurology residency at Montefiore Hospital, where he was exposed to psychoanalysis for the first time. This changed his mind about what specialty to pursue; he chose psychiatry and later settled on psychoanalysis.
Two more residencies helped Rangell gain experience in patient treatment. At Grasslands Hospital in Westchester County, he had the opportunity to treat many patients in a short period of time, while at P&S, he focused on psychotherapy across a longer time span. At P&S, Rangell and his instructor, Margaret Mahler, wrote what he describes as the first psychosomatic paper on Gilles de la Tourette's disease based on analytic treatment. Also during his Columbia residency, Rangell became aware of the writings of Otto Fenichel, an Austrian psychoanalyst and prolific author. Rangell describes Fenichel's writing as "encyclopedic of the field of psychoanalysis. He writes with great clarity, reason and persuasiveness." Rangell wrote the introduction for the 50th anniversary printing of Fenichel's The Psychoanalytic Theory of Neurosis.
Rangell worked at the New York Psychoanalytic Institute before enlisting in the Air Force during World War II. There, he treated war neurosis in airmen who had been shot down as well as prisoners of war.
Like many East Coast psychoanalysts during the time following WWII, Rangell decided to move to the West Coast, where he hoped to work with Fenichel; however, Fenichel died just months before Rangell relocated.
Rangell has held professorships at UCLA and UC San Francisco and now has a private practice in Los Angeles. He has taught for 50 years, an experience he greatly values. "There's nothing like teaching to keep one on his toes," Rangell says, although he describes private practice as "the heart of a physician's life." He has written more than 450 scholarly articles that run the gamut of human mental disorders, and seven books that range from such subjects as presidential scandal (The Mind of Watergate, 1980) to his latest book, My Life in Theory (2004), which provides not only a summation of his life to this point but also a discussion of the evolution of psychoanalysis.
Rangell loves his job and his family. He and his wife, Anita, whom he married in 1939 and who died in 1997, had four children, and Rangell is a great-grandfather. He enjoys his days in Los Angeles, and visiting his family, which has branched out to the Boulder, Colo., area.
Still working at 95, Rangell continues to impact one student, one patient, one reader at a time.
Roy Cureton '08
| | | | | | | |
| --- | --- | --- | --- | --- | --- | --- |
| | | || | | || | | |


CCT Home


This Issue


Previous Issue

CCT Masthead