| | | | | | | |
| --- | --- | --- | --- | --- | --- | --- |
| | | || | | || | | |
ALUMNI UPDATES
Duncan Darrow '71: Helping Out the Next Guy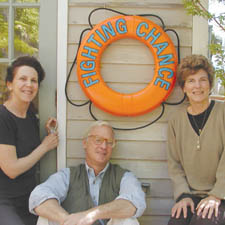 Photo: Rachael Shaw

It may not be a long trip from Wall Street in downtown Manhattan to Sag Harbor on Long Island, but for Duncan Darrow '71, it has been one filled with change. With almost 30 years under his belt as a Wall Street bankruptcy lawyer for Sidley Austin, Darrow has taken on a second career with Fighting Chance, a Sag Harbor nonprofit that helps families cope with cancer.
This life change was inspired by Darrow's mother: In 2001, she was diagnosed with lung cancer that quickly spread to her bones. Having to deal with not only the emotional anxiety but also the stress of doctor appointments, drugs, chemo­therapy, radiation treatments and all the other aspects of being caregivers, Darrow and his brother, Peter '72, were frustrated that they did not have enough information about what their family was facing. During one hospital visit, Darrow asked for a resource guide to help him. "They didn't have anything to give me except for the number of a taxi service," he recalls.
So Darrow began a search for information and resources in Suffolk County. Following the death of his mother four months after her diagnosis, Darrow transformed his frustration into Fighting Chance. "I just didn't want anyone else to go through this," he says.
With help from his brother, Darrow took the first steps to create an organization that would serve as an information and resource hub for cancer patients and their loved ones. With the help of Jessica Berlin '05 SW, he surveyed the Internet to see if a company with the same objectives already existed. After determining there was no such company, Darrow launched Fighting Chance. As he began working on the project, many of his Wall Street clients offered financial support. Darrow began the search for volunteers, counselors, social workers and board members. Of the 16 men and women who constitute the board, all have been affected by cancer in some way.
In the beginning, Darrow's expectations were modest. "I just wanted to help the next guy," he says. The organization had its first major success in 2003 with the release of Coping With Cancer on the East End: A Practical Resource Guide. This wide-ranging tool provides resources in areas such as second opinions, hospitals and health centers, insurance, pharmacies, physical and spiritual support, home care and Internet resources. In 2004, Fighting Chance began offering its free services from an office in Sag Harbor.
Today, Fighting Chance gives out between 4,000–5,000 free resource guides a year, runs a support group at the local hospital and hosts an annual "Day of Hope," a conference where top area doctors give lectures on the latest medical advances. With assistance from Darrow's niece, Meredith '04, the organization has developed a website (www.fightingchance.org) that reaches a wider range of people and offers a free download of its guide.
Although a Wall Street lawyer founding a nonprofit cancer support organization seems like a big adjustment, change was nothing new to Darrow. Growing up in Ann Arbor, Mich., Darrow made a big change coming to New York to attend the College. "It seemed so different, especially coming from the Midwest," he says of the excitement of the city. An active student, Darrow was a member of the crew team, captain of the hockey team and an Alpha Delta Phi brother. He also helped to start "Dawn, a Way of Night," a student-run substance abuse support group on campus, which has since ended. Initially an American history major, Darrow's outlook changed when he took an elective Russian literature class with Professor Robert Belknap. "It was an interesting class," he says. "It made me realize that Columbia is a vast resource of information. I just wanted to absorb as much knowledge as possible."
Darrow credits his Columbia education with enabling him to think more conceptually about events in the world around him. "It made me less judgmental and more open minded," he explains. "Even today, I am more open to life's possibilities."
Carmen Jo Ponce '08
| | | | | | | |
| --- | --- | --- | --- | --- | --- | --- |
| | | || | | || | | |


CCT Home


This Issue


Previous Issue

CCT Masthead