| | | | | | | |
| --- | --- | --- | --- | --- | --- | --- |
| | | || | | || | | |
ALUMNI UPDATES
Chang and Iyer Tutor Next Generation
by Julie Satow '96, '00 SIPA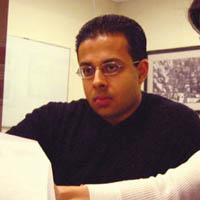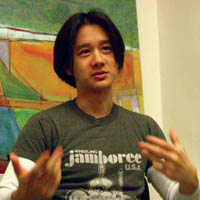 Photos: Koushik Das, P&S

Ryan Chang '02 may not be a certified teacher, but he knows how to school a struggling student. The 25-year-old entrepreneur runs a tutoring company for high school students with his business partner, Siddharth Iyer '03, also 25, which counts Hollywood producer-director Ron Howard's son among its clientele.
Chang and Iyer met during their freshman year while living on the same floor in John Jay. Though the pair has no formal education training, in the past three years they have grown their company by 500 percent to include more than 100 students from Manhattan's premier private schools.
Iyer, who grew up in Queens, began tutoring while a student at Stuyvesant H.S. In his freshman year at the College, Iyer, who took a year off during college, volunteered at the Double Discovery Center. Chang, who was raised in Cranbury, N.J., and attended Princeton H.S., began tutoring as a College senior. In 2003, the friends joined forces and launched the aptly named Ivy League Tutors.
The company, whose tutors teach in students' homes, began with a curriculum focused on SAT preparation but has since expanded to include subjects as varied as chemistry and creative writing.
The two say the key to the success of Ivy League Tutors, which relies solely on word-of-mouth referrals, is the tutors' abilities to relate to students. All 15 tutors, some of whom work part-time or as independent contractors, are 25 or younger, including Joanna Dee '04 and Marjorie Hernandez '03.
"We are old enough to be their teachers, but we also can relate to the kids," says Chang, who continues to tutor individual students. The tutors talk sports and often give advice on adolescent problems, such as social cliques, even handing out their cell phone numbers.
"We can teach algebra like anyone else," Chang says, "but to figure out how to keep a kid's mind from wandering to the PlayStation, you need to know how to be a mentor."
As producer/director Howard says in a testimonial on the Ivy League Tutors website (www.ivyleaguetutors.com), the tutors have "a tremendous connection with the students, a relate-ability and a kind of excitement about learning." His wife, Cheryl Howard, adds, "Ryan is still a teacher and a friend, and riding that line, I don't know how he does it, but he does."
Chang and Iyer are taking their tutoring model beyond the private school realm to underprivileged high school students. Last summer, Ivy League Tutors partnered with the Double Discovery Center to provide seven Harlem students with free SAT preparation courses. The pilot program was funded solely from profits from the tutoring company.
The two now want to expand the program to include more students and course offerings, including preparation for the SAT2s and help with reading and math. To that end, they founded the Ivy League Tutors Foundation to raise funds to support the program.
"We want to get kids from all walks of life into great schools," says Iyer, who moved with his parents from India when he was 3. "If you start sending kids from certain schools to the Ivy League, other students might see them as role models and maybe will work harder to achieve the same goals."
It seems the strategy is working. "Their course prepared me for the SATs," says Crystal Beatty, a 17-year-old high school senior at the Watley Secondary H.S. for the Performing Arts on 114th Street. Beatty, who took part in the Ivy League Tutors pilot program last summer, failed to break 1,000 the first time she took her SATs. After taking the prep course, however, her score climbed to 1,250. She is waiting to hear from her top college choices: Temple, SUNY Binghamton and the University of Delaware.
Iyer and Chang also are developing tutoring programs outside of New York. With $10,000 in funding from CBS, Ivy League Tutors is holding a weekly prep course and mentorship program for 60 high school athletes in Newark, N.J., who failed to score 850 out of 1,600 on their SATs, rendering them ineligible to compete under NCAA guidelines. The two also are working with a homeless advocacy group in Philadelphia, Project H.O.M.E., to teach underprivileged students in subjects that range from literacy to computer skills. "We can't change the world ourselves, but we hope to inspire the minds of those who will," says Chang.
Iyer and Chang say they hope to replicate for other students the lessons they learned from their teachers. "I'm not so far removed from my youth that I've begun to forget all the key educators in my life," says Chang. "I'll never forget the teachers, coaches and mentors who've recognized my shortcomings and saw my limitations but still decided to take a chance on me."
---
Julie Satow '96, '00 SIPA is a reporter at Crain's New York Business, where she covers real estate and economic development. She has worked for the New York Sun and Institutional Investor and has written for Reuters.
| | | | | | | |
| --- | --- | --- | --- | --- | --- | --- |
| | | || | | || | | |