| | | | | | | |
| --- | --- | --- | --- | --- | --- | --- |
| | | || | | || | | |
BOOKSHELF
Angelheaded Hipster: Allen Ginsberg '48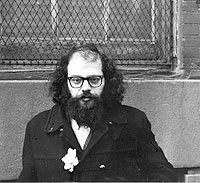 PHOTO: Fred W. McDarrah

On the occasion of the 50th anniversary of his famous poem "Howl" and the 10th anniversary of his death, poetry lovers can find a new selection of books by and about Allen Ginsberg '48. This "angelheaded hipster" became the icon of the Beat Generation, partly because of his taboo-shattering courage.
Ginsberg entered the College in 1943 and studied under literary greats such as Lionel Trilling '25, Meyer Schapiro '24, Mark Van Doren and Raymond Weaver. While there, he befriended fellow Beat Generation poets Jack Kerouac '44 and William S. Burroughs.
As described by David Lehman '70 in the Fall 1997 issue of CCT, "He had in abundance what no prophet can long survive without — a willingness to make a fool of himself and to accept derision and enmity with serene confidence in the integrity of his own mind."
A definitive anthology, Collected Poems: 1947–1997, serves as an autobiography of the passion and ambition behind Ginsberg's revolutionary work. This volume contains every poem Ginsberg ever published, including "Howl" and "Kaddish" (HarperCollins, $39.95).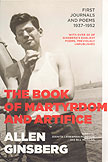 The Book of Martyrdom and Artifice: First Journals and Poems 1937–1952, edited by Juanita Lieberman-Plimpton and Bill Morgan, offers insight into Ginsberg's innermost thoughts, thanks to the journal entries that he began at 11 and continued to record throughout his life. The book's largest section contains journals and poetry written during Ginsberg's formative years at the College. Also included are some of the conversations he had with Kerouac and Burroughs. Among the 100 poems included, 65 have never been published in any form (Da Capo Press, $27.50).
I Celebrate Myself: The Somewhat Private Life of Allen Ginsberg, by Bill Morgan, is an intimate biography and the only written work that covers his entire life. The author uses Ginsberg's journals to create a portrait of the "greatest citizen, a true American hero," whose controversial work led to new victories against censorship and contributed to the cultural change that spread across the country. The beginning chapter offers a portrait of Ginsberg's parents, with the subsequent chapters recounting each year of the author's life and describing how life events affected him and how he, in turn, influenced American society (Viking, $29.95).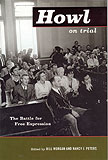 Eric Drooker provides vivid images to go with more than 30 of Ginsberg's poems in Illuminated Poems. Drooker, an artist with a political activist focus, and Ginsberg met on the streets of the Lower East Side in the 1990s and soon became friends, although they admired each other's work beforehand. As Ginsberg says in the introduction, "I was flattered that so radical an artist of later generations found the body of my poetry still relevant, even inspiring." The alliance of their distinct artistic talents joins together two social visionaries of different generations (Thunder's Mouth Press, $19.95).
In Howl on Trial: The Battle for Free Expression, edited by Bill Morgan and Nancy J. Peters, the legal struggle of the provocative poem's publication comes to light. In this edition, the company that originally published "Howl" in 1956 gives an inside view on the poem's editing and publishing as well as its legal defense against censorship (City Lights Publishers, $14.95).
Carmen Jo Ponce '08
| | | | | | | |
| --- | --- | --- | --- | --- | --- | --- |
| | | || | | || | | |