| | | | | | | |
| --- | --- | --- | --- | --- | --- | --- |
| | | || | | || | | |
OBITUARIES
Ralph de Toledano '38: Author, Journalist, Conservative
Ralph de Toledano '38, a news magazine editor, syndicated columnist and author of 25 books who was best known for his friendship with Richard M. Nixon and his passionate conservatism, died on February 3, 2007, in Washington, D.C., where he lived. He was 90.[more]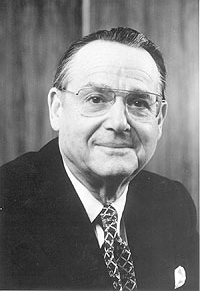 Norman E. Alexander, retired CEO, Heathcote, N.Y., on December 26, 2006. Born in the Bronx, Alexander graduated from Morris H.S. and earned a degree from the Law School in 1936. In 1954, he bought Ampacet Corp., then a small plastics recycler, and built it into a global producer of color additives for plastics with North American headquarters in Tarrytown. He was the founder, and CEO for half a century, of Sequa Corp., a global conglomerate whose businesses produce everything from automobile airbags and aerospace equipment to tuxedos and bleach activators to boost the cleaning power of detergent. The company's largest subsidiary is Chromalloy Gas Turbine Corp., whose New York division repairs jet engine parts for the airline industry. Alexander bought Chromalloy in 1986. He stepped down as CEO in 2005 but stayed on as executive chairman until his death. Alexander was a member of Temple Kol Ami in White Plains, a governor of the American Jewish Committee and a trustee of the Jewish Museum in Manhattan. He is survived by his wife, Marjorie; son, Mark; daughters, Gail A. Binderman, Sharon A. Zoffness and Leslie; brother, Alex; and five grandchildren.


John J. Kalamarides, retired orthopedic surgeon, Wilton, Conn., on January 10, 2007. Born in Brooklyn, Kalamarides received his M.D. from Hahnemann Medical College in Philadelphia in 1939 and served from 1941–45 as a captain in the Medical Corps of the Army. He practiced in Syracuse, N.Y., from 1949–79, when he retired. Kalamarides was a life fellow of the American Academy of Orthopedic Surgeons; a diplomate of the American Board of Orthopedic Surgeons; a life fellow of the American College of Surgeons; a member of the Onondaga County Medical Society; and a life member of the American Medical Association. He was an associate clinical professor at Upstate Medical Center and was active in the United States Power Squadron, serving as commander of the Syracuse squadron and district commander, and a 32nd degree Mason. Kalamarides was predeceased in 1997 by his wife, Jennie. He is survived by a sister, Christine; daughter, Ruth; sons, Peter '69 and John '65; three grandchildren; and eight great-grandchildren.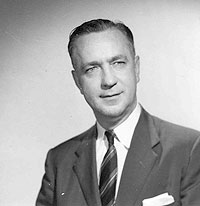 Joseph Skrypski, retired physician, Jersey City, N.J., on February 6, 2007. The youngest son born to Polish immigrant parents and a lifelong resident of Jersey City, Skrypski completed three years at Columbia, then attended NYU's Bellevue Medical School. He received his bachelor's degree after the successful completion of his first year in medical school. After receiving his M.D. in 1942, Skrypski returned to his hometown and undertook his internship at Jersey City Medical Center. He joined the staff of St. Francis Hospital, where he practiced for more than 60 years and claimed membership in the New Jersey and Hudson County Medical Societies as well as ØAB at NYU Medical Society. He was a fellow of the International College of Surgeons and medical director at P.J. Lorillard in Jersey City. Skrypski also was medical director for the Jersey City Board of Education. He loved travel, fine art and antiques and visited many countries and continents. He is survived by his friend and companion, Helen Solon; as well as the many descendants of his late siblings, Estelle Borowski and Edward Stevens.


Levi L. Smith, retired dean, Syracuse, N.Y., on February 7, 2007. Smith was assistant dean for community service at University College of Syracuse University from 1965 until his retirement in 1998. Prior, he was assistant supervisor of adult education for the New York State Education Department, assistant dean of the evening division and director of the Institute for Civic Education at the University of Akron. He completed three years of postgraduate work at the Maxwell School of Citizenship and Public Affairs. Smith, a devoted leader and advocate of civic and public responsibility, worked with many government officials and agencies and established many award-winning public service programs, including Thursday Morning Roundtable (TMR), the Onondaga Citizens League, the Institute for Retired Professionals and the Syracuse Youth Roundtable. He was a leader of the Community Luncheon Club and the Community Leadership Conference. Smith received much recognition for his work. Onondaga County proclaimed April 18, 1980 — TMR's 15th anniversary — Lee Smith Day. In 2002, the Levi L. Smith Civic Education Award was created to honor an outstanding citizen or organization that has contributed to the field and practice of civic education in Central New York; Smith was the first recipient. He is survived by his wife, Alice; son, Brad; and two grandchildren.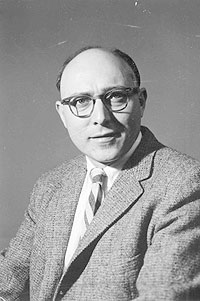 Leon Davidson, engineer, White Plains, N.Y., on January 1, 2007. Davidson was born on October 18, 1922, in New York City. At the Engineering School, where he earned a B.S. in 1943, an M.S. in 1947 and a Ph.D. in 1951, Davidson majored in chemical engineering, a career he selected at 13 while a student at Stuyvesant H.S. While a Ph.D. candidate, he was selected by Dean John R. Dunning to join the Manhattan Project. After an assignment at the Oak Ridge National Laboratory in Tennessee, he moved to Los Alamos, N.M., where he became an engineering design supervisor for one of the atomic weapons under development. He then accepted assignments at the Atomic Energy Commission and the Pentagon before moving into the private sector. In the mid-1950s, Davidson joined the Nuclear Development Corporation of America. Following stints in management at several large technology companies, he became an independent consultant, working for government and commercial clients. Davidson formed Metroprocessing Corporation of America to explore and exploit the emerging technology of touch-tone dialing. In the mid-to-late 1950s, he volunteered at the Civil Defense Filter Center, helping track and identify aircraft flying over the New York metro area. He devoted much of his free time to the study of UFOs; several years ago, he donated his research, reference materials and correspondence to the Low Library special collections. Davidson is survived by his wife, Doris Kosches Davidson '44 Barnard; son, Edward '66; daughters, Martha, and Carole Overton; two granddaughters; and three great-grandsons. He was predeceased by his sisters, Deborah Jacoby and Cyril (Libby) Strauss.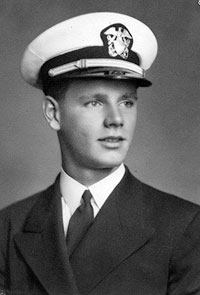 Edward A. Winkler, retired executive, Winter Springs, Fla., on January 4, 2007. Winkler enlisted in the military after graduation, was trained at the Naval Academy and served as a lieutenant on the U.S.S. PC 492, El Diablo Loco. He spent 35 years at Eastman Kodak, developing close friendships and community ties in Briarcliff Manor, N.Y.; Annandale, Va., and Webster, N.Y. After retiring, Winkler and his wife, Rita, spent winters in Punta Gorda, Fla., where all of his passions came together: friendship, sunshine, music and community. Winkler also was an avid Yankees fan. He is survived by his wife; children, Ann, Curtis and his wife, Yolanda, Irene, and Connie and her husband, Ron Savolainen; three grandchildren; and twin brother Robert '43 and his wife, Jean. Memorial contributions may be made to the Paralyzed Veterans of America Association, 801 Eighteenth St., N.W., Washington, DC 20006-3517 (www.pva.org).


James A. Morone, retired business executive, Philadelphia, on December 18, 2006. Born on Staten Island in 1922, Morone entered with the Class of 1944 but earned a B.S. from the Business School in 1947. After graduating, he lived in Rio de Janeiro, Sao Paulo and Franklin Lakes, N.J., and traveled extensively. Morone was e.v.p. of CIGNA Worldwide and a leader in the insurance industry. He was a member of the Philadelphia Club, and, after retirement, an enthusiastic guide at the Philadelphia Museum of Art; he also was a devoted New York Mets fan. Morone is survived by his wife, Stasia; sons, James, Joseph and Peter and daughters-in-law Deborah, Lindsey and Ann; and four grandchildren. Memorial contributions may be made to the Education Department of the Philadelphia Museum of Art, PO Box 7646, Philadelphia, PA 19101.


Edward S. Dayhoff, retired scientist, Bethesda, Md., on December 11, 2006. Dayhoff is credited with pioneering work on the fine structure of the hydrogen atom. He received an M.A. (1947) and Ph.D. (1952) in physics from GSAS, studying with 1955 Nobel Prize laureate Professor Willis E. Lamb. After two years at the College, Dayhoff joined the Navy. Assigned to Hawaii, he trained to be a radioman and radar operator on board a troopship bound for Hawaii. While studying, he identified many errors in theoretical physics in the radar manual and rewrote it. When the ship landed, his corrections were examined, immediately classified, and he was appointed to the faculty of the U.S. Navy Pacific Fleet Radar Center. Dayhoff moved to Maryland and went to work at the National Bureau of Standards (now NIST) in 1952 and was recruited later to the Naval Ordinance Laboratory (now NSWC). After retiring in 1980, he consulted for the National Biomedical Research Foundation for several years. Survivors include his second wife, Nancy Belmont Dayhoff; daughters by his first wife (his H.S. sweetheart, the former Margaret Oakley '48 GSAS; she died in 1983), Ruth and Judith; five grandchildren; and son-in-law, Vincent M. Brannigan.
Charles Graham Kiskaddon, retired business executive, New York City, on January 15, 2007. In WWII, Kiskaddon, who went by Graham, served as an officer on a destroyer in the Pacific. He had a 40-year career with ALCOA and when he retired, he was president of the ALCOA Steamship Co. At Columbia, Kiskaddon rowed with the crew that included the late Dean Harry Coleman '46 and other classmates. Although he entered with the Class of 1946, he earned a degree from the Engineering School a year earlier. Kiskaddon had a passion and talent for music; he sang for eight years with the Chicago Symphony Chorus under the direction of George Solti and later sang with the Robert Shaw Collegiate Choral. He is survived by his wife of 58 years, the Rev. Jean Labagh Kiskaddon; four children and their spouses; and 10 grandchildren.


Paul Selice, retired mathematics teacher, Anderson, S.C., on November 6, 2006. Born in Brooklyn on July 24, 1924, Selice served in the Army in WWII. He received an M.A. from Columbia and for many years taught math in grades 7–12; he also had been an instructor at Adelphi University. After retiring to Anderson, Selice volunteered in local high schools as an SAT teacher. In 2000, he was Hanna Volunteer Teacher of the Year. Selice helped serve at the Anderson Soup Kitchen and was an active member of St. Joseph Catholic Church. He is survived by his wife, Dina; daughters, Stephanie and Toni; son, Paul III; three grandchildren; and two sisters. Memorial contributions may be made to St. Joseph Catholic Church Building Fund, 1303 McLees Rd., Anderson, SC 29621. Messages of condolence also may be left at www.mcdougaldfuneralhome.com.


Martin G. Koloski, retired general surgeon, New Smyrna Beach, Fla., on October 17, 2006. Born on Staten Island, Koloski moved to Florida in 1993 from Poughkeepsie, N.Y., where he lived for 43 years. He received his medical training at Downstate Medical Center of New York State University, interned at the Brooklyn Hospital and had his surgical residency at Nassau Hospital. Koloski served two years in the Navy as the ship physician on the USS Muliphen. He was chairman of the department of surgery, president of the medical staff and the president of the Dutchess County Medical Society. Koloski was on the board of Blue Cross/Blue Shield and the upstate chapter of the American College of Surgeons and was on the staff of Vassar Hospital and St. Francis Hospital for 35 years. He enjoyed art, photography, stamp collecting, computers, music golf and tennis and is survived by his wife of 51 years, Marjorie; daughter, Beth Jean, and her husband, John Hodos; two grandchildren; brother, Raymond, and his wife, Anne; sister, Emily, and her husband, Tom Hope; and several nieces and nephews. He was preceded in death by two sons, Martin and David; and brother, Eugene. Memorial contributions may be made to the Bert Fish Medical Center Foundation, PO Box 1000, New Smyrna Beach, FL 32168.


Ralph J. Borgess, retired business administrator and football coach, Lavallette, N.J., on November 28, 2006. Borgess was a quarterback at Kearny (N.J.) H.S. and captain of the Kearny basketball team, graduating in 1939. After H.S., he enlisted in the Navy and spent three years as a gunner on a Merchant Marine ship in the Middle East. He returned to school at 27 and played football all four years at the College. Borgess was a reserve guard on the team that beat Army 21–20 on October 25, 1947, as Columbia, down 20–14 at the half, rallied to end Army's 32-game unbeaten streak. In 1949, Borgess became an assistant coach at Kearny H.S., beginning a 54-year coaching career; he won 177 games at three schools and coached state championship teams in 1969 and 1986. Borgess also was a business administrator for the Kearny Board of Education and was on the Board of Trustees of the Salvation Army and the President's Council for Athletics. He wrote How to Watch and Enjoy Football and was a painter and artist. Borgess is survived by his wife, Ruth (née Stumpf); sons, Ralph and Richard; daughters-in-law, Annie and Laura; four grandchildren; two great-grandchildren; sister, Viola Lisbona; and brother, Teddy.


Aaron Preiser, engineer, Morristown, N.J., on October 20, 2006. Born in the Bronx, Preiser graduated from Bronx H.S. of Science and earned a B.A. from the College and then a B.S. in mechanical engineering from the Engineering School in 1956. He pursued a 38-year engineering career with Exxon Research and Engineering and traveled the world for business and pleasure. Upon his retirement, Preiser began exploring painting and drawing. As president of the Millburn-Short Hills Art Association, he exhibited his work throughout the metropolitan area and recently displayed a painting at a juried show of the New Jersey Pastel Society. Preiser also was well known for his woodworking, culinary and musical skills. He is survived by his wife, Irene; son, David; daughter, Mimi Zukoff; brothers, Marvin and Herman; sister, June Grossesl; five grandchildren; son-in-law, Paul Zukoff; and daughter-in-law, Jane Preiser. Memorial contributions may be made to the Carol Simon Cancer Center, Morristown Memorial Health Foundation, 100 Madison Ave., Morristown, NJ 07962 or the Pancreatic Cancer Action Network, 2141 Rosencrans Ave., Suite 7000, El Segundo, CA 90245.


Beth S. Samuels, Torah and math scholar, Palo Alto, Calif., on January 5, 2007. Samuels was raised in Los Angeles. An alumna of YULA H.S., she was a proponent of Orthodox women's participation in the ritual and intellectual life of the Jewish community. Samuels had a doctorate in mathematics from Yale and was an assistant professor of mathematics at UC Berkeley and a Torah teacher. As a graduate of a three-year program in Bible and Talmud at the Drisha Institute for Jewish Education in New York, she traveled around the country as a scholar-in-residence. Samuels led women's prayer groups and Purim megillah readings, and a few months before she died was the keynote speaker at a Los Angeles conference on girls' education at Modern Orthodox schools. Samuels had been an auxiliary police officer in Manhattan; enjoyed biking, hiking and rafting; and was known as someone who helped others in quiet acts of chesed, kindness. She is survived by her husband, Ari Tuchman; daughters, Danelle and Natalia; parents, Zach and Elana; siblings, Rana (Yanay), Stuart (Ilanit) and Larry; and grandparents Serita and Aaron Kolom, and Blanche. Memorial contributions may be made to Drisha Institute, 37 W. 65th St., 5th Fl., New York, NY 10023 (www.drisha.org).
Lisa Palladino
George C. Keller '51, Former CCT Editor
George C. Keller '51, '54 GSAS, a higher education expert and CCT's editor in the 1960s, died on February 28, 2007. Under his leadership, CCT was the only three-time winner, in 1963, 1964 and 1965, of the Sibley Award from the American Alumni Council as the best alumni publication in the nation. Keller earned an M.Phil. in political science and lived in Dickeysville, Md. A full obituary will be published in the July/August issue.
Other Deaths Reported
Columbia College Today also has learned of the deaths of the following alumni (full obituaries will be published if further information becomes available):
1934 George T. Paul, Middlesex, N.J., on February 21, 2007. Paul earned an M.A. in chemistry from GSAS in 1935 and a Ph.D. in engineering from SEAS in 1942.
1936 William K. Kraft Jr., Maplewood, N.J., on January 26, 2007. Kraft entered with the Class of 1936 and earned a B.S. from the Business School in 1936.
1939 Emil A. Augustine (ne Agostini), Ridgefield, Conn., on May 25, 2005. Augustine earned a degree from the Law School in 1941.
1942 Edwin G. Ross, retired comptroller, Boca Raton, Fla., on March 19, 2007. Ross entered with the Class of 1942 and earned a B.S. from the Business School in 1942.
1943 H. George Greim, Madison, Conn., on March 27, 2006. Greim earned an M.S. from the Business School in 1950.
1944 John D. Carlson, Bronx, N.Y., on November 26, 2006.
1946 Daniel Mandel, Durham, N.C., on February 19, 2007. Mandel entered with the Class of 1946. He spent two years in the College (1942–43 and 1946–47), and later transferred to the Engineering School (1947–49), where he earned a B.S. in 1949.
1948 James H. Wylie Jr., Rockville, Md., on December 31, 2006.
1949 Albert L. Gastmann, Hartford, Conn., on February 1, 2007. Gastmann earned a Ph.D. in political science from GSAS in 1964.
1963 Stephen B. Bauer, Pound Ridge, N.Y., on March 18, 2007. Bauer earned a degree from the Business School in 1964.
Obituary Submission Guidelines
Columbia College Today welcomes obituaries for College alumni. Please include the deceased's full name, date of death with year, class year, profession, and city and state of residence at time of death. Biographical information, survivors names, address(es) for charitable donations and high-quality photos (print, or 300 dpi .jpg) also may be included. Word limit is 200; text may be edited for length, clarity and style at editors discretion. Send materials to Obituaries Editor, Columbia College Today, 475 Riverside Dr., Ste 917, New York, NY 10115-0998 or to cct@columbia.edu.
| | | | | | | |
| --- | --- | --- | --- | --- | --- | --- |
| | | || | | || | | |


CCT Home


This Issue


Previous Issue

CCT Masthead