| | | | | | | |
| --- | --- | --- | --- | --- | --- | --- |
| | | || | | || | | |
COVER STORY
Kluge Honored at Gala Dinner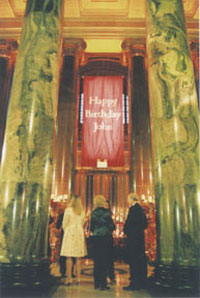 Trustee Phil Milstein '71 arrives for the Kluge Dinner with his wife, Cheryl, and mother, Vivian.

More than 300 members of the Columbia family, one-third of them current or former Kluge Scholars, celebrated John Kluge '37's 90th birthday at a black-tie dinner in Low Library Rotunda on October 1.
"Columbia would not be the great institution it is today were it not for John Kluge," said University President Lee C. Bollinger, who presented Kluge with the Alumni Federation Medal and announced that several trustees, inspired by Kluge's efforts, had agreed to create a $5 million scholarship endowment to benefit international students.
Dean Austin Quigley described Kluge as "an innovative businessman with an inexhaustible interest in world history, global culture and other people" and spoke about the remarkable success of the Kluge Scholars Program, which provides financial support and enhanced programming at the College for as many as 50 students each year.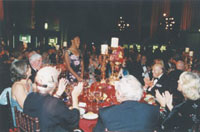 Kluge Scholars rise for a round of applause from those in attendance at the dinner, in Low Library Rotunda.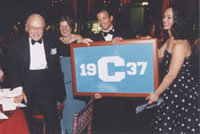 Kluge accepts a framed class banner from Kluge Scholars Jessica Perez '06 and Reginald Gossett '06.

"John never forgets what is was like to be a teenager nursing large ambitions in little rooms, having latent talents with no arena in which to develop them, having high aspirations but not the resources with which to nurture them. Consequently, many of John's major philanthropic investments have been in young people whose great talents deserve to be matched by even greater opportunities," said Quigley.
Kluge told the guests how his Columbia experience changed his life, starting with his having been awarded a scholarship. "If it hadn't been for Columbia, my path would have been entirely different in life," he said. "Columbia gave me an opportunity, and you scholars have an opportunity. The only way you can really repay that opportunity is for you to help someone else."
Highlighting the evening was a 20-minute video that showed Kluge's journey from 8-year-old German immigrant to successful entrepreneur to generous philanthropist. Among the distinguished guests in attendance were Sen. Christopher Dodd (D-Conn.), Lady Sainsbury of Turville, businessmen David Rockefeller, Frank Bennett Jr., Gerald Schoenfeld and James H. Billington, the Librarian of Congress.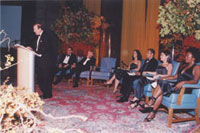 As Quigley addresses the audience, (from left) Alumni Federation President Paul Thompson, Bollinger and Kluge Scholars Jessica Perez '06, Reginald Gossett '06, Alejandra Montenegro '98 and Mignon Moore '92 look on.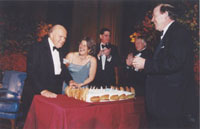 Kluge prepares to blow out the candles on his birthday cake, urged on by (from left) his wife Tussi, Thompson, Bollinger and Quigley.

Several Kluge Scholars spoke during the program, including assistant professor of sociology Mignon Moore '92, the first African-American alumna to be named to the College faculty. She thanked Kluge for endowing a program at Columbia that ensures the continued social and economic upward mobility of young people for whom progress might otherwise be much more difficult.
Two books were presented as gifts to Kluge and his wife, Tussi; a formal collection of statements written by Kluge Scholars about the ways in which their experiences at Columbia impacted their lives, and a collection of less formal mementos and expressions of gratitude from Kluge Scholars in a scrapbook format.
The evening concluded with the presentation of a large cake and the guests singing "Happy Birthday."
S.B.B.
| | | | | | | |
| --- | --- | --- | --- | --- | --- | --- |
| | | || | | || | | |


CCT Home


This Issue


Previous Issue

CCT Masthead