| | | | | | | |
| --- | --- | --- | --- | --- | --- | --- |
| | | || | | || | | |
OBITUARIES
Jack Rohan '53, CU's Winningest Men's Basketball Coach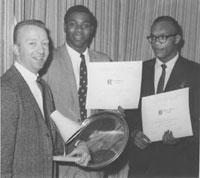 (From left to right) Jack Rohan '53 with two of his star players from the 1968 Ivy League championship team, Jim McMillian '70 and Heyward Dotson '70.

John P. "Jack" Rohan '53, Columbia winningest men's basketball coach and a revered figure in Lions athletics history, died on August 9. Rohan was 72 when he passed away in a nursing home in South Yarmouth, Mass.; he had lived on Cape Cod since retiring from Columbia in 1996 as chairman of the University's department of physical education, a post he had held since 1974.
Rohan was born on August 25, 1931, in Floral Park, Queens, and was raised in Bellerose. He was a key reserve on Columbia's 1950–51 basketball team that went unbeaten (21–0) through the regular season before losing to Illinois in the NCAA tournament, and was a shortstop, third baseman and pitcher on the baseball team. His B.A. was in history, and he earned a master's from Teachers College in 1957. From 1955–58, Rohan served variously as the varsity golf and freshman basketball coach at Columbia and the freshman basketball coach at NYU.
In 1961, when he was 29, Rohan became the Lions' head men's basketball coach. He was selected National Coach of the Year for the 1967–68 season after leading Columbia to the Ivy League championship. That team, one of the best in Columbia history, had a 23–5 record and finished the season ranked sixth in the nation. It was led by Jim McMillian '70 and Dave Newmark '69, both of whom played professional basketball, and Heyward Dotson '70, an NBA and ABA draftee. Rohan's teams won 20 games in each of the next two seasons and were ranked in to nation's top 20.
In 1974, when his wife became ill and his two small children had to be cared for, Rohan left coaching to become the tenured chair of the of physical education department. He became Columbia's golf coach in 1976 but remained active in basketball as a sought-after basketball camp lecturer and clinician, broadcaster and writer. His in-depth analyses of NCAA Final Fours appeared annually in The New York Times.
In 1990, Rohan agreed to again coach the Lions. He coached for five years, leading the team to a 43–87 record, including a 16–10 mark and a second-place finish in the Ivy League in 1992–93. When he left the head coach's position after the 1995 season, his overall record was 198–247. His games coached — 445 — and victories are Columbia career records.
In 1993, Rohan received a Great Teacher Award from the Society of Columbia Graduates, the first member of the physical education department to be so honored. The citation read, in part: "A model of wit and erudition, a noted raconteur, you are renowned as much for your scintillating lectures as for courtside strategems. You know the secrets of bringing out each man's aptitude and confidence." Spectator reported in Rohan's obituary, "Rohan's impact stretched beyond the confines of the basketball court. He was also well known for his friendly interactions with the students."
Despite his success, Rohan's ego was always restrained. As he said in 1964: "The worst thing you can do is think you're important. Outside of Casey Stengel, how many individuals are important in this world?"
Rohan is survived by his wife, Barbara; children, Christopher and Jennifer; and three grandchildren.
Lisa Palladino
| | | | | | | |
| --- | --- | --- | --- | --- | --- | --- |
| | | || | | || | | |


CCT Home


This Issue


Previous Issue

CCT Masthead