| | | | | | | |
| --- | --- | --- | --- | --- | --- | --- |
| | | || | | || | | |
WITHIN THE FAMILY
Ahmadinejad's Visit as Educational Forum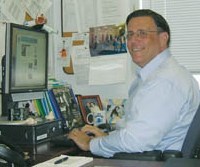 Believe it or not, one aspect of the visit to Columbia by Iranian President Mahmoud Ahmadinejad on September 24 was under-reported by the mass media.
I'm talking about the student piece. On a campus where protests are a way of life and any gathering of 10 students is likely to yield a dozen varying opinions, each strongly expressed and vehemently argued, Ahmadinejad's visit became, in significant part, an educational forum for students. There were protests, to be sure, with parts of Broadway near Lerner Hall cordoned off for the dissenters, Columbians and non-Columbians. But no buildings were seized, no stages stormed and no speakers shouted down.
Since only a limited number of students could be accommodated in Roone Arledge Auditorium, a large screen was set up on South Field so hundreds, even thousands, could watch and hear the controversial leader. A podium provided a focal point for students, before and after the speech, to express their varying opinions and listen to those of their peers. And they did so, in the vast majority of cases, respectfully and with remarkably little squabbling considering the audience was so vast, its makeup so diverse and the subject matter so incendiary.
"We were so proud of our students and the way they handled themselves. They were just terrific," says Dean of Student Affairs Chris Colombo. "Obviously, this was a controversial speaker who raised concerns among many of our students, and we found ways for them to express their points of view in a respectful manner yet allowed them to make their voices heard."
You can argue whether Ahmadinejad should have been invited to speak on campus in the first place till the cows come home. You can argue whether this was "free speech at its very best," as President Lee C. Bollinger characterized it, or whether Columbia had, in the words of Jordan Chandler Hirsch '10, "presented Ahmadinejad a valuable political gift that he has already used to further repress his people." You also can argue whether Bollinger's biting opening remarks were productive in making clear his point of view, or counter-productive by making him look like a rude host. But you can't argue that this was a remarkable, maybe once-in-a-lifetime opportunity for students to see and hear one of the most controversial world leaders of our time and to participate in molding the surrounding debate.
When word of the visit first circulated, says Kevin Shollenberger, associate dean, Student Affairs, "It quickly became clear that a large number of students really wanted to be able to get their voices out about what they felt, either about the University inviting him or about his public policies. A number of student leaders got together to form a coalition, whose main purpose was to provide a forum that day on College Walk where students could express their opinions." Shollenberger notes that from the time the coalition was formed, "Students were really conscious of calling it a rally and not a protest, of providing a forum where all opinions could be addressed."
Administrators from Student Affairs worked with other units, including Public Safety, to go about reserving space on South Field and elsewhere, and assuring adequate staffing. "We assisted the students with the logistics, but it was the students who reached out to all the various clubs and organizations for their participation. The students took the lead in getting so many groups involved," says Shollenberger.
Granted, students had little time to prepare for the visit, learning on Tuesday night and Wednesday about the Monday appearance, and this was at times frustrating. That only made the huge turnout on South Field all the more remarkable. And while students did not have an opportunity to question Ahmadinejad directly (the questions were posed by SIPA's acting dean, John Coatsworth), they have had opportunities to discuss and debate his words in follow-up forums and less formal encounters. "We've had a whole month of education programs and dialogues in response to this event," notes Shollenberger.
"If there was one positive thing that came out of this event, it's the student dialogue that has taken place," echoes Student Council President Michelle Diamond '08. "I've seen people in meetings from different groups whom I've never seen in the same room before, and that's great."
Amanda Erickson '08, managing editor of Spectator, says, "What I found most impressive was the incredible interest in the speech — students really wanted to be involved in his coming to campus, whether through protest, watching the speech on a big screen or attending the talk in person. Unlike the outside media, students for the most part didn't reject the Iranian leader's presence outright. Rather, they approached the talk with open minds.
"It was also very exciting to be around campus in the hours and days after the speech. It was all anyone talked about."
"It was truly a unique experience," says Colombo. "In my 15 years here, I have never seen the number of students engaged in such a large program like this and helping to shape it. The conversations that took place afterward, the engagement, the arguments, all added to the educational experience."
| | | | | | | |
| --- | --- | --- | --- | --- | --- | --- |
| | | || | | || | | |


CCT Home


This Issue


Previous Issue

CCT Masthead