| | | | | | | |
| --- | --- | --- | --- | --- | --- | --- |
| | | || | | || | | |
ALUMNI UPDATES
Activist Bryonn Bain '95 Uses the Arts to Reform Prisoners
By Laura Butchy '04 Arts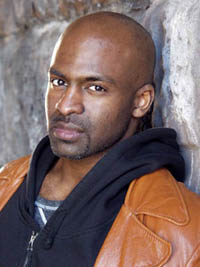 Bryonn Bain '95 has filled his time with countless pursuits since graduating from the College, working as an activist, poet, author, actor, teacher and more. This fall he joined The New School University as poet-in-residence, and in September, he began performing in the Off-Broadway production From Auction Block to Hip Hop.

During the last few years, Bain also has used his talents and passions as an adjunct professor at Columbia, teaching a graduate course called "Lyrics on Lockdown" in the Institute for Research in African-American Studies. Bain begins the semester focusing on the prison industrial complex as a social phenomenon. "Prison is being used to treat a wide range of social problems that it is incapable of helping," contends Bain. "If you are a drug addict, going to jail doesn't stop that. Going to jail just gives you a better network when you leave for getting drugs."

In the second half of the semester, Bain and the students go to the NYC prison on Rikers Island to offer workshops for teenage prisoners. Bain and the students teach literacy and critical thinking using popular culture, talking about such topics as gentrification and sexism. The students research everything from where the inmates are from to what music they listen to, then the class prepares lesson plans using elements of hip-hop, theater and spoken word. The Rikers students have the chance to express themselves through the arts as well as have honest discussions about life before and after prison.

Though the class is not offered every semester based on funding, Bain teaches at Rikers in the summer as well. "But I love doing it with Columbia students," he says. "I connect with them because I went to Columbia, but I connect with the guys from Rikers because I live in neighborhoods they are from and had an experience that helps me relate to what they're experiencing."

Bain's brief experience was being arrested while a student at Harvard Law School. In 1999, he was leaving a Morningside Heights club with his cousin and brother when they were arrested for a crime they witnessed someone else commit. When police arrived, bouncers from the club pointed out the three young black men to the officers, who arrested them, and they spent the night at the 24th Precinct. After four court appearances across five months, all charges were dropped (with the help of Columbia Law School professors).

Later that year, Bain wrote an article about the experience and submitted it to The Village Voice. The cover story, "Walking While Black: The Bill of Rights for Black Men" (April 26–May 2, 2000) struck a chord; hundreds of letters poured in recounting similar experiences. "It should have mattered that we had no record. But it didn't," Bain wrote. "What mattered was that we were black and we were there. That was enough for everyone involved to draw the conclusion that we were guilty until we could be proven innocent." Bain's story helped push him to the forefront of prison reform movements, especially after he discussed the ordeal on 60 Minutes.

The incident strengthened Bain's commitment to social justice, which he began developing at a young age. Originally from Trinidad, his parents moved Bain and his four siblings all over the world following his father's work as a photojournalist, but Bain spent most of his youth in Brooklyn. In high school, Bain was in a hip-hop group that performed at local events, including a prison upstate. They found the experience so rewarding that they returned to the prison as much as possible.

At the College, Bain majored in political science with a concentration in black studies and was president of his class for four years. Working with the Double Discovery Center fueled his interest in educating urban youth. "New York State spends 10 times the resources to incarcerate urban youth as it does to educate them in public schools," notes Bain. He also organized student movements protesting for the creation of the Institute for Research in African-American Studies and need-blind admissions, and challenging the Core Curriculum to include more diverse literature and arts. During student demonstrations, Bain would write about the protests and perform his verse with a megaphone. He further honed his artistic skills taking dramatic writing classes and later auditing Rita Pietropinto-Kitt '90's acting class.

Bain went on to earn a master's in urban politics and cultural studies at NYU, then his law degree at Harvard. After working in the law and business affairs departments at MTV and Sesame Street, Bain decided to focus on bringing his own art to the world. He was named Nuyorican Grand Slam Poetry Champion at the 2000 National Poetry Slam, then began organizing artists to teach workshops in prisons nationwide through the Lyrics on Lockdown Tour. He uses his performance skills to further social justice causes. "The art of storytelling is what I'm most passionate about," Bain says.

Bain's use of storytelling is diverse. In addition to teaching "Lyrics on Lockdown" at Columbia, he has taught spoken word at NYU and has lectured and performed at more than 100 colleges and universities nationwide, as well as in Africa, Asia, Latin America and Europe. In 1997, he founded Blackout Arts Collective, a grassroots coalition of artists, activists and educators working to empower communities of color through the arts.

"I'm more of an artist than I am a professor," Bain says. "I use the arts to counter all the mainstream media we have demonizing black and brown folks." For the fifth consecutive season this fall, Bain is hosting My Two Cents, a current affairs talk show on BET-J. After acting in several independent films, he recently completed filming the thriller Pig Hunt, directed by Academy Award winner Jim Isaac. Slated for release in 2008, the film will include Bain's spoken word poetry, for which he is working on the soundtrack. Bain's successful 2005 debut album, Problem Child, fused hip-hop and spoken word with reggae and other world music, and he will release his second album, Scared of the Dark, next year. Bain will add author to his list of accomplishments with the upcoming book The Ugly Side of Beautiful, a collection of essays and prison interviews.

All of these pursuits contribute to his campaign for a solution to the prison industrial complex. For more than five years, Black Arts Collective's Lyrics on Lockdown Tour — the inspiration for Bain's Columbia course — has organized workshops and performances in prisons throughout the country, using hip-hop and spoken word to combat the prison crisis and promote literacy.
"There has to be fairness and justice," Bain says, "not just for people with an elite education like I had, but for everyone in the country."

For more about Bain, visit www.bryonnbain.com.
---
Laura Butchy '04 Arts is a writer, dramaturg and theater educator in New York City. She is a regular contributor to CCT and American Theatre.
| | | | | | | |
| --- | --- | --- | --- | --- | --- | --- |
| | | || | | || | | |


CCT Home


This Issue


Previous Issue

CCT Masthead