| | | | | | | |
| --- | --- | --- | --- | --- | --- | --- |
| | | || | | || | | |
FIRST PERSON
For Love and Basketball
By Renee Jackson '99
By the time my father was 39, he had been happily married to Marjorie Jackson for 15 years, and they had two children, Linda and Valerie, 13 and 11, respectively. One night, while he and his wife were out dancing, she collapsed suddenly due to a brain aneurism. She died minutes later, at 35. What was not known at the time was that Marjorie had suffered the aneurism because she had Polycystic Kidney Disease; it was discovered because she had passed it on to her daughters. PKD is a hereditary disease that causes cysts to grow on the kidneys and often affects their function so greatly that dialysis or a kidney transplant is needed.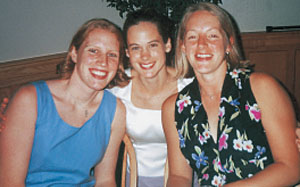 Renee Jackson '99 (left), with basketball teammates Emily Roller '99 and Trinke Vaughn '99, at a wedding in the summer of 2000.

My father eventually married my mother, Mary Lou Jackson, and they had me and my older brother, George. Although there was a large age difference between my brother and me and our half-sisters, we got along well. By the time my brother was 20 and I was 18, Linda's PKD had progressed to the point where she needed a kidney transplant. My brother and I, along with some other family members, were tested to see who would be the best match. George was, and he donated his kidney to Linda on June 11, 1996. After a long and arduous recovery, Linda lives a relatively healthy and normal life, and George is as healthy as he was before the surgery.
While all this was taking place, I had just finished my first year at Columbia, where I was on the basketball team. In love with New York City and Columbia, I decided to stay in the city that summer, all the summers after that, and for three years after graduation, all the while playing basketball. What I may not have fully realized until recently was how important those years of basketball were to me. Through endless conditioning and lifting sessions, early-morning workouts, coaches' tirades, losing seasons, long road trips and bus rides, late nights out and years of living with each other, I forged enduring friendships with many of my teammates. We celebrated together in good times and supported and encouraged each other in bad times, forming impenetrable bonds that will stand the test of time. For me, the greatest illustration of this has been during these past few months.
In March, Val's doctors told her that it was time for her kidney transplant. We had known for a while that she would need it, but were waiting for the go ahead from the doctors to test for possible donors. I was the logical front-runner, but the doctors wanted to test as many people as possible in order to increase the odds of finding a match. Trinke Vaughan '99 and Emily Roller '99, two of my Columbia teammates, approached me, offering to get tested. A few weeks later, while out to dinner with other teammates, Courtney Allshouse '98, Katie Sherwin '00 and Cathy Schuneman '95 also offered to get tested. I was amazed by their kindness, and when I told my sister, she could not believe that friends of mine were willing to donate one of their kidneys to her. These women are some of my best friends, and I know that they would offer their kidney to me, if I were ever in need, but to offer their kidney to my sister was truly awe-inspiring. I quickly realized that they offered to give one of their kidneys to my sister not because they love her (in fact, they barely know her), but because they love me — and that was a powerful realization.
On June 10, I donated my kidney to Val — I was the best possible donor. Courtney and Trinke also were possible donors for Val, with Emily, Katie and Cathy next in line to get tested if no matches were found in the first round. Val and I are recovering well from the successful surgery, but we also are reassured in knowing that if she ever needs another kidney transplant (the average kidney from a live donor lasts 15–20 years), there never will be a shortage of people to offer, because my Columbia basketball teammates will be first in line to do so.
I have realized one of the most important life lessons while recovering from this surgery: Without friends and family to love you, and your health to sustain you, you really have nothing, and no amount of material possessions, Ivy League diplomas or professional accomplishments can ever substitute for those essentials. I feel blessed to have made such wonderful friends at Columbia through basketball — people to celebrate with me during the good times and pick me up during the tough times, as they did in college, and as they do now.

Renee Jackson '99 graduated from the College with a B.A. in sociology and is a law student at the University of Connecticut.
| | | | | | | |
| --- | --- | --- | --- | --- | --- | --- |
| | | || | | || | | |


CCT Home


This Issue


Previous Issue

CCT Masthead