| | | | | | | |
| --- | --- | --- | --- | --- | --- | --- |
| | | || | | || | | |
ALUMNI PROFILE
Dina Cheney '99: Cooking Up a Career
Dina Cheney '99 hopes she has written her own recipe for success by founding a private cooking school, Cooking By Heart, in New York.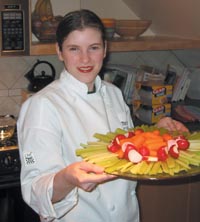 Dina Cheney '99 teaches New Yorkers how to cook.

Cheney has been a lifelong foodie. She examined food magazines even as a teenager and always was brainstorming new ideas and writing recipes. During her undergraduate years, she interned at Food & Wine, and, after graduation, applied for a bundle of food-related jobs. When nothing came through, she ended up working in marketing for high-tech companies.
Three years after leaving Columbia, however, Cheney still couldn't reconcile her career with her passion for the edible. "Food and creativity make me so happy. How can I do something that doesn't involve them?" she asked herself.
Instead of waiting for an opportunity to come up, Cheney decided to get bold. With the support of her husband, Jacob "Koby" Rosenschein '99, last year she set aside her marketing writing and enrolled in the Institute of Culinary Education (formerly Peter Kump's) in Chelsea.
Upon graduating last December, she threw herself into her new venture. "I like people, and I like to explain things," she says. "I kept thinking that maybe when I'm 40, I'll retire and teach." With her cooking class company, Cheney combines an affinity for teaching with her love of cooking.
Cooking By Heart offers private classes for two to six people in their homes. Cheney has devised menus to choose from in advance and is constantly coming up with new recipes. Her philosophy of cooking, however, is to not feel tied to following a recipe. "I try to teach basic cooking techniques to show people that they don't need recipes," she says. "My food is not pretentious. I say I'm a good home cook."
Coming from marketing and technology backgrounds, Cheney and Rosenschein built the company's website, www.cookingbyheart.com, and have worked on promotions. The classes have become popular gifts, especially for couples and small group events such as bridal showers. Cheney travels all over metropolitan New York to teach and already has become a source for media coverage of cooking.
The young chef is having to overcome the nervousness well-known to any entrepreneur just starting out, but Cheney says that she couldn't be happier. "I'm so glad I made the leap," she says. "I'm working harder, but I'm much happier. I no longer have turmoil. I designed this business around myself, and I can put all of my creativity and energy behind it."
S.J.B.
| | | | | | | |
| --- | --- | --- | --- | --- | --- | --- |
| | | || | | || | | |