| | | | | | | |
| --- | --- | --- | --- | --- | --- | --- |
| | | || | | || | | |
FEATURES
Shuttle Diplomat
"... with Jay, no problem is unsolvable."
Jay Lefkowitz '84, '87L, law partner and Presidential adviser, moves comfortably between private and public sectors
By Daniel Fastenberg '06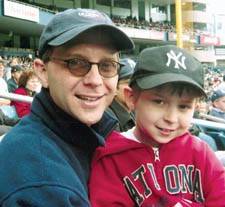 Baby-faced and bespectacled, Lefkowitz shuttles between New York City and Washington, D.C., fulfilling public and private sector duties. For most of the week, he occupies a corner office in midtown Manhattan as a partner specializing in commercial litigation and strategic counseling for the international law firm Kirkland & Ellis. Since his August 19, 2005, appointment, Lefkowitz also works for the U.S. State Department in Washington, D.C., as the special envoy for human rights in North Korea, the fifth title he has held for a President named Bush since 1991.
"Jay has a brilliant mind and an energetic intellect," says Karl Rove, White House deputy chief of staff and Lefkowitz's workout partner. "Working with people that smart is fun."
Lefkowitz's government post, which follows his stint as a domestic policy adviser during President George W. Bush's first term, makes him one of the public faces of Bush's democracy promotion agenda. "Jay's job is to focus the nations in that neighborhood — South Korea, Japan, Russia — on the human rights abuses in North Korea," Rove says. "He has a nice, conciliatory manner, but underneath he is extremely motivated by conservative principle."
The envoy post has at times been construed as lip service to appease members of Bush's evangelical base, many of whom were instrumental in lobbying for the 2004 North Korean Human Rights Act that mandated the position's creation. Lefkowitz does not report to Christopher R. Hill, America's chief negotiator at the six-party talks — which include the United States, China, Japan, North Korea, Russia and South Korea — formed to address the nuclear situation in North Korea. Instead, he works out of the State Department's Democracy, Human Rights and Labor Bureau. Lefkowitz did not meet with the President as envoy until December 14, 2005, nearly four months after his appointment, a sharp departure from his daily consultations with the President during the first term.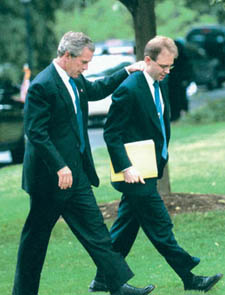 Photo: White House Photo

"I told The New York Times that it's hard to imagine that Jay Lefkowitz would be taking this job to be window dressing on a separate track," counters Michael Horowitz, a senior fellow at the Hudson Institute, the conservative Washington, D.C.–based think tank. "And the proof is in the pudding: It's increasingly clear, with the admission of the first North Korean refugees to the United States to Bush's meeting with the family members of the Japanese woman [Megumi Yokota] abducted by North Korea in the 1970s, that the North Korean Human Rights Act reflects the policy of the United States. And there's not a person in Washington that doesn't think Lefkowitz has a central role."
Lefkowitz already has ruffled feathers in the Pacific Rim. In May, he drew criticism from Seoul for supporting an independent investigation into the human rights record at the Kaesong Industrial Complex, where South Korea is venturing just over the border for a joint business project with cheap labor provided by the North. He also has been consistently unabashed in publicly criticizing other members of the six-party talks for their conduct. In a May speech before the Asia Society in New York, Lefkowitz excoriated Beijing for forcibly returning defectors to North Korea and urged Tokyo to be more vigilant in pursuit of human rights. And there is no way Kim Jong-il can be pleased by Lefkowitz's efforts to increase foreign radio broadcasting into North Korea.
"There is no society today more closed than North Korea — a really brutal place," Lefkowitz says. "It's no surprise that a country that deprives its citizens of even the most basic human rights is now menacing the world with nuclear weapons, human trafficking and counterfeiting U.S. currency."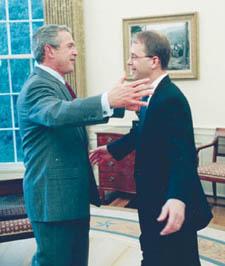 Photo: White House Photo by Eric Draper

Human rights work has steered much of Lefkowitz's academic and professional course since his arrival at Columbia. Lefkowitz came to Morningside Heights from Albany, N.Y., where he was born in 1962 to a Hebrew school teacher and the deputy counsel at the Civil Service Employments Association. Despite graduating from a class of just seven students at the Hebrew Academy of the Capital District Albany, Lefkowitz had little problem acclimating to the larger pool of students at Columbia, rising to the top for his academic work and winning the James Beard Prize for Political Science. He is more excited, though, to discuss the joys of living on the fourth floor of Carman Hall, trips to The West End with his CC class and tennis matches at Baker Field.
"The undergraduate education I got sparked my interest in becoming a lifelong student of history and taught me how to write," says Lefkowitz, a frequent contributor to the editorial pages of The Wall Street Journal, The Washington Post and The Weekly Standard. "I took a writing composition class, 'Expository and Argumentative Writing,' where the professor [James Bird Jr.] wouldn't let anyone hand in a paper until it was an 'A.' And that meant, for someone like me, writing four, five, even six drafts."
Lefkowitz can point to the class that spearheaded his interest in the law, as well. In his junior year, he enrolled in Robert D. Harrison's "American Constitutional History," an interdisciplinary class covering case histories and their related political contexts.

"The undergraduate education I got sparked
my interest in becoming a lifelong student of
history and taught me how to write."

"I remember him not only as my best student in a large survey class but also because of some of our conversations and his great ideas," says Harrison, professor of law and legal method at Yale Law School. "One that sticks out is when he told me Bill Clinton would be a great candidate for president. This was in the early '80s, well before Clinton was a presence on the national stage."
Largely as a result of Harrison's class, Lefkowitz applied to the Supreme Court internship program, where he spent what would have been the fall semester of his senior year. Having enough credits to miss that semester and still graduate with his class, Lefkowitz began at the Law School the subsequent fall.
Following his first year, Lefkowitz successfully applied for the 1984 Human Rights Internship Program, which places students around the world for a summer. Lefkowitz worked on an issue of personal significance to his Jewish faith, traveling to Israel to work with the Association for Civil Rights in Israel.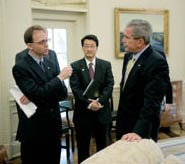 Photo: White House Photo By Paul Morse

"I was very active in the Soviet Jewry movement, regularly participating in rallies in Washington, D.C., demonstrating in front of the United Nations and the Soviet Consulate, and even taking a trip to meet with refuseniks in the former Soviet Union," Lefkowitz says.
Lefkowitz graduated from the Law School as a Harlan Fiske Stone scholar and traveled that summer to the former Soviet Union, where he met with many "refuseniks," the Soviet Union's class of dissidents.
Returning to New York to become an associate at Paul, Weiss, Rifkind, Wharton, & Garrison, Lefkowitz teamed up with Morris Abram, then a senior partner at the firm and president of the National Conference on Soviet Jewry. In 1987, Abram introduced Lefkowitz to then-Vice President George H.W. Bush, starting Lefkowitz's relationship with the Bush family.
Lefkowitz was on the front lines of the 1988 Bush campaign as deputy director of Victory '88 and liaison to New York's Jewish community. After George H.W. Bush routed Michael Dukakis, the first Bush White House picked Lefkowitz for two jobs, first as a deputy executive secretary to the Domestic Policy Council and then as director of cabinet affairs. Lefkowitz also was a member of the 1990 U.S. Delegation to the United Nations Human Rights Commission in Geneva.

"Jay is one of those rare people that when something tough
comes up, the President instinctively will say, 'Get me Jay.'"

"The issue of the day was Iran's fatwa on Salman Rushdie," Lefkowitz says, recalling a speech he gave as a delegate. "I was proud to give a speech critical of Iran on that issue."
When Bill Clinton assumed the presidency in 1993, Lefkowitz entered the private sector and has since been affiliated with Kirkland. "He's the kind of guy you put on a low percentage case and let him work his wonders," says Thomas Yanucci, chairman of Kirkland's worldwide management committee.
Along with the private businesses he has represented, including such Fortune 500 giants as Brown & Williamson, News Corp. and Verizon Communications, Lefkowitz also has represented governmental bodies such as the states of Florida, under Governor Jeb Bush, and Wisconsin, in their drive to promote school vouchers, known as "school choice legislation."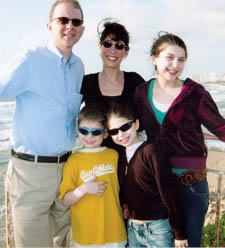 Lefkowitz's first post during George W. Bush's presidency was as general counsel in the Office of Management and Budget, where he represented the President as lead attorney for preparation of the federal budget. Subsequently, he became a deputy assistant to the President for domestic policy from January 2002–October 2003.
"Jay has the tremendous respect of the president," says Ari Fleischer, Bush's press secretary from 2001–03. "Jay is one of those rare people that when something tough comes up, the President instinctively will say, 'Get me Jay.' "
One of Lefkowitz's most prominent contribution to the domestic agenda took place during summer 2001, when the administration formulated its policy regarding the federal funding of embryonic stem cell research and limited that funding to stem cells developed before August 9, 2001. "The great thinkers I studied in the Core Curriculum at Columbia clearly were in my mind as we grappled with the issue," Lefkowitz says, recalling his discussions of ethics and philosophy with the President. He is proud of his work on the adopted compromise policy, developed to ameliorate claims from two seemingly opposed camps — advocates of stem cell research and the pro-life movement. A portrait of Lefkowitz and President Bush at the Crawford Ranch, looking over papers relating to the stem cell debate, sits on a bookcase behind Lefkowitz's desk, one of his office's few adornments.
"That was a moral Rubik's cube, because no matter how you turned it, someone would be angry," says Fleischer, who since leaving the Bush administration has started his own consulting firm, Ari Fleischer Communications. "A genuine compromise was struck and it was received as such when it was announced. Jay is not on the politics side of the ledger, he's on the deep substance side."
Lefkowitz was at the fore of many other policies, such as landmark foreign policy initiatives, including PEPFAR, the President's Emergency Plan for AIDS Relief. By his second fiscal year in office, President Bush increased AIDS funding to Africa by 36 percent, and by 2003, funding reached $1.1 billion, double the amount from when he took office in 2001.

"For me to have another battle for human rights is a
great privilege ... a wonderful opportunity."

"Don't think for a second Lefkowitz wasn't involved in the new initiatives to combat human trafficking," Horowitz says, referring to the Trafficking Victims Protection Reauthorization Act of 2003 and the PROTECT Act, legislation corresponding to the administration's $295 million campaign to fight human trafficking in 120 countries. "He was definitely a critical part. Though he is discreet and quiet, things somehow get done."
Lefkowitz has remained connected to Columbia and even became a de facto spokesman for the Bush administration policies at the "Is Religion Political?" panel, part of the Kraft Family Fund for Interfaith and Intercultural Awareness Series, at Low Library in March.
"We all have the right to promote our truth," Lefkowitz said. "Religion is an interest group. They can add their views in the discourse of our democracy. And to give religions their due, we cannot interpret religious traditions through a secular prism. We have to recognize from a democratic perspective none can be established, but we have to take a look at religion for its own sake.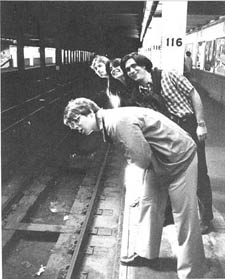 Photo: Mark Segall '84

"I spent years and years advocating for the movement defined by the promotion of human rights and justice," Lef­kowitz says. "For me to have another battle for human rights is a great privilege. It's a wonderful opportunity to work with the President to promote his agenda and my agenda, but to do so while I am able to [work at Kirkland & Ellis] in New York, where my family and I wanted to be, is a win-win situation."
Apart from his duties out of Foggy Bottom, Lefkowitz spends most of his free time with his children, Talia (13), Danielle (10) and Jacob (7), and their homework from the Ramaz School in New York City. They, along with his wife, Elena, a documentary filmmaker, are the reasons he remains based in New York and not on Pennsylvania Avenue.
Lefkowitz also has served the city he loves. In 9-11's wake, one resulting crisis to grapple with was the compensation of the victims' relatives. The 9/11 Fund, created to coordinate these efforts, counted Lefkowitz as a chief adviser. By the end of 2003, 97 percent of eligible families had agreed not to sue the airlines or any government agencies but instead opted to file standard insurance claims. By that time, those claims paid out an average of $1.8 million per family.
"Jay, frankly, was our secret weapon," says Kenneth Feinberg, who was special master of the fund. "There's no substitute for competence, and with Jay, no problem is unsolvable. He's the type, and there aren't many in government, that no matter who's in the Oval Office [that person] will look to Jay to solve the hard problems."
"There's a long tradition in this country of lawyers who move be­t­ween successful legal careers and high level posts in the government, such as secretary of state and other special positions," points out Horo­witz, the general counsel for the Office of Management and Budget during Ronald Reagan's first term. "Lefkowitz is exactly of that tradition, and that is quite extraordinary."
---
Daniel Fastenberg '06 recently interned at the Council on Foreign Relations and has been a producer for radio's Newsweek On Air and a research assistant for Institutional Investor Magazine.
| | | | | | | |
| --- | --- | --- | --- | --- | --- | --- |
| | | || | | || | | |