| | | | | | | |
| --- | --- | --- | --- | --- | --- | --- |
| | | || | | || | | |
FEATURES
First Stop on Campus
"We Get Everybody"
Visitors Center welcomes prospective students, parents, alumni and others to campus
By Amanda Erickson '08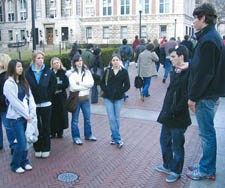 After a peek into Low Library and a walk down the aisle of St. Paul's Chapel, most visitors to Columbia are ready for a quick talk on the ins and outs of John Jay dining and a question-and- answer session on the admissions process.
But for a group of fifth-graders visiting the University last winter from Manhattan intermediate school Mott Hall, the next event was a bit out of the ordinary: a visit with Dean Austin Quigley.
"We just walked into [Dean Quigley's] office," former tour guide Ben Smith '06 recalls. "Then, all of a sudden, we were introducing the kids to the dean … The kids were so excited that he took them seriously. He was really responsive to their questions." After looking around the University, two or three of the students said they were sold on going to Columbia when they "grow up."
Most students on tours, however, don't have as long to wait. For high school students/Columbia hopefuls making the Ivy rounds, the Visitors Center in 213 Low Library is a destination of choice.
And they aren't the only ones. Tourists, visiting professors and alumni often drop in, drawn to Columbia by everything from the University's architecture to its reputation as a premier research institution. Each year, 50,000 people pass through the center, with traffic at its highest during the spring admissions season.
Former University President George Rupp, saying he saw the Visitors Center as a central tool in opening Columbia to guests, moved it from Dodge Hall to Low Library, the University's main administration building, in 1994. "When people come to campus, whether it's from another borough or another country, the Visitors Center often is their first point of personal contact with Columbia," says David Stone, e.v.p. of communications. "It serves a critical function in providing not only a sense of welcome, but also some insight into the University's enormous breadth and depth."
"The campus visit is extraordinarily important" for potential students, says Jessica Marinaccio, director of undergraduate admissions. "Visits offer students a sense of what the nature [of Columbia] is beyond just the major offerings." Marinaccio notes that visits to campus allowed students to interact with current students as well as understand how Columbia fits into New York City.
Center Directors Melissa Ewing and Angela Hoyte, along with office assistant Kenneth Conlin, work to draw in guests and keep them happy. Ewing, a director for undergraduate admissions, works with about 60 undergraduate tour guides as well as admissions officers to present potential students with a glimpse of Columbia life. Hoyte employs an additional 10 Columbia undergraduates to give tours for anyone else interested in seeing the University.
Ewing believes the tour and information session are some of Columbia's most important recruitment tools. "This is the one thing students and parents will see," she says. "It's the face of the University, and it has a large impact."
High school student Marissa Clinton was skeptical about the tour when she arrived on campus with her father. "I wanted to see the real university," she says, and she was worried that tour guides would only talk about Columbia's best features. But after hearing a guide talk about dining at John Jay, she changed her mind. "I was really impressed with how genuine and passionate everyone was," Clinton says.
She even stayed for a Visitors Center information session, an hour-long presentation by a member of the admissions staff that includes extensive question-and-answer time. The staff member provides information on curriculum, residential life, extracurricular activities, academic advising, financial aid and admissions requirements.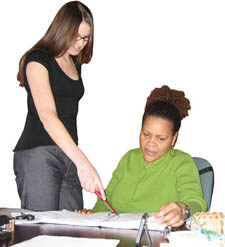 PHOTOS: MASHA VOLYNSKY '06

For alumni, the center is not just a means to see what's new on campus but a way to stay up to date. "We have alumni regulars who come in to pick up the Record and see if there is anything new happening at the University," says Hoyte, who has been at the center since 1999. Alumni also can pick up copies of Columbia, CCT, CJR or SIPA Review, and there is computer access.
Alumni often join tours on any given day to show spouses and children what it was like in "the good old days." Former students "like to visit old haunts," Hoyte says. "They ask to peek into the lobby at Furnald and visit John Jay dining hall to recapture some of their memories."
Barry Etra '73 hasn't been around Columbia much since he left New York in the 1980s, so when his daughter, Joanna '09, was applying to schools, he went with her to the Visitors Center. Etra says the tour gave him a chance to tell his daughter stories of when he was an undergraduate. The tour "brought back many memories," he says. "It was a lot of fun being on the tour and seeing the changes."
Etra says his only regret was not getting into the dormitories to check out Hartley, where he lived as an undergraduate, to see the new suite-style living.
Edward Berliner '74, '80 GSAS is no stranger to Columbia's campus. He earned his master's and Ph.D. at the University, and visits campus frequently. Still, when his sons, Joshua '05 and Jonathan '09, applied to the College, he joined them on a tour to see the campus through fresh eyes. "I thought [the tour] was wonderful," Berliner says. "People were very forthcoming and friendly and honest."
Ken Catandella, executive director of alumni affairs for the College Alumni Office, says he has found that alumni who want to get reacquainted with Columbia really enjoy taking student-led campus tours. "It is always interesting for them to get a sense from students about what's going on on campus now," says Catandella, who arranges tours through the Visitors Center as part of the Alumni Reunion Weekend programming.
For the center's directors, finding students who can work with potential applicants as well as seasoned Columbia veterans is a challenge. Selecting the guides is a long process that requires a written
application and interviews. The current roster includes a diverse staff of students with different majors and from different parts of the country. About three-fourths of the volunteer tour guides are from the College, with the remainder from SEAS. While Ewing's tour guides are not paid, Hoyte's students are paid through Columbia's work-study program. Being able to speak other languages is a plus, Hoyte says, because she often has tour requests from people who don't speak English.
Tour guide Cory-Alice Andre-Johnson '09 often gives tours to students considering Columbia's graduate schools. But one of her favorite tours involved less "hello" and more "bonjour." She gave a tour in French to a group of visitors from Belgium.
Tour guides say that working with new people each time keeps their jobs interesting. "One time, I gave a tour for one 72-year-old Israeli man," Smith says. "Other times, I'm talking to a group of kin­dergarteners or people from a Belgian business school. We get everybody."
Center directors have received their share of thank-you letters. Hoyte says one of the most rewarding parts of her job is hearing from elementary and middle-school students who have taken tours. "We like to give students a point of reference and start the discussion about college," says Hoyte, who advertises the tours on the center's website. "We hope that they will come to Columbia, but we really just want to get them talking about college."
In 2003, some visitors from Cambridge, England, were so excited by their tour that they told Hoyte they planned to launch their own visitors center — the school's first in 800 years.
And then there are the smaller accomplishments. Mark Cooper, a high school junior, wasn't planning to apply to Columbia. But his parents wanted him to see all his options, so they stopped by Columbia after a visit to Wesleyan. "I fell in love," Cooper says. "Taking the tour, talking to kids, it was like a jolt of electricity." After the tour, Columbia became his top choice.
---
Amanda Erickson '08, an urban studies and human rights major, plans to be a journalist in New York.
| | | | | | | |
| --- | --- | --- | --- | --- | --- | --- |
| | | || | | || | | |