| | | | | | | |
| --- | --- | --- | --- | --- | --- | --- |
| | | || | | || | | |
ALUMNI UPDATES
From Primates to Presidents: Jeffrey H. Schwartz '69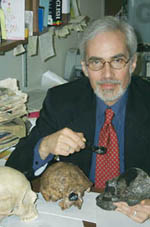 Photo: Dwight A. Chambers

For the past several years, anthropologist Jeffrey H. Schwartz '69, '74 GSAS has dedicated himself to deconstructing the ambiguities of human evolution and analyzing ancient skeletal remains. Recently, however, he took on a slightly different project: reconstructing George Washington.
"Because of my experience analyzing human and animal bones, I have for more than two decades been called upon to assume the role of forensic anthropologist," says Schwartz, a University of Pittsburgh anthropology professor and forensic anthropologist to Pennsylvania's Allegheny County. "Sometimes cases I work on are picked up by the media, so when a local group considered doing a reconstruction of George Washington at age 23, when he was a British officer, they called me."
The problem with that project, however, was that the local group could not offer Schwartz access to Washington's bones. Instead, he was introduced to James Rees, director of the Mount Vernon project, who asked him to take on a larger project of reconstructing Washington at ages 19, 45 and 57. With only odd remnants (clothing, dentures, a mask), portraits and a statue to work with, Schwartz accepted the challenge, leading a team of researchers in the two-year reconstruction process. "I was convinced that, through 2- and 3-D imaging, as well as from learning about the portraits and the artists who portrayed Washington, I could embark on a project of such magnitude," Schwartz says.
Each life-size model will have a foam-cast wax head and plaster body complete with period clothing, put together by a separate team of designers.
Schwartz, who has a Ph.D. in anthropology from GSAS, and his team approached the Mount Vernon project by focusing on reconstructing Washington's facial skeleton in a series of computer scans, depending on portraits to determine how he looked at each stage of his life. The scans then were merged and the final images were fine-tuned for details. "It has been quite a challenge," Schwartz says, "but I'm very pleased with the results." The project is scheduled to be unveiled in October at Mount Vernon's new education center, coinciding with a History Channel documentary about the reconstruction.
While he majored in anthropology at the College, Schwartz followed a pre-med path, planning to get an M.D./Ph.D. in psychotherapy. However, he became swept up in the breadth of the College's anthropology program. Schwartz praises the diversity of topics his undergraduate training embraced, recalling courses taken with former professors of anthropology Margaret Mead and Harry Shapiro.
Schwartz's career plans changed when he was invited by a Columbia physical anthropology professor, Ralph Holloway, to pursue a Ph.D. instead of going to medical school. Having studied human osteology and evolution as an undergrad, Schwartz was hooked on the analysis of human and animal skeletal remains from archaeological sites. During his graduate work, he directed osteological analysis at a site in Israel and excavated human fossils for a month in Swanscombe, England, leading him to spend his third year of graduate studies at the Natural History Museum and University College in London.
During this time, Schwartz developed deeper interests in evolution of non-human primates, which combined his interests in biological development and evolutionary theory. He continued his research in the 1970s around the Mediterranean, including biblical archaeology sites in Israel, Cyprus and Tunisia, analyzing remains of humans and animals of ancient Carthage, focusing on the relationship between fossils and living primates.
In the '80s, Schwartz became interested in the interpretation of human-ape relationships and published his first book, The Red Ape: Orangutans and Human Origins (1987), about the possibility of orangutans being the closest relative to humans. He has since published and co-published 11 other books. In 1990, Schwartz began a 10-year study of skeletal morphology through an American Museum of Natural History fellowship, "of basically the entire human fossil record." This breakthrough research resulted in a three-volume series published from 2002–05, The Human Fossil Record, which he co-edited.
Once he finishes the Washington project, Schwartz plans to continue his reconstruction work, having already been asked to do some "digital sleuthing" on another Revolutionary War figure. He also continues to research evolutionary theory and biology and this summer served as visiting professor at the University of Vienna.
"One thing that immersing myself deeply in so many fields of study allows me to do is to look at issues from the outside," Schwartz says. "There's an entire 'evolution' industry that is built on shaky if not abiological assumptions, and I want to be part of that paradigm shift, which is clearly going to happen in the near future."
Maryam Parhizkar '09
| | | | | | | |
| --- | --- | --- | --- | --- | --- | --- |
| | | || | | || | | |


CCT Home


This Issue


Previous Issue

CCT Masthead