A Message from Dean Valentini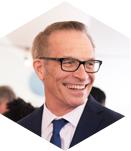 Each year at Convocation, I introduce the concept of "Beginner's Mind" – the idea of engaging the world without preconceptions, as if you're seeing everything for the very first time. As Shunryu Suzuki writes in Zen Mind, Beginner's Mind: "In the beginner's mind there are many possibilities; in the expert's mind there are few." This way of thinking expands the possibilities that our minds can envision. It warns us that the "expertness" that our experiences have produced can limit our perceptions, our judgments, our understandings and our imaginations.
My Columbia College Journey is part of Beginner's Mind. Spend some time on these pages and begin to ask yourself questions about what you have learned, are learning, or would like to learn. Reflect on your experiences and you'll see that you're not only gaining knowledge, understanding, insight and empathy, but also developing critical thinking and research abilities; honing your written and oral communication skills; improving your quantitative, information and technological literacy; engaging in teamwork and collaboration; expanding your creativity and innovation; taking on civic and individual responsibility; participating in community engagement and inclusion; and building global awareness and a sense of wellness and resiliency.
This idea grew out of faculty conversations during the 2015-2016 academic year in the College Committee on Instruction, where we aimed to provide a shared language regarding all that you acquire during your time here, inside and outside of the classroom. We have since consulted with over 100 faculty members and hundreds of students and staff. The Core Competencies listed on this website also have been discussed and supported by the College's Board of Visitors and Alumni Association and updated based on important feedback from all of these groups.
The Core Competencies are not intended to be requirements, burdens, or limitations. Instead, My Columbia College Journey encourages you to take time to reflect on your experiences—to think about what you like and don't like, what you are good at and where you need to grow, what you are learning and want to learn. We trust this reflection will guide you to make thoughtful decisions about your academic and co-curricular life; help you consider areas you would like to develop; and serve as a means to identify and pursue your interests.
This does not have to be an independent activity. Throughout this process, you will be supported by your Columbia College faculty, advisers, mentors and program coordinators – in the Berick Center for Student Advising, in the Center for Career Education, the Center for Undergraduate Global Engagement, Undergraduate Research and Fellowships, Undergraduate Student Life, and in your activities and residential halls. Your development will be a shared responsibility between you and your Columbia College network of support, who can guide your ongoing reflection, your academic exploration, and your personal development. They will encourage you to focus on the experience rather than the outcome, because, as you have heard me say before, quoting the mindfulness teacher Thich Nhat Hanh, "There is no way to happiness, happiness is the way."