Wednesday, January 11, 2017
Santiago Tobar Potes CC'20, a John W. Kluge Scholar from Miami, Fla., has been selected as one of five college students on the inaugural 17-member Better Make Room Student Advisory Board.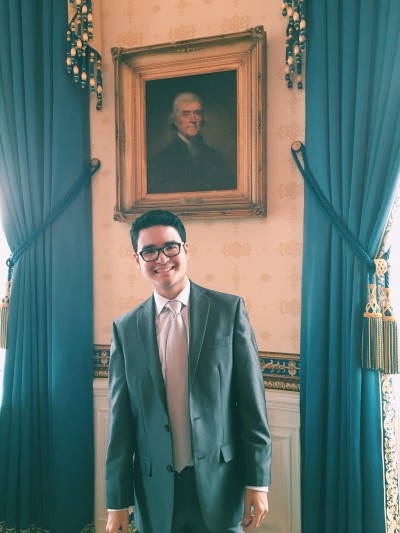 Santiago Tobar Potes CC'20 in the White House's Blue Room. Photo: Courtesty Santiago Tobar Potes CC'20 Better Make Room is part of First Lady Michelle Obama's Reach Higher initiative and is meant to target Generation Z — young people ages 14-19 — to celebrate education, change the national conversation, reach students directly where they are, and give them a space to create content while also navigating the college-going process.
"There is a particular indescribability that characterizes this appointment; it is as though words will not fully encompass the responsibility that I experienced upon being entrusted with such duty," said Potes. "My actions are not meant to gratify the needs of any immediate recognition or 'public' triumph, but are meant to last as long as the lives of those, and others, that I hope to improve. And it is through education that it will happen."
Potes says his experience as a low-income, LGBT student who is in the first-generation in his family to attend college has inspired his goal to make higher education readily available and feasible to all. Born in Cali, Colombia, Potes came to the United States at four-years-old seeking asylum after the FARC (Revolutionary Armed Forces of Colombia) killed his grandparents. He is a Jack Kent Cooke Scholar, a Questbridge Scholar and an Alexander Hamilton Scholar.
Potes also credits the Core Curriculum and Pericles' Funeral Oration from Thucydides' History of the Peloponnesian War, in particular, as influencing his decision to apply to the advisory board.
"Pericles' Funeral Oration from Thucydides' History of the Peloponnesian War holds special gravitas in my considerations of society, government, and the political. Though Pericles' rhetorical intents were belligerent, his ideals of democracy were innately not," Potes said. "My work is for the democracy and society I believe in."
The advisory board's mission is to mobilize their peers to build college-enrolling, college-persisting and college-graduating cultures at their schools and on their campuses. As proven leaders, organizers, changemakers and innovators, the students will help the country achieve President Barack Obama CC'83's North Star goal — that the United States will once again lead the world in college completion rates.
Potes traveled with the advisory board to the White House on January 6 to attend First Lady Michelle Obama's School Counselor of the Year Ceremony. He will begin his first Better Make Room project — a mentoring intiative for five Columbia undergraduates and 10 students from a middle school and high school from in Harlem — at the end of January.