Alumni Profiles
Kevin Rooney '84 Reflects on Life and Death in San Diego
By Kim Martineau '97J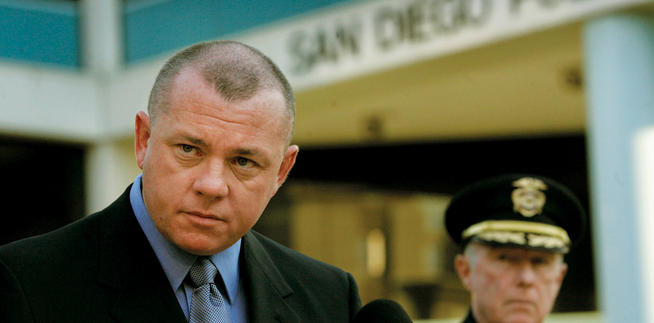 Homicide Detective Lt. Kevin Rooney '84 speaks at a press conference regarding a murder suspect in front of San Diego police headquarters in 2006. The suspect was arrested a few months later after a nationwide manhunt. In the background is San Diego Police Chief William Lansdowne.PHOTO: COURTESY OF THE SAN DIEGO UNION-TRIBUNELt. Kevin Rooney '84 calls it his toughest case: a mother found strangled to death at home, her infant son hanged from his crib. The double murder had no witnesses, and the obvious suspects — three men romantically linked to the young woman — professed to be somewhere else.
In the course of the investigation, Rooney and his team would track down a paternity test, perform computer forensics, analyze cell phone records and deal with a heartbroken mother whose desperation to find her daughter's killer nearly compromised the case.
As head of the San Diego Police Department's homicide unit since 2004, Rooney has overseen the investigation of some 300 murders, suspicious deaths and police-involved shootings. Because his jurisdiction includes the busy San Ysidro border with Mexico, his investigation of shootings by U.S. border agents also have placed his work under scrutiny by human rights activists and the Mexican government.
Columbia did not directly prepare Rooney for a career chasing down bad guys. But working full-time, while majoring in political science, he learned to be organized and detail-oriented. "I think my Columbia years honed my analytical skills," he says. "I like to think I'm pretty good at reviewing a case and identifying the missing pieces that make the difference between an unsolved case and a prosecuted one."
The son of a Bronx delivery truck driver, Rooney was raised to be self-reliant. In his senior year at Catholic Cardinal Hayes H.S., he landed a scholarship for academic achievement. A thank-you note to his benefactor, the son of Rite Aid's founder, led to a job at a Bronx pharmacy that would pay for Columbia. All three of his siblings also put themselves through New York City colleges.
Between working and living at home, Rooney had little time for socializing or extracurricular reading. His fondest Columbia memory is James Shenton '49's American history class, where he recalls that one lecture on abolitionist John Brown drew a standing ovation. He also enjoyed Karl-Ludwig Selig's course on the picaresque novel. But Rooney remembers hesitating to speak up in class, fearful of saying something stupid. "It was hard balancing work and school," he says. "When I walked toward the subway, I knew that my classmates were headed to Butler Library."
Rooney focused on his dream of becoming a police officer. Though the Ivy League might seem like an odd choice for someone bound for roll call and target practice, he chose Columbia because he wanted a "good education" and to be challenged by "bright classmates and excellent professors."
I got both," he notes.
During his senior year, Rooney applied to the NYPD and was offered a spot in the academy. But he declined the offer after the NYPD refused to let him defer until graduation. So, after finishing his degree, Rooney went to live and work in San Diego, where he had once passed an enjoyable spring break. He put down roots there, marrying an emergency room nurse, Mary, and embracing the California lifestyle. In the sunny climate, he grows lemons, limes and avocadoes in his backyard and begins each day by swimming laps in his pool.
"You'd be amazed how much thinking you can do while you're in the water by yourself," he says. Still, Rooney admits to pining for Lombardi's pizza, the change in seasons and watching the Rangers, Mets and Jets play on their home turf.
Rooney's most difficult case was the 2006 killing of Tori Vienneau. She had been strangled with the cord of a hair-straightening iron; her 10-month-old son, Dean Springstube, was strangled with the cord of a cell-phone charger. All three suspects — her roommate, Daniel Moen; an ex-boyfriend, Dennis Potts, whom she believed had fathered her son; and another ex, Neal Springstube — had alibis. The investigation would establish Potts as the father and turn up evidence he had once Googled the words "getting out of child support" and "best way to kill someone." In 2009, a San Diego judge sentenced Potts to life in prison without parole.
In March, the story aired on Dateline in a gripping, six-part series called Complicated that featured Rooney prominently. Producer Susan Leibowitz '83 Barnard had heard about Rooney from a colleague, and reached out. In her piece, Rooney comes across as tenacious but gentle. "I was impressed with how thoughtful he is — about the victims, and the people they leave behind," she says.
Seeing people on the worst day of their lives has made Rooney philosophical. Don't save your dreams for a rainy day, he recommends. Death can come at any moment, and it doesn't discriminate. "It doesn't care if you're rich or poor, successful or down on your luck, a good person or bad," he says. "You don't have much time on this earth, so make the most of it."
Kim Martineau '97J writes about science for Columbia's Lamont-Doherty Earth Observatory.