Around the Quads
In Memoriam
Manning Marable, the M. Moran Weston/Black Alumni Council Professor of African American Studies, founding director of Columbia's Institute for Research in African-American Studies and director of the Center for Contemporary Black History, died on April 1. He had battled the inflammatory lung disease sarcoidosis for a quarter-century and had undergone a double lung transplant in July 2010 but contracted pneumonia in late March.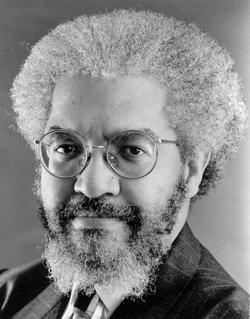 Photo: Robert Fox, Impact VisualsMarable, who was 60 and lived in New York City, died just days before the publication of the culmination of his life's work, the long-awaited, nearly 600-page biography, Malcolm X: A Life of Reinvention. The book was called by The New York Times "a hefty counterweight to the well-known account The Autobiography of Malcolm X, long considered a classic of the 1960s civil rights struggle." That book, an "as told to" book written with Alex Haley and published in 1965, differs from Malcolm X: A Life of Reinvention in that Marable drew upon new sources, archival material and government documents unavailable to Haley and developed a fuller account of Malcolm X's politics, religious beliefs and personal life as well as his role in the civil rights movement and the circumstances surrounding his assassination. Marable, as the Times noted, "also offers a revisionist portrait of Malcolm X at odds with Mr. Haley's presentation of him as an evolving integrationist."
"We need to look at the organic evolution of his mind and how he struggled to find different ways to empower people of African descent by any means necessary," Marable said in a 2007 interview with Amy Goodman on the radio program "Democracy Now."
William Manning Marable was born on May 13, 1950, in Dayton, Ohio. He earned a bachelor's from Earlham College in Richmond, Ind., in 1971, a master's from Wisconsin in 1972 and a doctorate from Maryland in 1976. Marable directed ethnic studies programs at a number of colleges, notably the Race Relations Institute at Fisk and the Africana and Latin American Studies program at Colgate. He was the chairman of the black studies department at Ohio State in the late 1980s and also taught ethnic studies at Colorado.
Marable had been at Columbia, as a professor of public affairs, political science, history and African-American studies, since 1993. During his 35-year academic career, he wrote and edited numerous books about African-American politics and history and remained one of the nation's leading Marxist historians. He was a prolific writer, authoring or editing nearly 20 books and scholarly anthologies and 275 academic articles, and an impassioned polemicist, addressing issues of race and economic injustice in works such as How Capitalism Underdeveloped Black America (1983), Black Liberation in Conservative America (1997), The Great Wells of Democracy: The Meaning of Race in American Life (2003) and a political column, "Along the Color Line," syndicated in more than 100 newspapers. Marable was the general editor of Freedom on My Mind: The Columbia Documentary History of the African American Experience (2003) and in 1992 published On Malcolm X: His Message & Meaning, a work that prefigured Beyond Boundaries: The Manning Marable Reader, a selection of Marable's writings that was published in 2010.
Marable's political philosophy often was described as transformationist, as opposed to integrationist or separatist, because he urged black Americans to transform social structures and bring about a more egalitarian society by making common cause with other minorities and change-minded groups. He lectured widely throughout the country and was co-founder of the Black Radical Congress, an organization of African-American activists.
Survivors include his second wife, Leith Mullings; children, Joshua Manning Marable, Malaika Marable Serrano and Sojourner Marable Grimmett; stepchildren, Alia Tyner and Michael Tyner; sister, Madonna Marable; and three grandchildren. Mullings said of her husband in The Root, an online magazine, "He would want to be remembered for being both a scholar and an activist and as someone who saw the two as not being separated."
For a fuller look at Marable and his career, see Columbia magazine's Summer 2011 cover story.
Lisa Palladino