Around the Quads
Lions To Face Penn at Homecoming 2011
By Lisa Palladino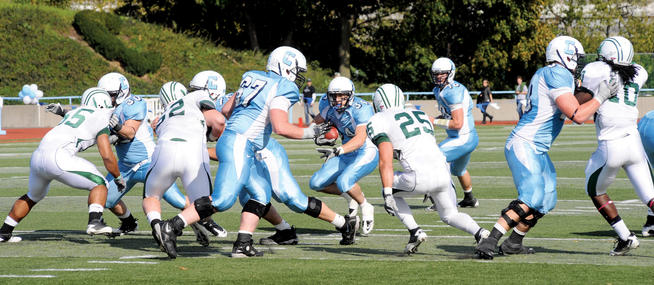 Two-time defending Ivy League champion Penn will provide the opposition for the Columbia Lions at Homecoming 2011, which will be held on Saturday, October 15, at Baker Athletics Complex. Prior to the game, there will be a gourmet barbecue buffet lunch under the Big Tent and family fun at the Columbia Homecoming Carnival, featuring face painting, balloon making, magic, games, prizes and interactive activities for fans of all ages.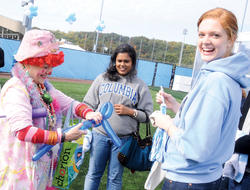 Although the Lions came up short on the football field against Dartmouth at Homecoming last year, alumni had fun under the Big Tent and at the Carnival. Photos: Eileen BarrosoThe tent opens for lunch and mingling with alumni, parents, students and friends at 12:00 p.m. Kickoff at Robert K. Kraft Field is at 3:30 p.m. This year's kickoff is scheduled for a later time than usual because the game is being nationally televised on Versus.

Lunch tickets are $20 for adults and $10 for children under 12 if purchased online by Thursday, October 13. Lunch tickets also are available on site: $22 for adults and $12 for children. Each lunch ticket includes an all-you-can-eat barbecue buffet, soft drinks and admittance to the Columbia Homecoming Carnival. Beer, wine and cocktails will be available at an additional cost. There also will be limited cash-and-carry items. The Columbia Alumni Association will provide halftime refreshments under the Big Tent.

To purchase football tickets, which are separate from lunch tickets, call 888-LIONS-11 or purchase online. Premium chairback seats are $25; reserved bench seats are $15.

There are several options for getting to Baker Athletics Complex. Shuttle buses from the Morningside campus will be available beginning at 1:00 p.m. and will return immediately following the game. The Morningside campus pickup will be from the gates at West 116th Street and Broadway. Log on to gocolumbialions.com prior to the game for up-to-date information.
Tweet from Homecoming
Let your classmates and friends know what is happening at #ColumbiaHomecoming by tweeting from the Big Tent or the game! Be sure to follow
@Columbia_CCAA
to get alumni news and more.
Fans also may use mass transit. MTA 1 and A trains, as well as the M100, Bx20 and Bx7 buses, stop near the complex. For those traveling by Metro-North Railroad, the Marble Hill station is located on the north shore of Spuyten Duyvil, just across the Broadway Bridge from the Baker Athletics Complex. Please visit mta.info prior to the game for up-to-date information.
On-site preferred parking at Baker Athletics Complex is available as a benefit only to those individuals making qualifying gifts to Columbia football. Single-game parking passes are not available. Fans arriving by vehicle without on-site preferred parking passes will be directed to public parking facilities in the area.
For more information about Baker Athletics Complex 2011 football game day policies and procedures, including the pre-game picnic area, public parking options, fans code of conduct and more, visit gocolumbialions.com/footballgameday.