Around the Quads
Klein, Shapiro Receive Van Doren, Trilling Awards
By Lisa Palladino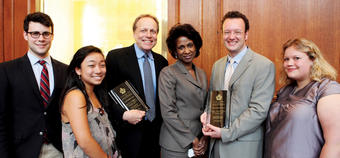 Celebrating at the May 3 ceremony were (left to right) Academic Awards Committee Co-chair Erik Kogut '12, AAC Co-chair Cathi Choi '13, the Larry Miller Professor of English and Comparative Literature James Shapiro '77, former Dean Michele Moody-Adams, Ass Photo: Daniella Zalcman '09The Columbia College Student Council's Academic Awards Committee awarded the 2011 Mark Van Doren and Lionel Trilling Awards on May 3 in the Faculty Room of Low Library.

The 50th annual Mark Van Doren Award, which honors a Columbia professor for his/her commitment to undergraduate instruction as well as for "humanity, devotion to truth and inspiring leadership," was presented to Holger A. Klein, associate professor of art history and archaeology. Klein earned a Ph.D. from the Rheinische Friedrich-Wilhelms-Universität in 2000 and specializes in Late Antique, Early Medieval and Byzantine art and architecture. He edited the Kariye Camii Reconsidered (2011) and has published articles in a variety of academic journals. (For more on Klein, see "Five Minutes with ... " in this issue.)

The award is named for Mark Van Doren '21 GSAS, a Pulitzer Prize-winning poet, novelist, literary critic and longtime Columbia faculty member with a reputation for pedagogical greatness.

The 36th annual Lionel Trilling Award was presented to James Shapiro '77, the Larry Miller Professor of English and Comparative Literature, for Contested Will: Who Wrote Shakespeare? Shapiro earned a Ph.D. from Chicago in 1982 and has been teaching at Columbia since 1985. The Trilling Award honors a book from the past year by a Columbia professor that best exhibits the standards of intellect and scholarship found in the work of longtime Columbia faculty member Lionel Trilling '25, '38 GSAS, an author and renowned literary critic.

The awards are unique for Columbia because they are the only academic honors judged and presented by students.