Bookshelf
Rachel DeWoskin '94 Defies Genre in Newest Novel
By Yelena Shuster '09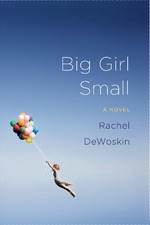 Rachel DeWoskin '94's teenage years were fairly comfortable. She excelled in an alternative arts high school in Ann Arbor, Mich., where students created independent study projects and called their teachers by first names. Her boyfriends were loving, her girlfriends artistic. "I had a very sheltered life," DeWoskin admits.
Judy Lohden, the protagonist of her latest novel, Big Girl Small (Farrar, Straus and Giroux, $25), is not as lucky. Brilliant, snarky and talented to boot, Judy also is 3-foot-9. But thanks to DeWoskin's biting language, she's not asking for your pity. Judy's sharp world view and even sharper wit emerge in the first few pages: "My mother's idea has always been to try to make me feel close to perfect, but how close can that be, considering I look like she snatched me from some dollhouse."
As the precocious narrator, Judy recounts life as a little person at a competitive performing arts high school. Just when everything seems like a teenage dream, Judy's happiness is upended by a dark plot twist that tests her ideas of love and justice. DeWoskin's powerful coming of age story reexamines what it means to be small in all its manifestations. Judy's unconventional voice marries young adult fiction with thriller narrative, resulting in a thought-provoking novel that refuses to conform to either genre.
The sordid tale had a most innocent inspiration: DeWoskin's daughter, Dalin (6), who was 4 at the time and obsessed with The Wizard of Oz. DeWoskin had watched the classic film about "4,000 times" and the more she watched, the more outraged she felt about the Munchkins' portrayal. "They're all professionally trained, yet they're made to lick lollipops," DeWoskin says.
Dressed in a gingham dress and red heels, her toddler had no problem imagining herself to be Judy Garland's Dorothy. "What if it wasn't that effortless?" DeWoskin wondered. "What if she was a dwarf?" Once DeWoskin started researching little people, she became even more upset. "We have not managed in America to be sensitive about this issue," she says. "The more I read, the edgier Judy got."
PHOTO: ANNE LIThe novel is a topical departure for DeWoskin, who burst onto the literary scene in 2005 with her acclaimed memoir, Foreign Babes in Beijing: Behind the Scenes of a New China. The book chronicled her unlikely fame as the television star of Foreign Babes in Beijing, a low-budget Chinese version of Sex and the City that was viewed by 600 million people. DeWoskin fell into the part after graduating from Columbia and moving to Beijing. A friend recommended her because she looked like an American (acting experience was not required).
After five years in China, DeWoskin returned to the States to get a master's in poetry from Boston University and later write Foreign Babes. Since then, the book has been optioned for a series on HBO and published in six countries. But even after restarting her life in America, DeWoskin wasn't done telling stories about China. After Foreign Babes, she published a novel, Repeat After Me,that chronicled a tragic love story between an ESL teacher and her Chinese student. The novel won a Foreward Magazine Book of the Year award in 2009.
It was DeWoskin's father, Kenneth DeWoskin '65, '74 GSAS, a noted sinologist, who set his daughter on a bicontintental path from a young age. Family vacations involved excavating ancient Chinese instruments and sleeping in military guesthouses that once housed revolutionary heroes.
DeWoskin credits Columbia for laying the groundwork for her success. As an English major, she studied British lit with the late University Professor Edward Said; poetry with the late Kenneth Koch; Eliot, Joyce and Pound with the late Wallace Gray; and Shakespeare with Ted Tayler. "All my professors made me feel that books mattered enormously — it was an ongoing celebration of analytical thinking," she says.
She even wrote Big Girl Small's first draft where she spent many undergraduate nights: in Butler Library. DeWoskin's husband, playwright Zayd Dohrn '06 GSAS, had a Ph.D. cubicle on the eighth floor, where DeWoskin wrote for a year while their younger daughter, Light (3), had a babysitter.
In fact, she had her daughters in mind when writing Judy's strong, persevering character. "Most of the heroes in teenage books are boys," she says. "I wanted to write a book for my two daughters about how brave and resilient teenage girls can be."