Columbia Forum
Harlem
Alexander Hamilton (Class of 1778) found tranquility in Harlem's wooded landscape.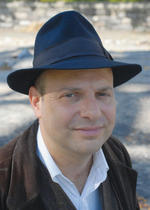 Jonathan Gill '86, '99 GSAS Photo: Lori TraikosJonathan Gill '86, '99 GSAS, a professor of American history and music, currently is on the faculty of the Manhattan School of Music. He has taught at Columbia, City College and Fordham, and written for The New York Times.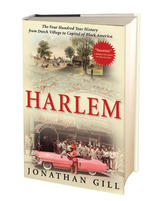 Gill's new history, Harlem: The Four Hundred Year History from Dutch Village to Capital of Black America, is the first book to show the whole panorama of Harlem's story from the early days of the Lenni Lenapes, through the arrival of the Dutch, to the turbulent struggle for American independence and up to the present. During the Revolutionary War, the action spilled over the land we know as Columbia's campus: In the Battle of Harlem Heights, George Washington's men were forced to retreat through a buckwheat field where Barnard now sits. Another Columbia footnote: Washington's highly competent aide-de-camp during much of the war was Alexander Hamilton (Class of 1778). So influential was the future Treasury secretary that Dr. Benjamin Rush, an educator and Founding Father, commented that Washington was in fact "governed by one of his aides."
Hamilton's and Harlem's fates seem to have been linked. Long after the Revolutionary War, he moved back to its wooded landscape in order to find a tranquility that had eluded him further downtown. In the following excerpt, Gill follows the twists and turns of Hamilton's — and Harlem's — intertwined fortunes.
Rose Kernochan '82 Barnard
---
The beginning of the end of the American War of Independence came in October 1781, with the British surrender at Yorktown, Virginia, but it took years for Harlemites to come home. It wasn't until November 21, 1783, four days before the British left downtown, that George Washington crossed over from the Bronx to Manhattan to meet with officers and politicians at Day's tavern, at what is now Eighth Avenue and West 126th Street. Reoccupying the island was first on the agenda, and Washington ordered the army to capture any "offenders" who remained. Peace could be as complicated as war, Washington knew, so he spent a few nights at Harlem, first at the newly opened Blue Bell tavern and then at Leggett's Halfway House, located in the old McGown's tavern, before heading south to New York City. Even then, it took time for the new political realities to sink in uptown. After Washington and his company left, a group of twenty-five loyalists tried to tear down the American flag flying at Leggett's.
The War of Independence had been good for New York. The city, which served as the base of operations for the British, doubled in population, to some thirty thousand people, between 1775 and 1780. Retreating soldiers and fleeing loyalists reduced its size to about twelve thousand inhabitants in 1781, but it soon began growing again, especially when the business of government began in what was then the capital of the new state and the new nation. Trade with the West Indies — importing sugar, rum, and slaves and exporting tobacco and grain — also started up again. By 1790 there were more than thirty-three thousand people below the city's new northern border of Houston Street, and that number more than doubled by the time of the War of 1812. Overcrowding was hardly the only problem. Many of the buildings that didn't burn down in 1776 were still vulnerable because there wasn't enough water available to put out fires. Moreover, poor water quality and deplorable sanitary conditions meant that epidemics continued to ravage New York City. One outbreak of yellow fever claimed the lives of more than 5 percent of the city, with casket makers roaming the streets shouting "Coffins of all sizes!" No wonder not just aristocrats but prosperous downtown businessmen who were supplanting the old hereditary order with a new mercantile upper class wanted to get away, and northern Manhattan was just the place. According to the very first federal census, taken less than a decade after the end of the war, there were only 803 people living in the entire Harlem Division, 189 of whom were slaves. While these may seem like substantial numbers, many of these people lived outside the village proper, and the total number was not even 3 percent of the island's population. The census also characterized 41 people in northern Manhattan as "other," which may have referred to people about whom not enough was known, or to free blacks, persons of mixed race, Indians, or even Jews — among the prominent New Yorkers who owned property uptown was the well-known businessman and proto-Zionist Benjamin Judah.
Alexander Hamilton's beloved Grange, shown before 1889 and in modern times. The building was moved to Saint Nicholas Park in 2008 and is due to reopen in September. Photos: National Park Service

Matters of both war and government had brought Washington back to Harlem in the fall of 1783, but in the years that followed it was pleasure that the new president was after. Local lore has it that Washington fancied one of the female slaves who worked at the old Stone House Inn, at what is now St. Nicholas Avenue and West 152nd Street. Easier to document is the trip he took in October 1789 with his vice president, John Adams, and their wives through Long Island and the Bronx before ending up with a dinner at Marriner's tavern, at what is now First Avenue and East 126th Street. Washington returned to Harlem the following summer with Vice President Adams and his wife, Abigail, as well as their son, the future president John Quincy Adams, in addition to Secretary of State Thomas Jefferson, the Secretary of War Henry Knox, and Secretary of the Treasury Alexander Hamilton [Class of 1778]. Ensconced in a six-horse yellow carriage decorated with mermaids and cupids, they toured the Revolutionary War fortifications at Harlem and imbibed at Marriner's before visiting the old headquarters at the Morris Mansion.
Washington wasn't the only downtowner riding uptown for pleasure. Improved roads meant that Harlem was finally within reach of commuters as well as day trippers. In the years after the Revolutionary War, charges for pleasure excursions were high: one pound, twelve shillings for a full day's excursion in a coach and one pound, eight shillings for a half day, which didn't include a fiddler, food and drink, care of the horses, or the prostitutes who often came along. Trips uptown were not only expensive but hazardous. A 1795 article in the New York Journal recounted how passengers were killed when they tried to get out on the steep stretch of road that would later be known as "Breakneck Hill," along what is now St. Nicholas Avenue.

In the years after the war, visitors had a broad choice when it came to lodgings. In addition to Marriner's, Day's tavern, Leggett's Halfway House, and the Blue Bell there were the Crossed Keys and the Black Horse. Many new inns opened in the years after the war, including the Kimmel tavern, the Post Inn, Halsey's tavern, and the Harlem Coffee House. Washington no doubt chose Marriner's because of the patriotic associations of its owner, William Marriner, who had served as a captain during the war, twice venturing into British territory to kidnap high-ranking officers. After the fighting was over he went back into the hospitality business, running a number of taverns, including one at the Morris Mansion, which was renamed the Calumet Inn and described as a "genteel house of entertainment," in the words of the New York Packet.

The grandeur of the Morris Mansion, even in its less distinguished phase, still inspired architects and their uptown patrons, more than one of them ex-loyalists who obviously felt at home in Harlem, despite their politics. Cadwallader D. Colden, who was born into a prominent loyalist family and spent the Revolution in England, returned to New York in 1785 and built a country retreat at what would become Seventh Avenue near West 139th Street. Valentine Nutter, a loyalist sympathizer who ran a book and stationery shop downtown, sat out most of the war in Nova Scotia with his two slaves, but after the war he returned to New York and built Nutter Farm, at what is now Lenox Avenue and West 110th Street — he had inherited part of the old de la Montagne property. Perhaps the best-known example of this new generation of uptown mansions was the home of the businessman and chemist John Bradhurst, after whom Harlem's Bradhurst Avenue is named. The property, near what is now West 152nd Street and St. Nicholas Avenue, had belonged to the ex-loyalist officer John Maunsell, whose niece Mary married Bradhurst, bought the land and the house in 1796, and turned it into a grand country estate called Pinehurst.

The most prominent of these new Harlemites was George Washington's former aide-de camp Alexander Hamilton, who had gone from strength to strength since he fought by the general's side.

The most prominent of these new Harlemites was George Washington's former aide-de-camp Alexander Hamilton, who had gone from strength to strength since he fought by the general's side. After becoming a lawyer in 1782, he set up his home and practice on Wall Street. The tireless Hamilton founded the Bank of New York and the New York Evening Post, and he invented the modern American corporation in the form of the Society for Establishing Useful Manufacturing, at Paterson Falls, New Jersey. Of course, it is as a public servant that he is best remembered. He published dozens of anonymous Federalist Papers in 1787 and 1788 on the importance of a strong central government, articles that helped ensure the ratification of the U.S. Constitution. As the nation's first secretary of the treasury — at the age of thirty-three — Hamilton dreamed up America's first federal budget, central bank, and tax system and he founded United States Coast Guard and Customs services. As active as he was in politics and business, Hamilton still found time to do pro bono work for St. Mark's Church in the Bowery and for Sailors' Snug Harbor for aged seamen, both of which still exist. Hamilton also helped found New York's oldest high school, Erasmus Hall, and even though his own wife was a slave owner, he was active in publicly confronting America's already disastrous racial situation. During the Revolutionary War, Hamilton had unsuccessfully urged the use of black soldiers, though this was less a moral position than a pragmatic one, since Washington's army had been decimated by desertions and resignations, and Hamilton did balk at the idea of Negro officers. After the war he founded the Society for Promoting the Manumission of Slaves, started a chain of African Free Schools, and gave free legal representation to runaway or kidnapped slaves. When in 1786 he was elected to the New York State Assembly, among his first acts was a petition to end the slave trade in New York State, and it was partly due to his influence that abolition, albeit gradual, began in the state in 1799. Hamilton's complicated and contradictory position on slavery derived from his curious belief that slavery was morally excusable but economically unnecessary, since America's future depended not on forced labor and agriculture but on immigration, banking, and manufacturing. Such ideas were deeply repugnant to many Americans, but Hamilton never set much store by popular opinion, and he often found himself a party of one.

After the war, Hamilton remained close to Washington, ghostwriting the general's farewell to the troops at Fraunces Tavern and President Washington's seventh and eighth annual addresses to Congress. But as time went on Hamilton became estranged from the other founding fathers, who considered him a vain social climber. They detested the sight of him strutting about New York like a dandy, dressed in the white and tan color scheme of his native tropics. Many also questioned his commitment to representative democracy. No less an authority than Thomas Jefferson warned Washington that Hamilton was "a man whose history, from the moment at which history can stop to notice him, is a tissue of machinations against the liberty of the country which has not only received and given him bread, but heaped honors on his head." Even his Federalist ally John Adams tried to convince Washington that Hamilton was "the most restless, impatient, artful, indefatigable and unprincipled intriguer in the United States, if not the world." Hamilton lost even more friends in the deadlocked presidential election of 1800, which pitted a Federalist ticket of John Adams and Charles Cotesworth Pinckney against the Republicans Thomas Jefferson and Aaron Burr. Hamilton had no great love for Jefferson but he was terrified at the idea of his old rival Burr in power.

In terms of blood and background, there could be no greater contrast between these two founding fathers. Hamilton was a poor bastard of dubious racial origin, and Burr, born in Newark, New Jersey, in 1756, was the moneyed scion of the finest of colonial stock. This sickly, spoiled boy was also an expert fencer and marksman who excelled in his studies. The times drew many young men into revolutionary activities but Burr, who was short but good-looking and apparently very charming, preferred women to politics. It wasn't until the summer of 1775 that he joined Colonel Benedict Arnold's hopeless expedition to take Canada. Burr distinguished himself by impersonating a priest and delivering a message through 120 miles of savage winter wilderness, and later saving the life of his wounded general by carrying him through the snowdrifts out of the range of British gunfire. In June of 1776 Burr became Washington's secretary but, like Hamilton, he chafed at his subordinate position, quitting after two weeks and returning to the battlefield. By 1779 he felt he had done his duty and resigned his commission, marrying and starting a law practice on Wall Street, just a few doors down from Hamilton. With the end of the war, business was booming, and they set aside differences to do business. Indeed, Burr was equivocal when it came to party allegiance. Though he founded the Tammany Society, an anti-Federalist club that came to dominate local politics, he was known as the "Eel" because he wouldn't commit to party or position. Burr's election to the United States Senate in 1791 — his opponent was Hamilton's father-in-law — put an end to the pretension of courtesy between the two men.

Thomas Jefferson called the contest to become the third president the "Revolution of 1800," because it marked the rise of the Republican Party as a permanent force in American politics. Even Hamilton defied his Federalist principles, crossing party lines to support Jefferson, a decision that helped relegate him to the margins of American political life. Something much more personal was also in play. Hamilton was devoted to his wife and family, but he was notorious among the founding fathers for his philandering. In 1797 Hamilton was humiliated by a blackmail attempt — he was convinced it was Burr out to revenge one too many political squabbles — that involved one of his extramarital affairs. Rather than back down, Hamilton came clean and began looking for an exit strategy from public life. He had always loved urban life and New York City in particular, which he had helped turn into a maelstrom of trade, industry, and commerce. Now he began to look elsewhere for refuge.

Hamilton had long regretted his inability to live and entertain in a grand fashion, like Jefferson at Monticello or Burr at Richmond Hill. "If I cannot live in splendour in Town," he wrote, "I can at least live in comfort in the country." Also at work in Hamilton's desire to move to the country was his sense that conditions downtown were worsening. In 1793 Hamilton and his wife had both come down with yellow fever. His sudden embrace of nature and family surely pleased his enemies, especially Jefferson, who had never been able to convince Hamilton, the quintessential New Yorker, of the superiority of rural life. Now, Hamilton began to enjoy fishing and hunting with his sons on visits uptown. It was on one of these jaunts that they came to know the businessman Jacob Schieffelin, whose house in Harlem had a pier where the Hamiltons sometimes docked. Hamilton was impressed by what he saw, and in the summer of 1798 he took a half interest in a farmhouse in Harlem. The weekends that he began spending there with his family inspired him to put down roots. Later that year he hinted in a letter to his wife that he was thinking of buying land in Harlem and building a home for them all. In 1800 he bought from Schieffelin and Samuel Bradhurst thirty-two acres of wooded land, from what is now West 139th to West 146th streets, and from St. Nicholas Terrace to Hamilton Place. Close to the Bloomingdale Road, the property made for easy commutes downtown. It also had the second-best views on the island, next to the nearby Morris Mansion. Just as important, it was close to the scene of Hamilton's first great victory back in 1776.

The Grange became Hamilton's obsession, and he became involved in every detail of its construction. If nothing else, it was a diversion from the sordid affairs of business and politics.

The passion — he called it "executive energy" — that Hamilton had once put into building a nation now went into building his house, on the south side of what is now West 143rd Street, just east of Amsterdam Avenue. Named after the Hamilton ancestral home in Scotland, the Grange was designed by John McComb Jr., whom Treasury Secretary Hamilton had paid to build lighthouses a decade earlier. Since then, McComb had become the most celebrated architect in the nation, the designer of both Gracie Mansion and New York City Hall and the inventor of Federalist architecture in the years after the Revolution. The Grange was the home of a man with something to prove. The two-and-a-half-story, fifty-by-fifty clapboard house, with front and back porches and piazzas on each side, was at once practical and fanciful. Before it was altered in the late nineteenth century, a broad staircase at street level led to two octagonal drawing rooms for entertaining, trumping the Morris Mansion's single octagonal drawing room. Massive bay windows and mirrored walls made the rooms look bigger than they were. Illusion was also at work in the eight fireplaces, which fed four chimneys, two of which were ornamental. On the second floor were six bedrooms for the family's seven children, while servants and slaves had their quarters in the attic and did much of their work in the basement.

The Grange became Hamilton's obsession, and he became involved in every detail of its construction. He supervised the caulking on the porches, corrected the property's overly loamy soil, and obsessed over an eighteen-foot bed of flowers, instructing workers to arrange three sections of tulips, hyacinths, and lilies into three larger sections, all surrounded by a laurel hedge and climbing wild roses. If nothing else, it was a diversion from the sordid affairs of business and politics. Hamilton wrote to a friend, "A disappointed politician you know, is very apt to take refuge in a Garden."

Much of what we know about Hamilton's obsession with the Grange comes from letters he wrote on a portable mahogany desk, traveling on business in coaches bumping along remote upstate New York lanes or in small inns or modest boardinghouses. For all of his dreams about a peaceful retirement Hamilton, who not only suffered from gout but had frequent pain in his side from an old war wound, had to take to the road and work harder than ever to satisfy what his grandson called his "sylvan longings." He had to be resourceful when it came to raising money to build the Grange, getting a good deal from the general contractor because he had successfully represented his brother in a murder trial. No such economies were available with McComb, who charged Hamilton $2,495.20, an impossible sum even for one of the guiding spirits of the American Revolution. Hamilton more than once failed to qualify for a construction loan, and he had to mortgage the property for $5,000 in order to keep construction moving forward. The completion of the Grange in 1802 demanded a housewarming party, complete with speeches, prayers, and the exhibition of Hamilton's special pride and joy: a grove of thirteen sweet gum trees, raised from seedlings by George Washington at Mount Vernon and representing the thirteen colonies. Eventually, the Grange also became a gathering spot for the best company in New York, though not the political kind. Like his rival Aaron Burr, Hamilton had switched sides too many times and made too many enemies. That still left prominent families like the Bayards, the Birds, the Fishes, the Hosacks, the Kents, the Morrisses, and the Pickerings, who arrived in the evening and were instructed to come down for breakfast at 9 a.m. Hamilton's sister-in-law joked: "The company must wear their nightcaps to arrive in time." They would then eat and socialize until the next evening's formal ball for up to seventy people. But Hamilton didn't move to Harlem to relax. If Mount Vernon and Monticello could be working farms, so could the Grange, though Hamilton admitted that he was as ill prepared to play the role of gentleman farmer "as Jefferson to guide the helm of the United States." Still, Hamilton tried to make the house pay for itself by selling cabbage, strawberries, and asparagus. In the end, the grounds weren't large enough to make money and Hamilton cleared only $18 in two years.

When Hamilton wasn't on the road, he made the two-hour trip to his downtown office five days per week in order to be with his family in the mornings and evenings. The least religious of the founding fathers now recited the Lord's Prayer on family walks, and on Sundays he led a private worship service in the Episcopal manner. Hamilton also now began to spend more time with his children, playing on the Grange's lawn or singing songs with them. In the evening he took to lying on the grass with them until the stars came out. He then put them to sleep and got in bed beside them, often remaining there all night. Few founding fathers did as much founding — or as much fathering.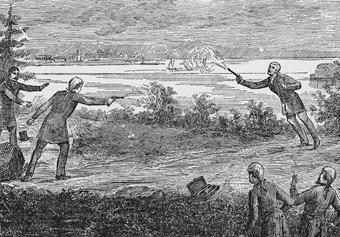 Aaron Burr (left) and Hamilton fought their fateful duel in Weehawken, N.J., on the morning of July 11, 1804. Hamilton died the following day. Photo: Getty Images/Kean Collection"Mine is an odd destiny," Hamilton once mused to an old friend. "Tragic" is perhaps a better word. In Harlem, he tried to escape the physical and ideological dangers of downtown, but old troubles haunted him. In late 1801, before the Grange was complete, his son Philip drunkenly insulted one of Aaron Burr's henchmen, Captain George Eacker, in the lobby of a downtown hotel. Eacker returned the insult and upped the ante, claiming that Philip was a "damned rascal," a charge that led to a duel early the next year in New Jersey. Hamilton, who had almost single-handedly shepherded into law a bill outlawing dueling in New York, advised Philip to exercise a gentlemanly maneuver called the delope, which involved purposely firing into the air and missing the opponent. Philip shot to kill but was mortally wounded in the encounter. Hamilton went wild with grief on seeing his dying son back in Manhattan and lay next to him in bed for the several days of intense suffering it took before Philip died. The family never recovered, though they were determined to make the Grange a place where, as Hamilton wrote to his wife, "I am always sure to find a sweet asylum from care and pain."

The election of 1800 had also marked the beginning of the end of Aaron Burr's political career. The office of vice president would have been enough for most men, but it wasn't for Burr, and as his term drew to a close he turned his sights to the governorship of New York. Again Hamilton refused to lend the support of the Federalists to a man "of irregular and insatiable ambition" who "ought not be trusted with the reins of government." It was the last straw for Burr, who embarked on a scheme of character assassination that could only end in a duel. Hamilton was aware that Burr had been an expert marksman since he was a boy, but he accepted the challenge and began to prepare for the possibility of his demise. At dawn on Wednesday, July 11, 1804, Hamilton rowed across the Hudson River and met Burr in Weehawken, New Jersey. It was the same spot where Philip had dueled some two years earlier. Burr had even chosen the very set of guns used in the Eacker duel. When the order to "Present!" came, Hamilton raised his weapon and intentionally shot over Burr's head. Burr, who considered the delope cowardly, returned fire directly and shot Hamilton in the gut. The bullet severed his liver and lodged in his spine, but Hamilton remained conscious and was rowed back across the river. When word of the events reached uptown, Hamilton's seventeen-year-old daughter Angelica lost her mind, never to recover. Meanwhile, Elizabeth rushed downtown and watched helplessly as her husband suffered. He died the next day. Hamilton was forty-seven years old when he was buried in the graveyard of Trinity Church.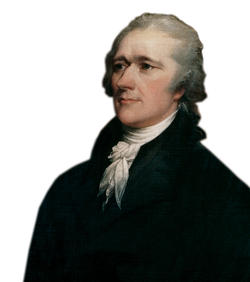 Hamilton in a portrait by John Trumbull. Photo: © Francis G. Mayer/CORBISLetters Hamilton had written to his wife, to be opened in case of his death, explained his decision and bid her farewell, regretting that he "too far sacrificed the interests of my family to public avocations," and explaining that moving to Harlem had been an effort to rectify his error. At the time of Hamilton's death, the Grange was worth $25,000, but its builders were owed money, and he had paid only $2,000 of the $5,000 principal on the 1801 mortgage. Hamilton's political flip-flop during the election of 1800 hadn't left the family totally friendless. In 1805 Archibald Gracie and twenty-eight others bought the house and property for $30,500 and sold it back to Elizabeth for only $15,000. The family remained there until 1813, when they sold it and moved downtown, no longer able to afford the upkeep on such an extensive property. The Hamiltons didn't leave Harlem altogether, though. The Hamilton Free School, the first public school uptown, was chartered just a few years later, on land given by Elizabeth, at what is now Broadway near West 187th Street, and the family owned property uptown as late as the 1890s. Of course, the very names of Hamilton Heights and Hamilton Place keep Alexander Hamilton's memory alive.

Harlem © 2011 by Jonathan Gill; reprinted with the permission of the publisher, Grove/Atlantic, Inc.