Cover Story
Welcome Class of 2015
A behind-the-scenes look at the College's newest students, and how they got here
By David McKay Wilson
G
one are the days of waiting for the mail carrier to deliver the thick or the thin envelope. Today's newest Columbians logged into an online portal to get their admissions decisions. Admitted students were instantly taken to a video featuring the Columbia fight song and an aerial view of the Morningside campus before seeing their admit letter.
Adrian Alea '15 (Fort Myers, Fla.) received his admissions decision on his iPhone while he was sitting in traffic. Allie DeCandia '15 (Princeton, N.J.) played the "Welcome" video 12 times and immediately memorized the fight song. While the decisions were released at 5 p.m. Eastern time, many international applicants woke up in the middle of the night to check their decisions. The father of Cynthia Hajal '15 (Beirut, Lebanon) had already fallen asleep by the time she learned of her decision. Students on the west coast were still in school when their decisions went live, including Ami Kumar '15E (Palo Alto, Calif.), who checked her decision in her school's computer lab. Diarra White '15 (West Orange, N.J.) was at the mall shopping for her prom dress when her mother suggested she check for her decision at the Apple store.
Some had greater challenges obtaining their decisions. Lucy Gill '15 (Oak Park, Ill.) was on a spring break trip to a rainforest in Costa Rica without Internet access, so she had to drive 20 minutes to a café to log in. Andrea Viejo '15 (Monterey, Mexico) had to go to the nearest Starbucks for Internet access due to a power outage in her neighborhood.
The colorful parade of flags, representing every home state and country of the College and Engineering student body, is part of the pageantry of Convocation. PHOTO: CHAR SMULLYAN And how did the College hear these stories? One posting in the "Columbia Class of 2015" Facebook group elicited more than 50 comments in less than 24 hours, a true indication of the online nature of the Class of 2015.
"This is a very exciting time for Columbia and its newest students," says Kevin Shollenberger, dean of student affairs and associate v.p. for undergraduate student life. "We received a record number of applications for this year's incoming class, which marks Columbia's most accomplished and selective group ever. We also are extremely proud of the diversity of this class, including a strong international voice. The varied interests, abilities and life experiences these students represent are quite remarkable — each one has a story to tell."
The Class of 2015 arrived with noteworthy credentials and shared several common themes. Many students were engaged in community service before coming to Columbia; others were involved in research, served as the editor of their school newspaper, were president of their class or held other leadership roles. The students speak multiple languages and are aspiring musicians, artists, athletes, entrepreneurs and scholars. There is a modern dancer who has performed with the Paul Taylor Dance Company; a prize-winning Norwegian philosophy essayist; a classical cellist who made his Carnegie Hall debut at 12; the U.S. national high school chess champion; Junior Olympians in freestyle skiing, karate, figure skating and kayaking; several Intel Science Talent Search finalists; and several artists who have already made a name for themselves in the performing arts world.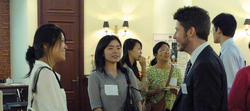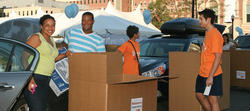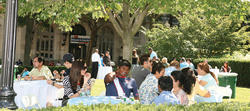 GLOBAL RECRUITMENT
Columbia's 23 admissions officers spend three to four weeks each year traveling across the country and around the world on recruitment trips, where they meet with prospective students, parents and guidance counselors. A typical day on the road could include visiting high schools to meet with groups of students and guidance counselors, running a college essay writing workshop at a community-based organization that works with college access for underserved populations and holding an evening off-campus information session for students and parents. In addition, officers often meet with members of regional Alumni Representative Committees (ARC), the volunteer organization whose members interview prospective students.
While officers annually visit major cities such as Los Angeles, San Francisco, Chicago, Miami and Houston, they also reach out to regions where students might not be as familiar with Columbia. Through joint recruitment trips with peer schools, Columbia visits 50 cities annually, including places such as Lexington, Ky.; Jackson, Miss.; Boise, Idaho; and Sioux Falls, S.D. These trips include evening information sessions where students and families learn about all of the colleges on tour, about the benefits of a liberal arts university, and general information about highly selective admissions and need-based financial aid. Columbia also is part of a second joint travel group that visits 15 cities each summer and focuses on science and engineering recruitment.
Columbia's recruitment efforts also stretch across the ocean to reach students around the world. At the same time Columbia has expanded its reach in the United States, international outreach has grown as well. In the past year, staff has made presentations for the first time at high schools in Saudi Arabia, Jordan, Israel, Dubai and Lebanon, part of a global effort that sent admissions officers to 32 nations on six continents (sorry, Antarctica!).
Class of 2015 by the Numbers

Number of applications
29,393
Size of class
1,074
Acceptance rate
6.4%
States represented
49
Countries represented
55
Students also are encouraged to visit Columbia's campus to see for themselves if Columbia might be a good fit for them. In addition to daily information sessions and campus tours, Columbia offers a number of other on-campus visit opportunities. High school seniors can come for an overnight visit in the fall, where they are matched with a Columbia student and attend classes, eat in Jay Dining Hall and stay overnight in a residence hall. Columbia also offers a lunch visit program for juniors and seniors, allowing prospective students to have lunch on campus with a current student in a more intimate setting. Students interested in studying the natural and life sciences might attend a Summer Science Invitational or a Fall Research Symposium, designed to share information about Columbia's renowned science programs and extensive undergraduate research opportunities. All of Columbia's recruitment efforts have the same goal in mind: to arm students with as much information as possible to help them make the decision whether to apply to Columbia and, if admitted, whether to attend.
The outreach has paid huge dividends, with applications more than doubling across the last 10 years. Columbia's decision to allow candidates to apply with the Common Application — now used by more than 400 colleges and universities — was partially responsible for the remarkable growth. Columbia was the last Ivy League college to participate in the system, which allows prospective students to file the same application and student essay with any college that is part of the Common App system; however, Columbia also requires an extensive supplemental application. "From a recruitment perspective, Columbia remains focused on attracting the best students, but our decision to move to the Common Application has allowed us to reach pockets of talented students who may not have had access to our admissions process before," says Jessica Marinaccio, dean of undergraduate admissions/associate dean of student affairs.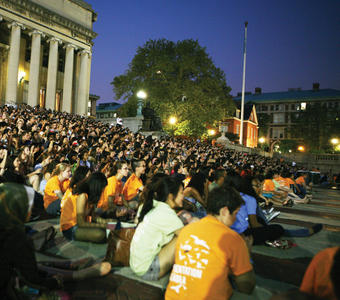 Members of the Class of 2014 and Orientation leaders fill Low Steps for last year's Community Forum, an event that introduces first-years to their new Columbia family and to the school's rich history. Photo: Char SmullyanShollenberger notes that prospective students are increasingly aware of the multitude of opportunities associated with attending an academic institution in New York City. "Moving to the Common Application is not the only reason we have attracted record numbers of top caliber applicants in recent years," he says. "We can't overstate the continued positive influence of our location in a city that presents limitless opportunities for cultural exploration and professional, intellectual and personal growth."

College and Engineering students also get involved. More than 200 undergraduates support the Admissions Office as members of the Undergraduate Recruitment Committee, Multicultural Recruitment Committee or Global Recruitment Committee, groups of volunteers who give campus tours, host overnight visits, participate in online chats and phone campaigns and share their Columbia experiences with prospective students. Members of these committees speak at a variety of events during the admissions process, including Summer Advising sessions, which a majority of incoming students attend before arriving on campus.

In one of those sessions, before an audience that included parents who may have been a bit nervous about their children's impending four years away, Marcella Lusardi '12 recounted that she enjoyed getting surprised by a care package filled with goodies from home. She also warned parents not to expect a call or text message as often, or as promptly, as they've grown accustomed to receiving.

"Don't worry if your child doesn't contact you every day," she said. "Eventually they'll get in touch."
ALUMNI MAKE AN IMPACT
Alumni also play a major role in the outreach efforts, with more than 5,000 members of ARC attending recruitment events, interviewing prospective students and hosting gatherings for admitted students during the summer.
For the past 30 years, Alan Preis '64 has headed ARC in northern New Jersey, where about 100 alumni from the College and Engineering conduct interviews with as many as 800 high school students who have applied to Columbia. Interviews for early decision candidates are held in October and November, and interviews for the remaining applicants continue through mid-February.
"We try to get a picture of the student that doesn't appear elsewhere in their overall package," says Preis, a CPA in Florham Park, N.J. "We try to elicit something they are passionate about, something intangible, that gives them heightened appeal."
ARC member and federal appellate judge Joseph Greenaway Jr. '78, who was chairman of the Black Alumni Council from 1996–2006 and currently is on the College's Board of Visitors, conducts his ARC interviews at his chambers in the federal courthouse in downtown Newark, N.J. "We need more kids to see people who look like them who went to Columbia," says Greenaway. "It's important for students to hear from an alumnus who may share a common experience with them and can let them know that Columbia is a place where they could go, enjoy and achieve."
Oriana Isaacson '09 conducted 25 interviews last spring in Seattle. She also has assisted with Columbia's Summer Advising program. Isaacson, who was a volunteer tour guide on campus, enjoys talking about her Columbia experience, which includes participation on the College's fencing team, and her exploration of foreign languages as a double major in French and Hispanic studies.
"Students have questions about the Core and how it fits with other things they want to study," says Isaacson, who occasionally wears her Ivy League championship fencing ring on interview days. "I tell them I was able to double-major while also taking a year of Italian and semesters of Arabic and Portuguese. It's possible to find the balance among your studies, a sport and things you want to study outside your major."
HEARD AT THE COMMITTEE TABLE
"Dinner's here!" The call goes out across 212 Hamilton Hall each night in March to alert admissions officers there for evening admissions committees that food has arrived. After months of reading nearly 35,000 applications for the College and Engineering, admissions officers spend four weeks meeting in small committees to discuss each applicant being considered for admission to Columbia. More than 150 meetings are held, with the committees gathering each weekday from 9:30 a.m.–9:30 p.m. and on Saturdays as well. Each committee is chaired by a senior member of the admissions staff. The regional admissions officer presents the students who have applied from his or her territory (often students met during fall recruitment trips), and a vibrant discussion ensues. "What is the curriculum like at this school?" "How many advanced courses has she taken?" "What was his essay about?" "What do the teachers write about her?" "What are his reasons for wanting to attend Columbia?" "What does the ARC report say?" All are common questions heard around the committee table.
The crucial question, though, is always, "What will the student add to the Columbia community?" With thousands of academically qualified applicants, admissions officers must make fine distinctions between students based not only on their curriculum, grades and standardized testing but also on their extracurricular activities, leadership experiences, academic passions, and voice and perspective. "Building a class is not an easy process. It requires a lot of thoughtful planning," says Marinaccio. "You just can't do it in a formulaic way. It's like putting a puzzle together, and it can take time to get a sense if an applicant is a good fit for our type of education."
Each student is examined within the context from which they came and how they might take advantage of, and contribute to, the Columbia community. Columbia seeks a diversity of personalities, achievements and talents, and of economic, social, ethnic, cultural, religious, racial and geographic backgrounds, striving to admit the most interesting and vibrant class possible.
"We like to create a class that will have students who, when sitting around a table, will look at the world through a different lens," says Marinaccio. "It's not just the professor that students learn from. There's also the person sitting next to them."
Admissions officers look at students in a holistic manner, going beyond basic yardsticks such as grade point averages in high school and scores on college entrance exams. They look at students' levels of independent intellectual curiosity, personal initiative in their communities and any special talents — be it in athletics, the performing arts, science or literature.
Katie Barclay '15, of Chappaqua, N.Y., is a competitive skier who participated in the U.S. Freestyle Junior Olympics from 2008–10. Barclay considered colleges in mountainous settings but it came down to a choice between two urban schools, Columbia and Penn. She twice stayed overnight at Columbia — once with a friend and a second time through the Days on Campus program for accepted students — and liked the feel of the campus and the caliber of the conversation. "I'm interested in being part of the intellectual community here," she says.
Legacy Couples
F
or three Columbia families, Orientation and Move-in 2011 had special meaning. In each case, both parents graduated from the College. All three mothers were members of the Class of 1987, the first fully coeducational class at the College, which will be celebrating the 25th anniversary of its graduation next spring. Diane Hilal-Campo '87 and Richard Campo '84 are the parents of Cynthia Campo '15; Nicole Belson Goluboff '87 and Erik Goluboff '86 are the parents of Justin Goluboff '15; and Nancy Basri '87 and William Basri '84 are the parents of Ross Basri '15E.They are not the first CC legacy couples, however. That distinction belongs to Maria Hernandez Montalvo '88 and Daniel Montalvo '86, the parents of Veronica Montalvo '09.
Barclay's decision to matriculate came during April, after she received acceptances from Columbia and several other schools. This final recruitment period includes Days on Campus, frequent contact from the Admissions Office by email, mail and telephone, and letters from alumni, including high-profile graduates such as Dan Futterman '89, an actor and screenwriter; Claire Shipman '86, '94 SIPA, ABC senior national correspondent; and Julius Genachowski '85, chair of the Federal Communications Commission.
Futterman, who came to Columbia intent on studying the sciences and becoming a physician, tells the admitted students that he discovered the humanities through the Core Curriculum and turned to writing through his work at Spectator and an internship at Newsweek. He recalls the Columbia campus as a "peaceful oasis" and says he can't help but smile when he reads the newspaper and discovers another Columbia College success story.
"If I had to do it all over again, would I pick Columbia College?" asks Futterman. "That's as easy a question as I can get: Definitely yes."
David McKay Wilson, a freelance journalist, writes regularly for magazines at Columbia University, with articles published in Colum­bia College Today, TC Today and Columbia Engineering.