Cover Story
NSOP
Not your average orientation program
By Shira Boss '93, '97J, '98 SIPA
Arriving at Columbia as a first-year student used to involve a sometimes frustrating move-in experience followed by several days of relatively standard welcome-to-campus social events. Not anymore. The New Student Orientation Program (NSOP) has flourished in recent years, largely due to the efforts of increasingly enthusiastic student planners and the dedicated support and guidance from the Division of Student Affairs. It has become a week-long, city-wide, jam-packed program that embraces and energizes incoming students from the very first day, and leaves many eager to work on the event for the next round of new students.
"Orientation at Columbia is really great. Columbia goes above and beyond," says Courtney Wilkins '07, who worked on orientation after her sophomore year.
Orientation is more organized, more comprehensive and has more "school spirit" than the Columbia community has ever seen. It took a 14-member student committee all summer, working full-time, to plan the events of the 2011 NSOP, which is for incoming students at all four undergraduate schools: the College, Engineering, General Studies and Barnard. "Students have an incredible introduction to campus and city life," says Cynthia Jennings, director of NSOP and Class Year Programs in the Division of Student Affairs. "We truly consider our city an educational resource and encourage the students to use it to their benefit."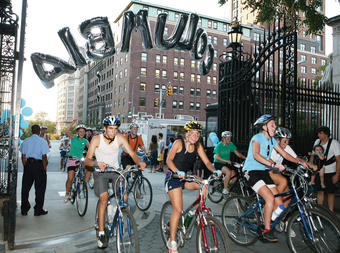 Cyclists enter College Walk through the Broadway gates during the Columbia Outdoor Orientation Program. Photo: Char SmullyanJuan Esteban Estrada '13 had never been to New York before arriving for his orientation program two years ago. After his flight from Miami, he loaded his two suitcases into a taxi and embarked for a new home he had only seen in photographs. "You have this idea that it's this bustling place that might swallow you up," he says, recalling move-in day. "But you walk onto campus the first day and see hundreds of helpful student leaders and get the sense that the school really cares. This first week is very memorable and assures you that you have made the right choice."

For many, orientation actually begins before move-in day. For nearly 30 years, some first-year students have chosen to participate in themed, pre-orientation programs organized by students. The first and still the largest, Columbia Outdoor Orientation Program, started in 1984 as a hiking and camping trip in the Catskill Mountains. It has since expanded to three programs: hiking, biking or river canoeing, all of which are combined with camping. The 215 spots available this year filled more quickly than ever, according to the coordinator.

Another program, Columbia Urban Experience, for 84 incoming first-years, involves volunteering in small groups at organizations around the city, such as God's Love We Deliver (free meals delivered to homebound patients) and Youth Action Programs and Homes (activities and training for youth in East Harlem). The students also have dinner discussions, hear from speakers who work at nonprofits and enjoy evening events around town, such as baseball at Yankee Stadium and visits to Magnolia Bakery or Bryant Park.

A new pre-orientation program, developed after a limited pilot last year, is the International Students Orientation Program. What used to be simply a Q&A session about the logistics of living in New York is now a specialized, four-day program intended to address the particular concerns of international students. Before NSOP begins, international students participate in information sessions, discussions and excursions around the city. They meet one another, are introduced to the campus and the richly textured but potentially intimidating city that is New York and are mentored by student leaders, with each component designed to ease that initial adjustment.

Describing its growth in recent years, current NSOP coordinator Simon Jerome '13 says, "NSOP is constantly changing and evolving, something that's crucial to the success of the program. To achieve this, our advisers do a stupendous job of accommodating student voices through participation on the planning committee and using surveys to collect feedback."

Orientation week for all new students officially starts with move-in and is followed by Convocation, an event that was canceled this year due to Hurricane Irene. "Families are surprised. They think, 'It's New York City and it's going to be such a hassle,' but it's really very efficient," says Kimberly Lynch '13E, a member of this year's planning committee. "Orientation leaders and crew chiefs with smiling faces meet families and unload vehicles starting at 7 a.m." The campus is heavily dotted with the brightly-colored shirts worn by the student orientation crew, and help is readily available at every step during the move-in process.

Along with moving carts and picnic lunches, the first day of orientation now has pomp and ceremony. Parents and students gather on South Field for Convocation and are addressed by President Lee C. Bollinger and the deans of the College, Engineering and Student Affairs as well as an NSOP student leader. Alumni participate, too, offering a welcome to the class and marching in the Alumni Procession, both of which send the message that students are beginning a lifelong relationship with Columbia. Convocation begins with the parade of flags representing the states and countries of every member of the College and Engineering undergraduate student body, including the new class, and it ends with a rousing rendition of "Roar, Lion, Roar."

Immediately following Convocation, parents depart and students attend their first group session with their Orientation Leader. Later that evening, Class Act, an event designed by students in 2000 and held in Roone Arledge Auditorium, features Varsity Show skits and a boisterous recessional of the first-years, who are led through a tunnel of cheering students along Broadway and onto campus through the gates at West 116th Street. That kind of school spirit was distinctly lacking in the decades preceding the millennium.

Today's students agree that bonding occurs over a kind of shared uniqueness. "It's a community based on acceptance and being who you are," Estrada says. "The students are free to show their own colors and the community is very welcoming. Columbia allows you to be who you want to be, and to pick and choose what you want to take away from your college experience."

"The purpose of NSOP," says Dean of Student Affairs Kevin Shollenberger, "is to assist students with the transition from high school to college and to introduce new students to one another, to Columbia's campus, community and expectations, and to the City of New York."

Orientation week still includes information sessions about campus services — libraries, safety, health, jobs — as well as advising sessions, placement tests, academic meetings, the first Literature Humanities class and diversity training. An academic resource fair, where entering students meet with faculty and gather more information about subjects they are interested in studying, is a newer addition. "Prior to course registration, the auditorium is buzzing with faculty members engaging with students and answering questions about their departments, course requirements and placement. This is a very popular event and it's wonderful to see the interest from both faculty and students grow every year," says Terry Martinez, dean of community development and multicultural affairs.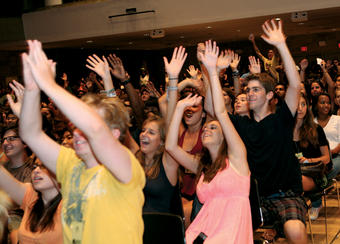 An enthusiastic audience of first-years participate in last year's Class Act in Alfred Lerner Hall. Photo: Char SmullyanCommunity Forum is another relatively new addition to NSOP. Filling the steps in front of Low Library, new students and staff from all four undergraduate schools gather to learn more about the makeup of the Class of 2015. Then, to get a little more specific, excerpts from a number of application essays (with prior permission from the authors) are read anonymously, providing a more personal and poignant glimpse of who these students are. The evening concludes with an impressive video presentation, prepared by the NSOP committee, outlining the history of the University and celebrating the commonalities and uniqueness of each of the undergraduate schools. It is a way for students to understand the community they are entering and the responsibility of being a member of this community.

A highlight of the week is the New York City Event, a party at a venue that is kept secret until orientation. Past locations have included The U.S.S. Intrepid, Ellis Island, The Metropolitan Museum of Art, Madison Square Garden, the American Museum of Natural History and Madame Tussaud's. On another evening, students provide their own entertainment at Open Mic night in Roone Arledge Auditorium. "It might seem nerve-wracking to perform in front of a completely new set of friends, but the experience is very relaxed and enjoyable," Estrada says. "The lights are dimmed, giving the auditorium a coffee-house atmosphere, and the event serves as a perfect way to meet others with similar interests right off the bat."

The weekend before classes begin, students can participate in an ever-expanding array of walking tours — from Harlem, the Bronx Zoo and the Cloisters uptown, to the High Line Park, the Brooklyn Bridge and the Financial District downtown. Closer to home are a vertical tour of St. John the Divine, a tour of Central Park and a tour of eco-friendly spaces on campus and the local farmer's market.

One thing missing from orientation that many alumni will remember is the Facebook, a type of yearbook for incoming students that featured a photo and some personal information, from a survey, about each student that was used as a reference guide to who's who in the class. With its last publication in 2008, it has been unofficially replaced by the more interactive, worldwide Facebook online, where many students met each other on the Columbia Class of 2015 page before they even arrived on campus.

"NSOP is the University at its best — its friendliest, its most outgoing, its most energetic, its most inclusive," says Jerome, the NSOP coordinator. "It's the week that never fails to remind me why I chose Columbia."

Shira Boss '93, '97J, '98 SIPA is contributing writer to CCT.