Features
Rain Can't Dampen Spirits at Class Day 2011
By Alex Sachare '71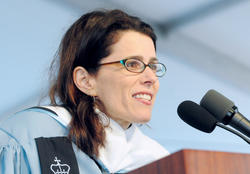 Celebrating an extraordinary rite of passage, members of the Class of 2011 began the transition from students to alumni on Class Day, May 17, a day that was marked by torrential morning rain and blustery wind but calmer weather by the time Sans Souci and Roar, Lion, Roar were sung by the Clefhangers to close the ceremony.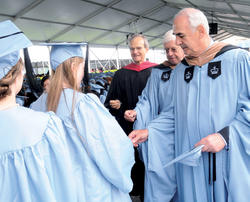 The seniors' transition continued the next day under overcast skies when they took their place among the more than 12,000 graduates of the University's 18 schools and affiliates at Commencement, the official graduation cere-mony, which this year drew a crowd of more than 30,000 to Low Plaza.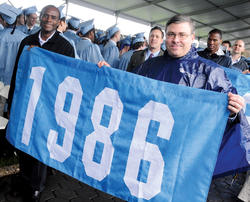 Alexandra Wallace Creed '88, s.v.p. of NBC News, delivered a Class Day keynote speech marked by levity and brevity, to the delight of the graduates, families and guests who gathered under tents on South Field. She joked that when the seniors heard their speaker was from NBC News, they might have expected Brian Williams, Matt Lauer, Ann Curry or Tom Brokaw, not "Alex Wallace — who is he?" She urged the graduates to "follow your passion. Work can be an avocation as well as a vocation … It is more satisfying to find a place where you fit than to contort yourself to fit somewhere you don't. Is there something you love doing, besides sleeping, that could become a career? You will work a lot in your life. You should love what you do."
Then-Dean Michele Moody-Adams spoke of the remarkable space on which Class Day and Commencement were held, "one of the most glorious public spaces in the world," and told the graduating seniors that whatever they went on to do in life, she hoped they always would "protect social and political spaces in which robust but reasoned debate is possible." She added, "You have had the opportunity to test out your ideas and your arguments in one of the most diverse settings in human history," noting that members of the Class of 2011 represented all 50 states and 70 countries.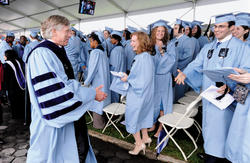 (From top) Class Day speaker Alexandra Wallace Creed '88, s.v.p. of NBC News, urges graduates to "follow your passion"; Class of 1961 alumni (left to right) Frank Lorenzo, Burtt Ehrlich and James Ammeen, as members of the 50th anniversary graduating class, hand out pins to the graduating seniors; Class of 1986 alumni Renan Pierre (left) and Rick Wolf proudly carry their class banner in the Alumni Parade of Classes; salutatorian Elizabeth Lucia Lyon '11 addresses her classmates; and President Lee C. Bollinger offers his congratulations to the graduating seniors. Photos: Eileen BarrosoConceding that such diversity can be challenging, Moody-Adams reminded the graduates, "You are Columbians. You are not afraid of challenge, and you are not afraid to respond to challenge in a context where not everybody thinks exactly the way you do. Winston Churchill once wrote that courage is what it takes to stand up and speak, but courage is also what it takes to sit down and listen. When you leave Columbia to start your life as a college graduate, be sure to have the courage of your convictions but be courageous enough to also sit down and listen to people who don't think like you. When you do, you will demonstrate the power of your Columbia College education and you will affirm the value of an experience that consistently connected you to something larger than yourself."

For the eighth consecutive year, the Class Day procession included the Alumni Parade of Classes, with more than 100 alumni from as far back as 1936 proudly marching through the rain with their class banners to welcome the seniors into the alumni community. As usual, the graduates rose and gave a standing ovation as the alumni passed down the aisle.

Scott Maxfield '11, chair of the Senior Fund, announced that a record 95 percent of the class had donated $21,349, and that surpassing the participation goal of 93 percent had triggered a gift of $50,000 to the Columbia College Fund from Board of Visitors Emeritus Member Charles Santoro '82. Maxfield, accompanied by the 11 vice chairs of the Senior Fund, presented Moody-Adams with a scroll bearing the names of the 951 contributors.

Also speaking at Class Day was President Lee C. Bollinger, who kept his remarks brief, telling the graduates, "This is really your century … an incredible time for you to be graduating from this institution, with this education, and to be going out into the world. We will watch you with pride and interest." Other speakers included salutatorian Elizabeth Lucia Lyon '11 and class president Sean Manning Udell '11, who drew a roar when he said, "Allow me to quote Legally Blonde for just one minute: 'We made it!' "

Mark Momjian '83, '86L, a leader of the Columbia University Club of Philadelphia and chair of the Alumni Representative Committee of Philadelphia for the past two decades, and Neil L. Selinger '75, a writer and retired attorney who was a leader of the CC Alumni Association for nearly two decades, were among 11 recipients of the Alumni Medal for their distinguished service of 10 years or more to the University, presented at Commencement.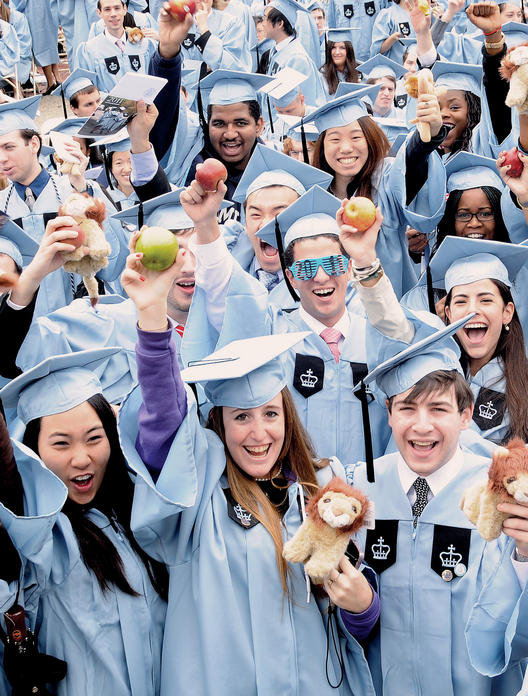 The newest College alumni show their school pride with lions and apples. Photo: Eileen Barroso