Features
Behind the Shell
From Saturday Night Live to Hollywood and Marcel the Shell of YouTube fame, Jenny Slate '04 is forging a resilient path to stardom
By Mike Agresta '04
Like many aspiring comedians, Jenny Slate '04 grew up dreaming of one day landing a role on Saturday Night Live. In 2009–10, after five years of paying her dues and winning accolades in the New York alternative comedy scene, her dream suddenly came true. A successful one-woman show, Jenny Slate: Dead Millionaire, at the Upright Citizens Brigade Theatre helped attract a top-notch agent. Soon after, Slate was auditioning for executive producer Lorne Michaels and landing the job.
It was the start of a year of highs and lows that would culminate in the most successful comedic creation of Slate's young career — a triumph that came, surprisingly, despite SNL, rather than through it. "I could describe it as a series of dates with someone whom you've always wanted to go out with," she says of her year at 30 Rockefeller Plaza. "Every single second you're thinking, 'Oh my God, I can't believe this is happening.' "
Slate's one season on SNL was exciting and tumultuous. She created a popular recurring character, Tina-Tina Chaneuse, an outer-borough fashion plate and purveyor of bizarre personalized alarm clocks, car horns and doorbells. (For animal lovers: "Ding dong. Woof. Bears.") Her spot-on impersonations of celebrities included Lady Gaga, Kristen Stewart and Senator Olympia Snowe (R-Maine). But SNL is famously tough on new cast members, who compete with one another for airtime and attention. When in the middle of a sketch peppered with halfway-cuss words like "friggin' " she accidentally let fly a bona fide "f-bomb" on live television, critics instantly speculated that the slip-up might cost Slate her job.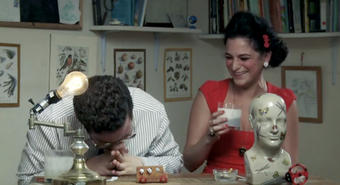 Jenny Slate '04 cracks up her friend and stand-up comedy partner, Gabe Liedman '04. Below: Slate onstage with Max Silvestri (left) and Liedman at Big Terrific in the Williamsburg section of Brooklyn.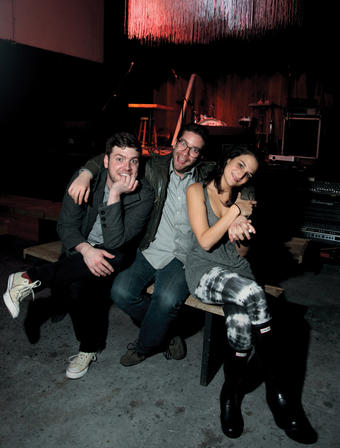 Indeed, the next spring, as calls went out about contract renewals, Slate waited by the phone in her Brooklyn apartment. As a way of lightening the mood, she started practicing a new comedic voice — childish and naïve, with a stuffed-up nose and a disarming eagerness to be heard. At first, she tried it out around the house with her boyfriend, Dean Fleischer-Camp, and on the phone with her best friend and stand-up partner, Gabe Liedman '04. They laughed; the trick worked. "I kept doing the voice because I just felt that small," Slate says. "I don't do well sitting around. I need to be creative and to work. I was doing this little voice and feeling kind of stuck and wanting to do something."
The call she wanted from SNL never came; her contract was not renewed. The voice, however, blossomed into something exciting and new. A character slowly developed — an ingeniously self-sufficient, 1-inch-tall gastropod shell named Marcel. Slate and Fleischer-Camp sat on the couch in their underwear, and he recorded as she improvised one-liners. ("Guess what I use to tie my skis to my car? A hair." "Guess what I use for skis? Toenails from a man.") Fleischer-Camp, a filmmaker, then animated a stop-motion video with a pitch-perfect fidgeting protagonist.
The result, Marcel the Shell with Shoes On, debuted at an alternative comedy show in Williamsburg, Brooklyn. Fleischer-Camp was urged to put it on YouTube, but at first Slate demurred. "I'm always hesitant to put things online," she says. "I'd rather have things be seen by people who will be respectful instead of people who go online to make mean comments. Basically, I was afraid. But you can't live like that. That was one of the main reasons I made Marcel in the first place, because I was tired of just sitting around and waiting for something to happen. Then, it just kind of exploded." As of August 9, the video had registered more than 11.1 million YouTube views. That's more than the average viewership of an entire SNL episode last season.
The viral success of the video has taken Slate's career in several new and exciting directions. She and Fleischer-Camp recently signed a two-book deal with Penguin, with the first title, picture book Marcel the Shell with Shoes On: Things About Me, due out November 1. They won the Grand Jury Prize at the 2011 New York International Children's Film Festival, and they're in talks about a Marcel TV show. The video made the rounds in Hollywood as well. Recently, Slate has landed three roles in major-studio motion pictures: a voice role for an animated Dr. Seuss adaptation, a live-action part in an Alvin and the Chipmunks sequel and a supporting role in a Reese Witherspoon romantic comedy.
Despite her outstanding high school academic record (class valedictorian of the prestigious Milton Academy outside Boston), Slate's Columbia years were defined more by acting and comedy than by classroom pursuits. "Part of the reason I chose Columbia was because it was in New York," she says. "That was where all the comedy was happening." She also acknowledges being drawn in by the campus — "a snow globe in the middle of the city," she calls it. She quickly joined the cast of the Varsity Show and participated in three improv and sketch comedy groups: Two Left Feet, Fruit Paunch and the Weiner Philharmonic.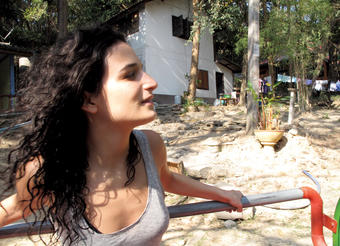 Slate takes advantage of a chance to relax while on vacation in Thailand.In 2001, at her first Varsity Show rehearsal, Slate met her future stand-up and writing partner, Liedman. "It was the first time in my life that I had a real best friend," Slate says. "We always understood each other's brains, got each other's ambitions. Gabe is the one person who really understands the kinds of things that upset me and the kinds of things that make me happy."

"She is hands-down the bravest performer I've ever seen," Liedman says of Slate. "Part of it is being a little nuts, maybe, but the rest of it, the vast majority of it, is genuine bravery. Comedians are not usually very confident people; Jenny is full-throttle and incredibly smart."

Liedman and Slate have performed together continually since that first Varsity Show. These days, they co-host a live comedy show, Big Terrific, in Brooklyn, produce various web shorts with Fleischer-Camp and are working on a screenplay. Liedman also has a booming solo career; in the past year, he's opened for Patton Oswalt at Caroline's; shot pilots for E!, VH1 and Comedy Central; and performed stand-up at Miller Theatre, his first return to the stage at Columbia since 2004.

"She is hands-down the bravest performer I've ever seen. Jenny is full-throttle and incredibly smart."

"When we graduated," Liedman says, "there were a bunch of people from our group who lived in NYC and still wanted to do comedy together, so we created a little sketch group. Over time, everyone kind of went his or her own way" — to graduate school, conservatory and high-profile comedy writing gigs — "but Jenny and I just kept on truckin'." Liedman points to a number of recent alums who have been invaluable as friends and contacts in the comedy world, including Chelsea Peretti '00 Barnard, who recently taped a Comedy Central special; Lang Fisher '02 of the Onion News Network; and Michelle Collins '03 Barnard of VH1's Best Week Ever. For Liedman and Slate, however, their most important resource has always been each other.

In 2009, just before landing her SNL role, Slate got a break from another Columbia alumnus, albeit one she'd never met. Jonathan Ames '95 Arts was looking for an actress to cast as a girlfriend for his fictional alter ego, portrayed by Jason Schwartzman, on the HBO comedy Bored to Death. Ames initially intended the role to be limited to a single episode, but soon changed course. "There was such a nice chemistry between Jenny and Jason in their first scene that it came up that she should return for the next episode, the last of the season," Ames says. "So I rewrote that script to accommodate the change in direction. And once that happened, it made perfect sense for them to be dating in season two. Jenny brought to the character a sweetness and a dreaminess and a certain zaniness. She was perfect!" Suddenly, in early 2010, Slate was appearing on two highly rated shows at the same time.

Recent months have involved less public exposure for Slate as she commutes from Brooklyn to the west coast to shoot feature films. The SNL gig is in her rear view mirror; she has joined a pantheon of single-season female cast members that includes Joan Cusack, Sarah Silverman and Janeane Garofolo. In season two of Bored to Death, her character dumped Schwartzman's character, and she hasn't appeared since. For the next few months at least, the best way for comedy fans outside of New York to follow her is on Twitter (@jennyslate25), where she maintains an active presence.

Within the next year, however, Slate will be popping up all over again, this time on the silver screen. She'll play Witherspoon's friend in the upcoming rom-com This Means War. "That's the part comedians always start with," she says, "the sassy friend or assistant, where they let you improvise." She'll also appear in Danny DeVito's animated adaptation of Dr. Seuss' The Lorax and as a surfer girl in the partially animated Alvin and the Chipmunks: Chipwrecked.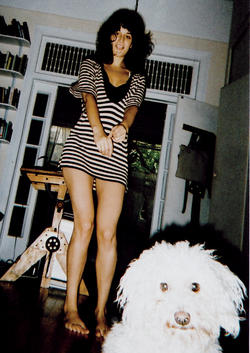 Slate at home in Brooklyn with her dog Reggie.The latter two roles demonstrate Slate's appeal to younger audiences. It's rare for a comedian, particularly one as provocative as Slate can be in her stand-up act, to have that kind of range. She attributes it partially to a discovery she made while shooting Marcel the Shell. "The situation around it, waiting to hear back from SNL, was pretty dark," she says. "My feelings about that were just, I reject that, I don't want to live in the dark. I like life, and I think I was bound to make something that had real heart. You can still be sweet and be really funny. It doesn't have to make you really uncomfortable in order to make you laugh."

Liedman thinks Slate may succeed in Hollywood because she is an actress whose full complement of skills is only now beginning to be discovered. "It's been amazing to watch her acting career really take off after doing straight-up comedy together for so long," he says. "She has a real range. She's so talented. But then she gets back on stage to do comedy and it's just as sharp and funny and weird as ever."

Lately, Slate has a new challenge to face: the lifestyle changes brought on by celebrity. So far, she continues to lead a relatively normal life in her beloved Brooklyn surrounded by her tight-knit circle of friends, many from Columbia. Every once in a while, however, she's reminded of her increasingly public profile. She recalls being surprised to read a comment about herself on Twitter recently where she was referred to as "Jenny Slate of Marcel the Shell."

"It's weird to see someone say your name of your art," Slate says. "Like, she created this, so now she's worth mentioning or worth noticing, as opposed to because of who she is. That's how I'd always thought it would be, but instead it's always your work that defines you. "

Working with close friends like Liedman and Fleischer-Camp, forging connections with auteurs like DeVito and Ames, and developing popular characters like Marcel the Shell and Tina-Tina Chaneuse, Slate is in good company these days.

Check out Marcel the Shell at youtube.com/watch?v=VF9-sEbqDvU and a video short starring Slate and Liedman at vimeo.com/15034189.

Mike Agresta '04 is a Los Angeles-based writer and editor.