Features
Max & Marcellus
Alumni co-host midday show for ESPN Radio Los Angeles
By Phil Wallace '04
I
t's 1 p.m. on a Thursday and NBA basketball is the topic of the day at the CARMAX Studios for ESPN Radio 710 AM. Across the street is STAPLES Center, which is getting set to host the NBA All-Star Game. Just outside, workers are setting up corporate tents that will offer a slew of experiences for those who come to L.A. Live — a major sports, entertainment and retail complex in Downtown Los Angeles — for the weekend. But on the second floor of the main L.A. Live building, debate and banter are in full force.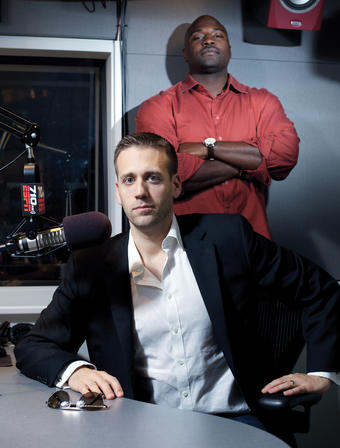 When Marcellus Wiley '97 (standing) was starring in football at Columbia, Max Kellerman '98 already had begun his broadcasting career by hosting a talk show about boxing on public access television. Now they co-host the midday show on ESPN Radio 710 AM Los Angeles. PHOTO: MAX S. GERBER"Jay in Whittier, you're on the air," says Max Kellerman '98.
"Hey, what's up guys?" asks Jay.
Kellerman looks upset.
"Come on, man!" Marcellus Wiley '97 retorts. "You know better than that."
"Guys, we've been through this before," Kellerman says. "We're doing a radio show. We're doing great. Now, do you have something to say?"
Jay in Whittier has just broken one of the cardinal rules of Max & Marcellus, the midday show on ESPN Radio Los Angeles: wasting time by engaging the hosts in meaningless small talk.
Later on in the show, which began in January and airs week­days 10 a.m.–2 p.m. Pacific time, the pair will make references to Bill Cosby and Humphrey Bogart. They will debate who's on the list of the 10 best players in the NBA and how they should be ranked. Kellerman will offer an explanation of basketball saber­metrics, advanced statistical analysis that goes beyond the basic boxscore in an effort to better measure performance. And a caller will be awarded $107.10 to Langer's Deli for making a strong point about Carmelo Anthony — whom Kellerman and Wiley were hoping the Lakers would obtain from Denver by trade, but who instead was dealt to New York.
Los Angeles, meet Max and Marcellus.
Weekend Warrior
Dr. Robert Klapper '79, '83 P&S hosts an early-morning radio show in L.A.
Much of Los Angeles is still asleep at 7 a.m. on Saturday, but Dr. Robert Klapper '79,'83 P&S has been up for hours. The orthopedic surgeon at prestigious Cedars-Sinai Medical Center is co-hosting the radio program Weekend Warrior with former NBA and college basketball assistant coach Dave Miller on 710 ESPN Radio Los Angeles, the same station that airs Max & Marcellus.
"It's very clear that sports should be renamed orthopedics," Klapper says on air one morning. He then turns to the various injury concerns that faced Los Angeles Lakers players such as Andrew Bynum, Ron Artest and Matt Barnes during the 2010–11 season. "Orthopedics is going to determine who wins the NBA title this year. I love it."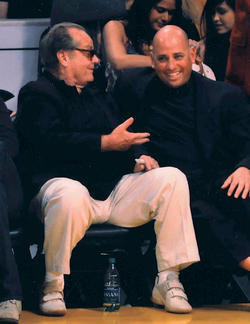 Jack Nicholson makes a point to Dr. Robert Klapper '79, '83 P&S during a break in a Lakers game. PHOTO: COURTESY DR. ROBERT KLAPPER '79, '83 P&SWeekend Warrior began airing Satur­days from 7–9 a.m. in March. The show is geared toward men and covers subjects such as health and wellness, particu­larly as they relate to sports. Klapper has numerous celebrity patients and he has brought several of them onto the program, including Dustin Hoffman, William Shatner and Tony Danza, to talk about their own health and to offer wellness advice. He also brings on colleagues who are experts in everything from sports psychology to physical therapy to nutrition.
"This is a great listening audience," Klapper says. "Think about who is awake early on a Saturday morning. It's people who are doers, like me. There's a selec­tion bias and I love that."
Klapper is a man with diverse skills and interests. Growing up in working-class Far Rockaway, N.Y., he says he was told by those around him that an Ivy League education wasn't for people from his neighborhood. He decided to prove them wrong and applied to Columbia, in part so he could row crew.
Klapper's mother was a nurse, and he aspired to become a doctor. He took the requisite pre-med courses, but an Art Hu­manities class with David Rosand '59, '65 GSAS, now the Meyer Schapiro Professor Emeritus of Art History and special lecturer in art history and archaeology, changed his life. Klapper says Rosand started the first class by saying that no one would get an A. But Klapper fell in love with the material, worked hard and indeed got an A. He became an art history major, which made him a unique candidate for medical school.
Klapper did his residency at the Hospital for Special Surgery in New York and his fellowship at the Kerlan-Jobe Orthopaedic Clinic in L.A. He currently is a board-certified orthopedic sur­geon specializing in hips, knees and shoulders at Cedars-Sinai. He has written several books on his specialty, most notably Heal Your Hips and Heal Your Knees, both of which advise patients on how to avoid surgery and what do if it surgery is needed. Klap­per also is co-director of the Joint Replacement Program at the Cedars-Sinai Orthopaedic Center and has a private practice with an office across the street from Cedars.
Using his love of art, as well as some skills taught by his fa­ther, who was a carpenter, Klapper developed several tools and instruments to help orthopedists with hip, knee and shoulder surgeries. He holds numerous patents in medical technology, including nine on an angled telescope and other specially de­signed instruments used in hip arthroscopy procedures.
As for his love of art, Klapper regularly lectures at museums around the world on Michelangelo and other artists, often ex­ploring the unique relationship between art and medicine. He also has his own art studio in Manhattan Beach, Calif., where he sculpts, and he visits Italy once a year to sculpt with Carrara marble. He used to own an art gallery, which he sold in 2007.
Klapper moved to Los Angeles in part because of his passion for surfing. There he developed a relationship with Hollywood celebrities. After ER executive producer John Well fractured his leg in a skiing accident, Klapper saw him as a pa­tient and wound up becoming a consul­tant on the hit NBC show from 2001–09. His celebrity connections occasionally earn him a courtside seat next to his patient Jack Nicholson at Lakers games.
"The most valuable piece of real estate in Los Angeles is that seat next to Jack Nicholson at STAPLES Center," Klapper says. "It's a thrill to sit there."
In 2009, Klapper was waiting outside STAPLES Center to meet a mentee before taking him to a Lakers-Rockets playoff game. Also outside the arena were for­mer 710 ESPN Radio broadcasters Dave Denholm and Brian Long, and they were discussing Bynum's knee injury on a pre-game show. During a commercial break, Klapper approached the duo and explained the implications of the injury from an or­thopedist's point of view. Denholm and Long put Klapper on the air and he soon became a regular contributor, discussing player injuries. That eventually led to his show with Miller, who is a for­mer assistant coach with the New Orleans Hornets, University of Texas, USC, Arizona State and Army basketball teams.
Klapper lives with his wife, Ellen, in Encino, Calif., but he also has homes in Ventura, Calif., and Diamond Head, Hawaii. His daughter, Michele '08, graduated magna cum laude, won the top French department award in her senior year and is pursuing a master's at Sciences Po in Paris. Klapper has been CCT's class correspondent for the Class of 1979 since 2004.
Despite his success, Klapper isn't resting on his laurels and has ambitions for an even larger role in medicine and media.
"I want to do for orthopedics what Dr. Mehmet Oz has done for nutrition, health and medicine," Klapper says. "I want to make it easier for people to understand."
—P.W.
To listen to podcasts of Weekend Warrior, go to ESPN.com.
It's pretty unlikely for two Columbia alumni to host a lo­cal sports talk show on any station that's not campus radio WKCR 89.9 FM. And it's even more unlikely for that show to be in a city outside New York. But Kellerman and Wiley have taken on L.A. with a winning combination of wit, humor and knowledge about seemingly everything.
"In talk radio, there's no substitute for intelligence and person­ality," says 710 AM ESPN Radio Program Director Mike Thomp­son, the man who brought the pair together. "It's ultimately about having smart people who can stir things up. The trick is to be witty and entertaining and informative when nothing is going on. Max and Marcellus can talk about music, or current events, or other things that can appeal to the hardcore or the casual sports fan."
"I've never had so much fun in my radio career," says producer Amanda Brown, who has more than a decade of radio experience and relocated from ESPN headquarters in Bristol, Conn., to work on this show. "I look forward to coming to work every single day and working with these guys."
It's been an interesting road to Los An­geles sports talk radio for both hosts.
Kellerman's broadcasting career started before he entered Columbia — a huge boxing fan, he hosted a public access tele­vision show in New York called Max on Boxing when he was a teenager. He started at ESPN television at 24, serving as a com­mentator on Friday Night Fights. He became the first host of ESPN's Around the Horn in 2002 before hosting his own show, I, Max, on Fox Sports Net from 2004–05.
In 2006, Kellerman started hosting The Max Kellerman Show on 1050 ESPN Radio in New York. He also joined HBO as a lead analyst for its boxing coverage and contributed to news pro­grams on MSNBC and later CNN.
In 2009, Kellerman left the radio station, as he was negotiating to become Mike Francesa's co-host on WFAN 660 AM. But the deal fell through and Kellerman was without a radio show until early this year when Thompson, who had worked with Kellerman in New York, took over as the program director at the L.A. ESPN affiliate and chose to hire the Columbia grad. Kellerman, 36, has since moved to a home in Beverly Hills with his wife, Erin, and their young daughter.
Kellerman says his style has not changed since he's come to Los Angeles.
"It's actually a better radio market than New York because everyone here is in a car," Kellerman notes. "It's the same type of audience, but instead of the Yankees, it's the Lakers that are the main focus."
Kellerman was a history major at Columbia; he transferred after one semester at Connecticut College. He says that his Co­lumbia education has helped him with his sports commentaries and political riffs.
"In one of my first political science classes, we read Tragedy of the Commons by Garrett Hardin. That theory (first published in Science in 1968) explains the problem with boxing today. Everyone acts with their own self-interests," Kellerman says. "It's also the problem with our energy policy. You have a limited resource shared by a common group of individuals, and the lack of a centralized authority."
When Thompson was looking for a co-host for Kellerman, he found the perfect person in Wiley, a former NFL Pro Bowl defensive lineman who had joined ESPN following his retirement in 2006. The pair had the same agent, Nick Kahn of ICM, and had worked together on a pilot that was filmed for ESPN's Sports Nation. And they were at Columbia at the same time, although they did not know each other while there.
"I certainly knew of Marcellus when I was on campus, since he was a football star, but I never crossed paths with him. I was out partying with the football play­ers, and he was too focused on his career to do that," says Keller­man.
"In talk radio, there's no substitute for intelligence and personality. It's ultimately about having smart people who can stir things up."
Kellerman was intrigued by the opportunity to host a show with Wiley.
"I knew of him as an interesting guy who had turned down schol­arship money to go to Columbia and who always had a drive to do well," Kellerman says. "I noticed how seriously he was taking his broadcast career and thought it would be great to work with him."
A native of Compton, Calif., Wiley originally came to Columbia as a running back, turning down athletics scholarship offers from numerous Pac-10 schools. Wiley says he chose Columbia because he felt it would afford him more opportunities later in life. A mem­ber of the National Honor Society, he even won the National Type­writing Championship as a teenager (with 82 words per minute).

Kellerman (center) was 24 when he became co-host with Brian Kenny (right) of ESPN's boxing series, Friday Night Fights, in October 1998, just five months after graduation. They are joined on set by Roy Jones Jr. (left), a champion in three weight classes. PHOTO: RICH ARDEN"When I asked people from back in the neighborhood where I should go, they all said I should play football at UCLA or some­where in the Pac-10," Wiley says. "But my counselors [at St. Monica High] all said if I could go to Columbia, then I should take it. They said it would help me after football and there was a networking component. They were right."
Wiley was a sociology major and says that his Columbia edu­cation has prepared him well for life away from the gridiron.
"The first thing I learned [at Columbia] was how to decipher in­formation. I remember in my first 'Logic & Rhetoric' class being told I had to read three books in a week. I had no idea how I would do it," Wiley said. "But it's an environment where you want to learn and find ways to be successful."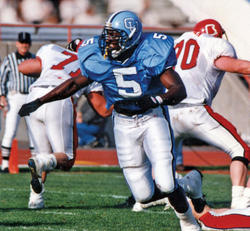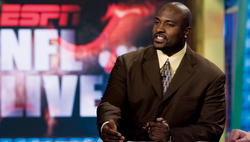 Wiley (No. 5) came to Columbia as a running back but earned his ticket to the NFL as a pass-rushing defensive end. After a 10-year pro career, he joined ESPN as an analyst on NFL and other TV shows before being paired with Kellerman.Still, Wiley was not a great fit for the Lions initially. By the end of his sophomore season, he had outgrown the running back position, bulking up to 245 pounds and standing 6-foot-4. Columbia had just re­cruited a talented running back in Jeff Byrd (who later transferred to Stanford) and then-head coach Ray Tellier felt that Wiley was best suited to play defensive end.
Having never played on the line before, Wiley seriously considered transferring to UC Berkeley, whose coach wanted him to play safety, a position he had played in high school. But Associate Athletics Direc­tor Jackie Blackett convinced him to stay.
"Jackie helped me get my priorities straight," Wiley says. "She told me to work smarter and work harder."
Wiley took Blackett's advice, and the two remain close friends. Wiley's football career quickly blossomed on the defensive line, as the position best suited his skill set and his large physique. In his senior year, he was the star co-captain on a Lions team that finished 8–2, still the school's best record in its 56-year Ivy League history. He was taken in the second round of the 1997 NFL Draft by the Buffalo Bills and enjoyed a 10-year career that included stops with the San Diego Chargers, Dallas Cowboys and Jackson­ville Jaguars. Wiley made the Pro Bowl in 2001, but his career was ultimately slowed by back and knee injuries.
After his playing career ended, Wiley became involved with several business ventures and joined ESPN, where he is an ana­lyst on various NFL programs and other shows and the co-host of Winners Bracket with Michelle Beadle. The unmarried 36-year-old also mentors numerous top-rated high school football recruits in Southern California, and his radio gig allows him to stay in his hometown. So far, the chemistry between Wiley and his co-host has been strong.
"Max is a little over the top and he needs someone to burst his balloon. Marcellus has the personality to throw a dart at it."
"Working with Marcellus is different from working with many others in this business," Kellerman says. "He's a Columbia guy and he can see the world in a different way. He can make enough sense of our culture so that we can do a show on anything — sports, music, world events, you name it."
"Max is a little over the top and he needs someone to burst his balloon every now and then. Marcellus has the personality to throw a dart at it," Thompson says. "We've got a guy from New York and a guy from Compton, but they like bantering and mak­ing jokes, and lo and behold they were both once on 116th Street at the same time."
For more on Max & Marcellus and to listen in, go to ESPN.com.