Letters to the Editor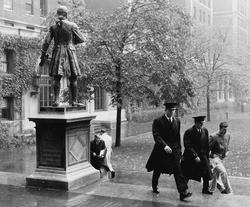 Two ROTC students in dress uniform pass by the statue of Alexander Hamilton in this historical photo, date unknown.
Return of ROTC
Since the University Senate has decided to invite the Pentagon to reassert its presence on the campus via its ROTC program, it must believe that the relevant context for this decision is different today than in 1969, when it banished the program. In what does this difference lie, other than the perception that the student body has been "pacified," obviating the threat of disruptive activities in response to ROTC's return?
Is the foreign policy of the United States less militarized now than in 1969? Is the presence of a regimented and hierarchical uniformed presence on campus, based on unquestioning obedience, more compatible with the skeptical and inquiring scholarly attitude that should characterize a liberal, humane university now than in 1969? Are military history and strategy not already studied and taught in several of the University's departments by scholars who are credentialed and peer-reviewed?
What will be the relationship between the University and the military authorities as to the content of ROTC courses for which academic credit will presumably be awarded? In other words, who decides whether this content satisfies the high standards of honesty and openness to diverse viewpoints that has traditionally informed Columbia's course content? Who prevails in case of disagreement?
What assurance is there that instructors in those courses who wear the uniforms of their service, or civilians in its employ, will enjoy the protections of academic freedom to the same extent as does Columbia's faculty? Will ROTC students feel, and be, as free to argue with and contradict their military superiors in the classroom as we all were to question our instructors in our undergraduate days at the College?
As for the argument that it is desirable that the officer corps of the military be exposed to the influence, presumably benign, of a Columbia education, is the Indochina War so remote from contemporary sensibilities or memories that we forget that it was conceived, implemented and managed by civilian and military authorities with impeccable Ivy league credentials, the "best and the brightest," with consequences disastrous both for our country and for the region that was "bombed back to the Stone Age"? Is not the situation paralleled by the catastrophe of the post-invasion occupations of Iraq and Afghanistan, also set in motion by well-educated officials obedient to their superiors, rather than to their university-inculcated values?
Your photo caption on page 8 of the May/June issue recalls midshipmen dril­ling on College Walk and neighboring streets. Is this the image of Columbia's role that our newfound "Good Neighbor" policy seeks to project to our surrounding communities — soldiers or sailors carrying weapons parading up and down their streets — in Columbia's name?
In sum, I am not "stuck in a '60s mindset" or inflexibly hostile to all militaries everywhere. I am simply raising questions that seem to me to have so far been given insufficient consideration by the Senate in deciding to reverse its 42-year-old policy.
David N. Stern '66
Brooklyn, N.Y.
I deplore the vote of the University Senate to invite ROTC back to the Columbia campus.
Columbia should be encouraging its students in the ways of peace and international amity, not in the ways of war and destruction. Also, military training of young people will embolden our government to continue its aggressive forays in Iraq, Iran, Latin America and elsewhere.
I urge the University Senate to rescind the vote to have ROTC back on campus.
Albon Man '40, '50 GSAS, '50L
Palisades, N.Y.
A while back I had made Ted Graske '59, chair of the Columbia Alliance for ROTC, aware of the lapsed campaign to establish a war memorial at Columbia to honor those alumni who had been killed while serving the United States during the wars that it has engaged in. Ted and his organization went to work on it immediately, and the war memorial was created.
Now, because of the efforts of Ted, his organization and other people, Columbia has signed an agreement that officially recognizes a Naval ROTC program at Columbia.
Ted Graske and the Columbia Alliance for ROTC should be congratulated for their work on the war memorial and their campaign to bring ROTC back to Columbia. The latter has not been fully accomplished, but they are vigorously working on it.
Frederick C. Stark Jr. '51
Abingdon, Md.
Professor Selig
We visited beloved teacher and Cervantes scholar Professor Karl-Ludwig Selig at the Kateri Residence, a nursing home on Riverside Drive at West 87th Street. Professor Selig, though confronting physical infirmity, retains all of his renowned wit and literary acuity; engaging conversation proved the tenor of the evening.
Professor Selig invites all his former students to visit him at 150 Riverside Dr., Room 905B, New York, NY 10024 or to call him at 212-799-2232.
Howard Levi '78, '79 GSAS, '82L
New York City and
Carl Caravana '78, '84 Dental
Warren, Conn.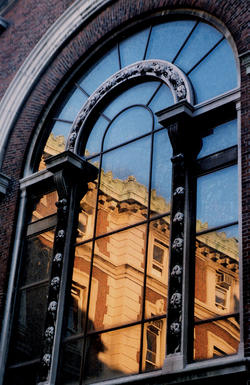 McKim, Mead & White architecture is reflected in this St. Paul's Chapel window. Photo: Eileen Barroso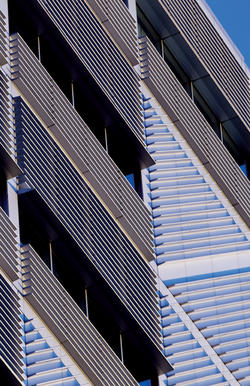 The Northwest Corner Building provides a modern contrast to older campus architecture. Photo: © 2010 Bob Handelman
Our Buildings' Eyes
I agree with Thomas Vinciguerra '85, '86J, '90 GSAS' characterization of Columbia buildings erected since the 1950s as "soulless" ("Letters," May/June). What makes them soulless? And why do our McKim, Mead & White masterpieces seem to have souls? Rather than ranting about the dehumanization of architecture since Le Corbusier, I'll propose that the windows of the original campus buildings suggest answers.
Have you noticed how many of our windows are rotting? I complained to the administration last year and was assured that the Exteriors and Historic Preservation team, created in 2006, has been working on replacing some of the "beyond repair" windows with custom-made replicas. I applaud their efforts. And yet, why couldn't we simply have kept paint on the old windows? It would have been considerably cheaper. In fact, why not hire a good old-fashioned carpenter to start patching them all up immediately, and then discuss which ones really need replacement? Having restored more than 40 windows in my 1906 house, I know that many of the windows slated for the dumpster could be brought back to health with a little care and epoxy wood filler.
But back to the issue of a building's soul: Whether we prefer time-consuming and costly replacement or immediate and comprehensive salvage, we all care very much about our buildings' beautiful eyes. Every time I visit our campus, I'm entranced by the shapes, sizes and decorations of the windows in their casings, each subtly matched to the character of its building. I imagine running my hands along the wood and stone — the ridges, curves, outlines, layers, panels and accents. Far from random, these elements are full of allusions to past styles, cultures and complex aesthetic languages.
Does the new Northwest Corner Building do that to you? Moneo's machined patterns do not sing, do not reach out, do not suggest human contact. Who wants to touch a "giant cheese-grater"? You'd scrape your fingers. How could there be a soul behind all that metal?
We might think about our own souls, too. How many of us walk by our sorry windows every day without noticing? Considering that buildings reflect moral outlook, we might follow the links between neglect of our windows, disrespect for their buildings' aesthetic integrity and enthusiasm for University expansion. In this world where habits of aggressive growth threaten the existence of the human race, why can't we just stop, look around and take care of what we have?
Evan Johnson '75
Edgewater, N.J.
Capitalistic Medicine
Dr. Ralph Freidin '65 wrote about serving in a free medical clinic and described the plight of the uninsured and their inability to afford healthcare ("Alumni Corner," May/June). I have been practicing a subspecialty of medicine since 1981 and have volunteered my time in free clinics as well, though certainly not to the extent outlined in this article; nor have I traveled to such clinics.
I would, however, like to add some context to the phenomenon of the uninsured and underinsured in America. At least here in Ohio, many "working poor" do have access to Medicaid. Medicaid reimburses physicians poorly, but has a nominal $2 co-pay for most medications and is accepted by many of us in practice and by all hospitals. So this safety net may not be without its rips in the fabric, but it is not entirely absent, as might be imagined from the experiences described by Freidin.
One also should take into account the role of non-compliance (now called "non-adherence") on the part of patients, wealthy or indigent. Non-compliance is a significant contributor to poor health outcomes but it is very difficult to measure by the nature of those who do not or cannot comply.
Private practice is under attack; it is thought that the large "clinic" models are the best hope for medicine in the United States. However, I have yet to see an American patient traveling to Canada for his or her health care; I have seen them coming even to Cleveland from Canada for access to U.S. medicine. There is no black and white, simplistic answer, such as "single payer" and so on. But we do know that new drugs are designed in the U.S., I think because we remain somewhat capitalistic. The socialized medicine of Europe and Canada has not produced new medications in decades.
Dr. Samuel M. Salamon '74
Euclid, Ohio
Enviro-Statists
The feature "Guru of Climate Change Law," written by Shira Boss '93, '97J, '98 SIPA for the May/June issue, is emblematic of enviro-statist hypocrisy. Enviro-statists, whether under the auspices of the Environmental Protection Agency, environmental law firms (which make money representing both plaintiffs and defendants) or groups such as the Sierra Club, master the manipulation of scare tactics and language. Whether for their own personal power, money or fame, they use dubious science to benefit their own needs. "Green" has become "big green," in other words, dollars, for them, all at the expense of our personal liberty. These environmental lawyers and bureaucrats want to dictate to us what types of toilets and light bulbs we use, what type of car we drive and what type of fuel we use.
As I learned from studying Plato at Columbia, appearances are often deceiving. Former Vice President Albert Gore, probably the biggest "green guru" in our country, lived in a mansion that used 20 times more energy than the national average. President Barack Obama '83 lectures working-class Americans on how they need to "cut back" on energy use for the good of the country by buying a hybrid vehicle (most of which are too expensive for them to purchase). Meanwhile, Obama has a huge carbon footprint — he flies on Air Force One to California, at about one gallon of gas/second, for campaign fundraisers, where he lobbies for his "green energy" plan (all at the expense of the taxpayer).
And finally, in the previously-named CCT article, we are told that attorney Michael Gerrard '72, the "guru of climate change law," commutes to the Columbia campus from his home in Chappaqua, N.Y., by public transportation "to reduce his carbon footprint." However, if we ignore the superficial rhetoric and examine beneath the surface, as Plato would have encouraged, a simple white pages.com and zillow.com search reveals another green-hypocrite. Gerrard lives in a 3,603 sq. ft. single-family home with central air conditioning, obviously creating a carbon footprint many fold more than if he lived in an even above–average-sized Manhattan apartment.
Dr. Aaron Gleckman '88
Providence, R.I.
Kyra Tirana Barry '87, president of the Columbia College Alumni Association, handed out copies of the Iliad to members of the Class of 2015 at a June Summer Advising session in Alfred Lerner Hall. Photo: Char Smullyan
The Iliad
September 1947. A 16-year-old freshman went to McMillan bookstore and picked up a pile of books. His first Humanities assignment was Homer's Iliad.
How strange-sounding were those first lines, "Sing, goddess, the anger of Peleus' son Achilles---?" I wondered who Achilles was and what he was angry about. The book was about an ancient, brutal and destructive war, and I was reading it while one of the most brutal and destructive wars was occurring as the Nazis approached Stalingrad.
I recently read Caroline Alexander's The War That Killed Achilles: The True Story of Homer's Iliad and the Trojan War. The book is a marvelous exegesis of the Iliad. Wars kill, and the Trojan war, fought over trivialities, killed the best of men.
Here I am, an old man, coming full circle from the Core Curriculum and the first great anti-war saga to a contemporary analysis of it. I doubt that there will ever be an end to anti-war literature, since I cannot foresee an end to war.
Anson K. Kessler '47
Hendersonville, N.C.
Publish or Perish?
Is this how "publish or perish" began — right here, at Columbia?
"[A] proposed plan for putting new life into Columbia College. Pierce holds that professors may be prevented from degenerating into drones by requiring of them to accomplish something every year or every six months, making it a condition of holding office that at certain periods they produce some essay, memoir, or investigation."
August 16, 1852, entry in the diary of G. T. Strong (Class of 1838)
Manfred Weidhorn '54
Fair Lawn, N.J.
Editor's note: George Templeton Strong (Class of 1838) was the author of a 2,250-page diary, discovered in the 1930s, that includes entries from October 5, 1835, until his death 40 years later.
Addenda
Isaac Johnson '14 was listed as Isaac Johnson '14E in the cover story of our May/June issue, "A Passion for Science" (page 22). After our publication deadline, he transferred from Engineering to the College.
In the 1987 Class Notes of the same issue, we indicated that Nicole Goluboff '87 is the mother of Justin Goluboff '15. That remains true, but we neglected to mention, in either the 1986 or 1987 Class Notes, that Justin's father is Erik Goluboff '86. We were unaware of that fact at the time and apologize for the omission.