Features
Alumni Reunion Weekend, Dean's Day 2011 Set Records
More than 2,400 alumni and guests enjoyed Alumni Reunion Weekend and Dean's Day 2011 on June 2–5, renewing friendships at class-specific events, revisiting their classroom days by attending mini-Core courses and thought-provoking panels, checking out campus changes via guided tours, and enjoying good food and company on campus and at venues around New York City. Celebrating reunion this year were classes ending in 1 or 6, from 1946–2006.
View and download reunion class photos.
View the list of Dean's Pin Recipients.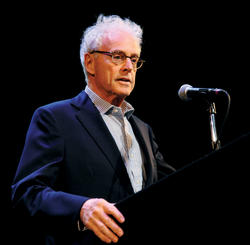 Young alumni from the Classes of 2001–11 had a rousing celebration on the evening of June 3, setting a record at the Young Alumni Party with more than 1,200 attendees joining the fun aboard the U.S.S. Intrepid.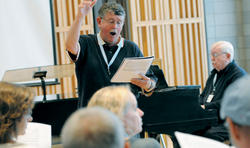 On Saturday, at the Dean's Continental Breakfast, Bob Berne '60 was presented with the President's Cup in recognition of his service to and support of his 50th reunion.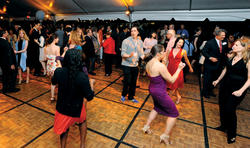 Dean's Day, open to alumni of all classes as well as parents, was held on June 4, and for the first time, the deans from the College, Engineering, General Studies and the Arts and Sciences spoke on their fields of expertise. Other leading professors also shared their expertise through CC, Lit Hum, Frontiers of Science, Art Hum and Engineering lectures. An Alumni Representative Committee reception, a Center for Career Education presentation and affinity group receptions — for varsity athletics, Spectator, Columbia Alumni Singers and the Asian Columbia Alumni Association — as well as the chance to converse with others in Italian at Casa Italiana or enjoy string music composed by Columbians, sponsored by Columbia Engineering Young Alumni, rounded out the day's offerings.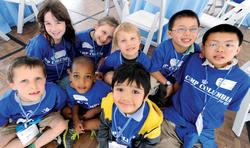 From top: Bob Berne '60 speaks after being presented with the President's Cup, the Columbia Alumni Singers raise their voices in song, alumni and guests dance at the Starlight Reception and little Columbians enjoy a full day of activities at Camp Columbia for Kids. Below: Low Library shines as attendees mingle on Low Plaza, and young alumni live it up at the U.S.S. Intrepid party. Photos: Eileen BarrosoThere were plenty of family activities during the weekend as well, including the Decades BBQs and Camp Columbia for Kids, which featured playtime, plenty of fun food and snacks, and even milk and cookies to nosh on during a movie.

On Saturday, attendees enjoyed elegant class-specific dinners and the all-class Wine Tasting. Alumni of all ages capped the weekend at that night's gala Starlight Reception on Low Plaza, enjoying music, champagne, sweets and a dance floor that was filled to capacity.

Alumni Reunion Weekend 2012 is scheduled for Thursday, May 31–Sunday, June 3, for classes ending in 2 or 7, from 1942–2007. Dean's Day, open to all alumni and parents, is scheduled for Saturday, June 2.

Lisa Palladino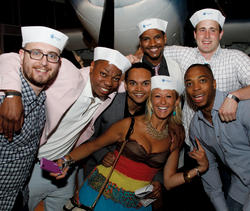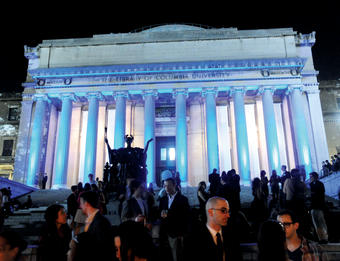 View More Photos
To view a complete gallery of photos from the weekend, go to the College's Facebook page or go directly to events of interest.
---
Class Photos
Download the full-sized image to view larger or to print.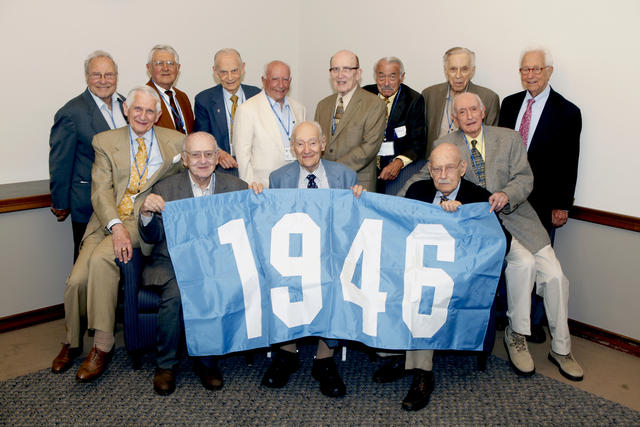 Class of 1946: Class members who registered for reunion were Norman Cohen, Howard Cohen, David Hamerman, Richard Heffner, Herbert Hendin, Melvin Holson, Ira Millstein, Leonard Moss, Irwin Nydick, Aihud Pevsner, Bernard Sunshine, Arnold Zentner and Barnett Zumoff.PHOTO: MICHAEL DEVITO
Download the full-sized image to view larger or to print.
Class of 1951: Class members who registered for reunion were Joseph Ambrose, Donald Beattie, Marvin Berkman, David Berman, Theodore Bihuniak, Willard Block, Joseph Buda, Robert Cowen Jr., Robert Flynn, J. Mason Gentzler, John Gibbons Jr., Alfred Gomez, Stanley Grossman, William Grote, John Handley, Thomas Heyman, Richard Houghton, Mark Kaplan, Nathan Kase, Walter Kinsey, George Koplinka, Harvey Krueger, Jay Lefer, Arnold Leibowitz, Frank Lewis, Ralph Lowenstein, Archie MacGregor, James McNallen, Barnett Miller, Warren Nadel, Robert Osnos, Philip Pakula, Gonzalo Pardo, Thomas Powers, George Prozan, Frank Raimondo, Merritt Rhoad Jr., Allan Robbins, Stanley Schachter, Arnold Schwartz, Andrew Siff, Roy Simmons, Joseph Sirola, Robert Snyder, Leonard Stoehr, Elliot Wales, Paul Wallace, Myron Winick, Albert Wojnilower and David Zinman.PHOTO: EILEEN BARROSO
Download the full-sized image to view larger or to print.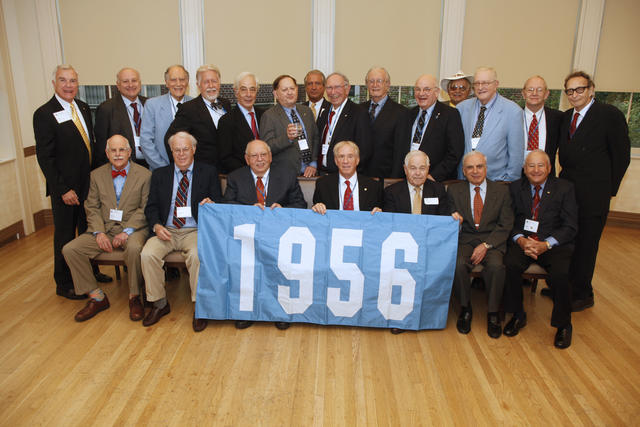 Class of 1956: Class members who registered for reunion were Arnold Adelberg, Jordan Bonfante, Alan Broadwin, Charles Brown, John Censor, Stephen Easton, Gerald Fine, Albert Franco '56E, William Fischer, Warren Goodman, Louis Hemmerdinger, Joshua Hollander, Richard Kanter, Ronald Kapon, Ralph Kaslick, Jack Katz, Maurice Klein, Peter Klein, Robert Lauterborn, Victor Levin, Philip Liebson, Daniel Link, Donald Morris, Mark Novick, Robert Paaswell, Joel Pimsleur, Norton Roman, Donald Roth, Neil Ruderman, Raymond Sherman, Robert Siroty, Stanley Soren, Burton Sultan, Paul Taormina, Grover Wald and Leonard Wolfe.PHOTO: MICHAEL DEVITO
Download the full-sized image to view larger or to print.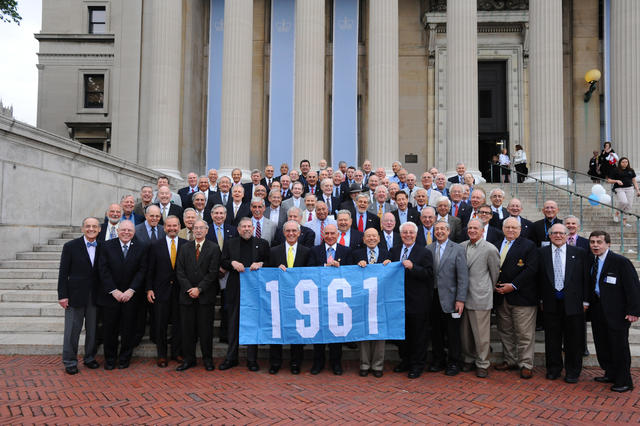 Class of 1961: Class members who registered for reunion were Arnold Abrams, Leonard Adams, Anthony Adler, James Ammeen, Michel Araten, Edvin Auzenbergs, Marshall Berman, Donald Bialos, William Binderman, Barry Blum, Franklin Bonem, Michiel Bourdrez, Allen Breslow, Arnold Chase, Samuel Cherniak, John Cocking, Max Cohen, James Collins, Harold Colvin, James Cooner, Philippe de la Chapelle, Morris Dickstein, John Drake, Kenneth Edelin, Burtt Ehrlich, Jerome Elkind, Joel Friedman, Stanley Futterman, Oscar Garfein, George Gehrman, Larry Gerstein, Peter Giovine, Thomas Gochberg, Robert Goldfeld, Thomas Green, Marshal Greenblatt, Edward Greene, Jerome Grossman, William Grossman, Peter Gund, Richard Hall, John Harvey, Michael Hausig, Ira Hayes, Hillel Hoffman, Edward Hotchkiss, Cliff Huffman, Arnold Intrater, Jay Jackman, Charles Johnson, Richard Johnson, Thomas Johnson, Malcolm Jozoff, George Kalbouss, Herman Kane, Edward Kaplan, Martin Kaplan, Douglas Kendall Jr., Bruce Kerievsky, John Kirik, John Klikna, Carl Klotz, Martin Krubit, Robert LaFiandra, Joseph Lane, Lawrence Lasky, Richard Lates, Arthur Lavis, Paul Lenner, John Leonardo, Stephan Leone, Andrew Levine, Leslie Levine, Gerald Levy, Jack Levy, Alexander Liebowitz, Jonathan Liebowitz, John Lipani, Thomas Lippman, Peter Livingston, Frank Lorenzo, Paul Lusman, Robert Magnani, Stanley Mandel, Samuel Marateck, Edwin McCreedy, Bernard Miller, Eugene Milone, Arthur Morris, Richard Neel, Stuart Newman, Winston Paley, Llewellyn Pascoe, George Perry, Theodore Pincus, Joel Pitt, Eric Plump, Robert Pollack, Monroe Rabin, Robert Randall, George Reithoffer, Robert Rennick, Jeffrey Riker, Donald Roberts, Ethan Rofman, John Roper, Marc Rosen, Joseph Rosenstein, Robert Salman, Glenn Schaaf, Michael Schachter, Norman Schneider, Allan Schwartz, David Schwartz, Arthur Schwimmer, Barry Scotch, Stephen Shappell, Bruce Shoulson, Steven Simring, Stuart Sloame, Phillip Smith, George Souls, Lawrence Stern, Samuel Strober, Fred Teger, Irwin Wall, John Webber, Stanley Weiss, Mel Welke, Morrow Wilson and Joseph Wisnovsky.PHOTO: EILEEN BARROSO
Download the full-sized image to view larger or to print.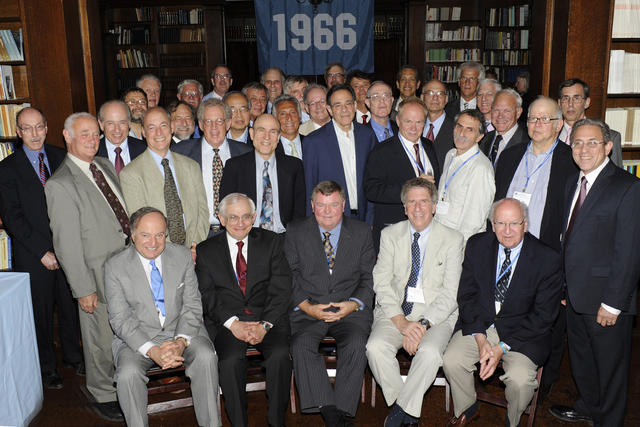 Class of 1966: Class members who registered for reunion were Mark Amsterdam, Fitzgerald Bramwell, Ronald Brookshire, Neill Brownstein, Thomas Chorba, Charles Christensen, Edwin Doernberger, John Doody, Paul Ehrlich, Eugene Fierman, Kenneth Fox, Daniel Friedlander, Daniel Gardner, Michael Garrett, Michael Gengler, Philip Goldstein, Robert Gurland, Joshua Gutman, Peter Imrey, Edward Kabak, David Kelston, Robert Klingensmith, Peter Kristal, Harvey Kurzweil, Robert Lautin, Martin Lee, Eugene Leff, Robert Meyerson, Franklin Mirer, Leland Moglen, Lawrence Nelson, Kenneth Pearson, Maurice Reder, James Rosenberg, Paul Smollar, Eric Sparre, David Stern, Jonathan Sunshine, David Tilman, Earl Werner, Michael Winer, Nicholas Wolfson and Richard Zucker.PHOTO: LYNN SAVILLE
Download the full-sized image to view larger or to print.
Class of 1976: Class members who registered for reunion were Mark Abbott, Bryan Alix, Daniel Baker, Robert Bressman, Vincent Briccetti, James Bruno, David Carroll, Anthony Chioccarelli, Henry Cohen, Randolph Cohen, John Connell, Robert Czekanski, Stephen Davis, Robert Erlanger, Richard Feldman, Robert Furno, Joel Gedan, Jeffrey Glassman, Daniel Gottlieb, Joseph Graif, Steve Greene, Ken Howitt, Gary Klingsberg, Laurence Lubka, Joseph Lurio, Steve Mackey, Jeffrey Malkan, Jonathan Margolis, Briane Nelson Mitchell, Tiberio Nascimento, Doug Neuman, Richard Rohr, Michael Sackler, Joseph Schuster, Brian Smith, Yuji Sugimoto, Ken Tamashiro, Mozelle Thompson, C. Reynold Verret, Albert Victoria, Jose Villarin, Paul Wasserman, Allen Weingarten, Neil Williams and Mark Wojciechowski.PHOTO: MICHAEL DAMES
Download the full-sized image to view larger or to print.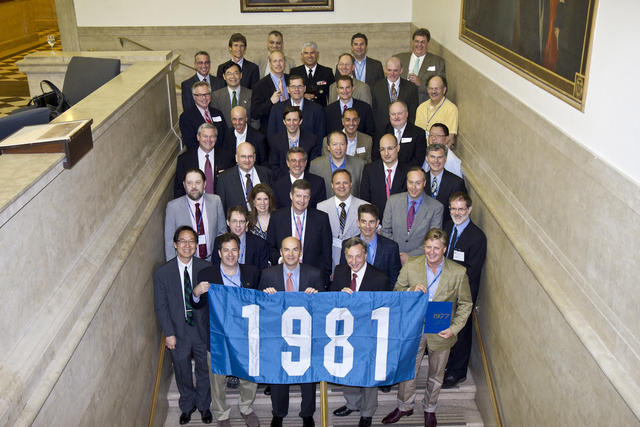 Class of 1981: Class members who registered for reunion were Daniel Albohn, Jean-Marie Atamian, Vin Bailey, Michael Bass, Richard Baugh, Alain Benzaken, A.J. Bosco, Dave Cook, Kevin Costa, Jesse Davis, John DeNatale, William Farrell, Kevin Fay, Peter Feld, Steven Gee, Arthur Geller, Thomas Glocer, Bruce Golden, Scott Gresky, Seth Haberman, Mark Hansen, Howard Hoffman, Timothy Hogan, Don Joe, Theodore Johnson, James Klatsky, Brian Krisberg, Sergey Kudrin, Jay Lee, John Luisi, Joseph Lynch, Paul Maddon, Jeffrey Marino, Marc Mazur, Stephen McPartland, Douglas Milford, Steven Modell, James Moglia, Mauricio Morales, John O'Loughlin, Basilio Pace, David Palasits, Jeff Pundyk, Richard Quadri, Robert Ragusa, Adam Rothberg, Joseph Sbiroli, Charlie Seelig, John Siegal, Richard Silbert, Harlan Simon, Michael Strauss, John Stroll, Michael Swirsky, Daniel Tamkin, Barrie Tron, Thomas Tryforos, Howard Tucker, Ted Walner, John Welch and Stephen Williams.PHOTO: BARBARA ALPER
Download the full-sized image to view larger or to print.
Class of 1986: Class members who registered for reunion were Lawrence Abuhoff, Philippe Adler, Christine Amirian, Addison Armstrong, Joel Berg, Mark Berman, Stanley Bernard, Kevin Cadden, Constantine Canellopoulos, John Chachas, Angelo Cuonzo, Kevin Drury, Matthew Epstein, Meir Feder, Craig Fenster, Frank Gallipoli, Andrew Goldsmith, Mark Goldstein, Derrick Harris, James Hogan Jr., Lofton Holder, Thomas Houghton, Steven Huskey, Samuel Katz, Corey Klestadt, Theodore Le Guin, David Lebowitz, David Lee, Jennifer Liu, Michael Lustig, Edward Maguire, Steven Marder, Patrick McGarrigle, Kevin McIvor, Hooman Mehran, Jack Merrick, David Miller, Raymund Mitchell, John Murphy, Frank Napolitano, Jeffrey Paquette, Michael Parent, Adam Pergament, Bernard Perlmutter, Renan Pierre, Anthony Pinn, Roberto Ragone, Meryl Rosofsky, Peter Royston, Jonathan Rutchik, Raymond Saltini, You Sung Sang, Keith Seidenberg, Rajkumar Seth, Mark Settles, Michael Skrebutenas, Scott Smith, Michael Solender, Bryan Steinberg, Walter Stewart, Christopher Tahbaz, Stephen Trevor, Druce Vertes, Robert Watson, Everett Weinberger, Adam Wolf, Eric Wolf, Edward Zahos and Robert Zifchak.PHOTO: LYNN SAVILLE
Download the full-sized image to view larger or to print.
Class of 1991: Class members who registered for reunion were George Abney, Diego Aldana, Christopher Antollino, Teodros Ashenafi, Nathalie Augustin, Cristina Baiata, Adam Barrison, Joel Barron, Lee Benaka, Amy Bieberdorf, Jodi Bienenfeld, Ana Bilik, Julia Black, Frank Bowman Hastie, Heather Brownlie, Jeremy Buchman, James Burtson, Jennifer Carmona, Alexander Cerniglia, Jane Chew, Chien-Li Chung, Suzanne Ciongoli, Chapin Clark, Amanda Clarke, Jonathan Cohen, Michael Cohen, Daryl Colden, Celia Cole, Peter Cole, Virginia Cornish, Annie Della Pietra, Brian Derro, Alexandra Diamond, Jed Diemond, Elana Drell Szyfer, Nikki Edgecombe, John Ehlinger, Marc Eisenberg, Noah Elkin, Eme Essien, Floyd Ewing, Stephen Fealy, Dina Feivelson, Michael Feldschuh, Lee Adhemar Feldshon, Darren Finestone, Cory Flashner, Patrick Flynn, Michelle Foxman, Juny Francois, Thomas Fritsch, Victoria Frye, Anselm Fusco, Michelle Goldberg, Seth Goldsamt, Melanie Griffith, Deborah Gruber, Marcellene Hearn, Sam Helfrich, Christine Herron, Paul Hong, Maria Humaran-Abbattista, Rebecca Jenkins, Alethia Jones, Betsy Kalin, John Kang, David Kaufman, Jananne Khuri, Sang Kim, Evans Kissi, Ilana Porat Koch, Darin Kragenbring, Elizabeth Harrison Kubany, Mikako Kumagai, Iris Kurman, Hugh Lawson, Wendy Lehmann, Linor Levav, Jennifer Levine, Elizabeth Levy, Julie Levy, Pamela Madrid, Claude Mattessich, Karen McCally, Connie McVey, Christopher Mehta, Ani Mekhjian, James Mendelson, Scott Meserve, Kenyatta Monroe-Sinkler, Christopher Moon, Beth Moorthy, Michael Murray, Ali Namvar, Thomas Nishioka, Marielle Oetjen, Karen Patterson, Mary Pattillo, Paula Radetzky, Stefan Reyniak, Bonnie Rosenberg, Julia Goldman Rousakis, Elise Scheck, Evan Schultz, Ted Schweitzer, Matthew Segal, Melanie Seidner, Beth Shubin Stein, Kenneth Shubin Stein, Tara Steinberg, Ted Stern, Andrew Stone, Jon Swergold, Lara Tabac-Sheridan, Anthony Tricarico, Sigurdur Valtysson, Maria Vardis-Kubo, John Vomvolakis, Alice Vosmek, Corey Wallach, Julie Waxgiser, Stephen Weinstein, Tanya Weisman, Monica Wilson, Dana Wu and Mary Zamore.PHOTO: MICHAEL DAMES
Download the full-sized image to view larger or to print.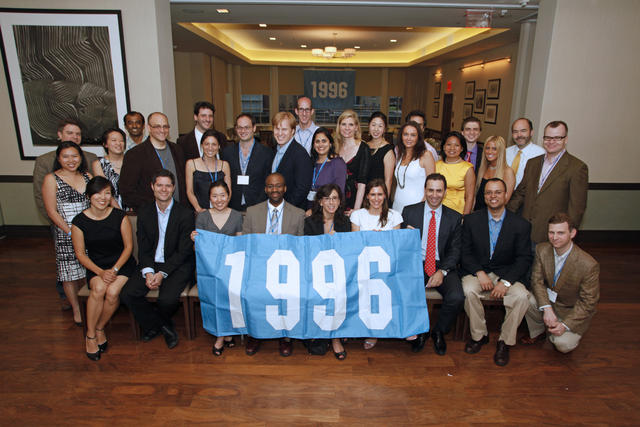 Class of 1996: Class members who registered for reunion were Uchenna Acholonu Jr., Marcel Agueros, Sameer Ahuja, Barbara Antonucci, Yaacov Anziska, Jeanette Baik, Simon Banyai, Patrick Belton, John Cardinale, Catherine Cha, Charles Cho, Eric Cleary, Enid Coleman, Noah Cornman, Lisa Courtney, Amanda Cox, Ene Crooks, Jeremiah Crowell, Jessica Delbaum, John Fitzgibbons, Franklin Foer, Peter Freeman, Melissa Gajarsa, Chris Glaros, James Grate, Megan Hester, Noa Heyman, Terrence Jenkins, Jodi Kantor, Leila Kazemi, Branwynne Kennedy, Brandon Kessler, Jordan Kessler, Nadia Kihiczak, Thomas Kitt, Rose Kob, HaYoung Lee, Elie Levine, Jody Levine, Dulcie Lin, Seth Lissak, Jeff Mandel, Andrew McGibbon, Bradley Meacham, Catherine Miller, Klancy Miller, Daniel Morenoff, Michele Neptune, Bich-Nga Nguyen, Jason Noel, Michael Okon, Maura O'Neill, Kay Park, Michelle Patron, Hussein Rashid, Malik Rashid, Jennifer Rothstein, Ana Salper, Julie Satow, Omar Sayed, John Scott, Robin Shulman, Philip Skelding, Art Smith, Emily Summer-Skelding, Cassandra Tai-Marcellini, James Tanaka, Craig Valentine, Chris Valvo, Jill Van Beke, Rowena Villanueva, Oleg Vinnitsky, Tim Wood, Elizabeth Yuan and Ann Zipkin.PHOTO: MICHAEL DEVITO
Download the full-sized image to view larger or to print.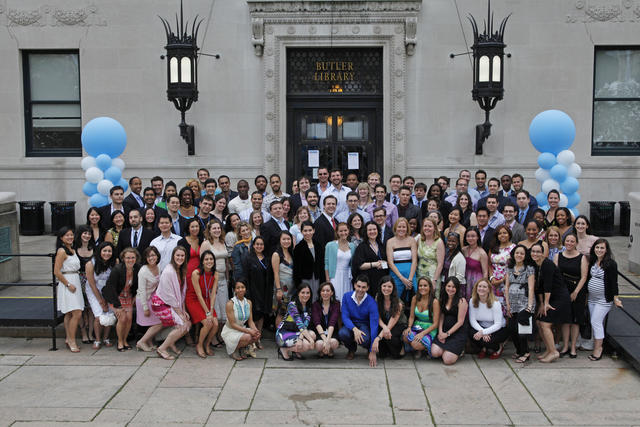 Class of 2001: Class members who registered for reunion were Candida Aguilar-Salim, Ram Ahluwalia, Caroline Andersen, Nkosi Anderson, Noa Arias, Roderick Arz, Jessica Atrio, Randy Aussenberg, Marie Bathelmy, Christina Batipps, Sara Batterton, David Beatus, Sofia Berger, Philip Bezanson, Matthew Boddum, Nicole Bode, Adrienne Bowman, Mike Boylan-Kolchin, Rebecca Bradley, Christopher Brady, Michael Brown, Michael Bruso, Miranda Calderon, Sarah Case, Ramsey Chamie, Katherine Chang, Christine Chen, Akhill Chopra, Hye-Young Chung, Aaron Cohen, Michele Connolly, Wadad Cortas, Adam Crocker, Brenda Cruz, Elissa Curtis, Andrew Danberg-Ficarelli, Tamara D'Anjou-Turner, Helena Daras, Matt Davis, Andrew Dennington, Krishnan Devidoss, Max Dickstein, Jaime Gant Dittus, Phillip Druce, Samantha Earl Manheim, Anne-Marie Ebner, Femi Enigbokan, Dina Epstein, Alexander Eule, Georgia Ewen-Campen, Mustafa Faruki, Joshua Feldman, Ruth Fertig, Tim Fourteau, Adele Frankel, Julie Furda, Jennifer Garcia, David Goldman, Jonathan Gordin, Sara Gosline, Lance Granmayeh, Kate Grossman, Michelle Grzan, Damon Harjanto, Jamie Hartsell, Margaret Harty, Scott Hefler, Valaine Hewitt, Lauren Hoelzer, Matt Hughes, Vanessa Hutchinson-Szekely, James HuYoung, Lydia Jones, Efrem Kamen, Eri Kaneko, Daniel Karlin, Demetra Kasimis, Elizabeth Kasser, Avery Kastin, Kathleen Lynch Keeffe, Allison Kidd, Jennifer Kim, Amy Kimpel, William Kingsland, Amina Kinkhabwala, Nili Birke Klenoff, Sarah Krohn, John Krug, Patrick Kuznia, Annie Lainer, Ronen Landa, Patricia Larios, Laura Lattman, Sheila Lavu, Graham Lawrence, Erika Lazar, Jeffrey Lee, Suzy Lee, Jean Leng, Noah Lichtman, Hephsie Loeb, Benjamin Lorr, Raju Mann, Cassaundra Manning, Beth Maoui, Shuemein Mar, Milan Markovic, David Matteini, Rebecca Mermelstein, Eugene Mesgar, Evan Michialidis, Christopher Miller, Melvin Miller, Samantha Miller, Steven Millerman, Vijay Mohan, Rahmila Nadi, Matthew Nociti, Anna Nzongola, Emeka Ofodile, Christina Okereke, Don Opici, Sam Oppenheim, Joell Percy, Richard Plotkin, Matthew Porter, Joya Powell, Despina Psillides, Matthew Rascoff, Robert Reffkin, Courtney Reum, Carmen Rio, Rachal Rojas, John Rowan, Anna Rozentul, Bryon Russell, Benjamin Ryan, Rabia Saeed, Hassan Safdar, Neil Sahni, Omer Salamat, Surupa Sen Gupta, Jeffrey Senter, Sejal Shah, Jennifer Shalant, Elaine Shen, Nikhil Shimpi, Yuliya Shneyderman, Igor Shuryak, Abena Slowe, Omar Slowe, Adam Sokol, Christian Sparling, Jaclyn Strassberg, Richard Sullivan, Usman Tahir, Lindsay Torrey, Namrata Tripathi, William Tsu, Jennifer Tubridy, Jessica Tubridy, John Valladares, John Vang, Clorinda Velez, Andrea Villanti, Ellen Volpe, Amelie von Zumbusch, Karl Ward, Genna Weinstein, Benjamin Wheeler, Matthew Whitman, Rodman Williams, Ashley Wilson, Joanna Wintrol, Alastair Wood, Alisa Wood, Matt Wosnitzer, Cheryl Young, Salah Zalatimo, Yasmin Zerhouni and Marla Zink.PHOTO: MICHAEL DEVITO
Download the full-sized image to view larger or to print.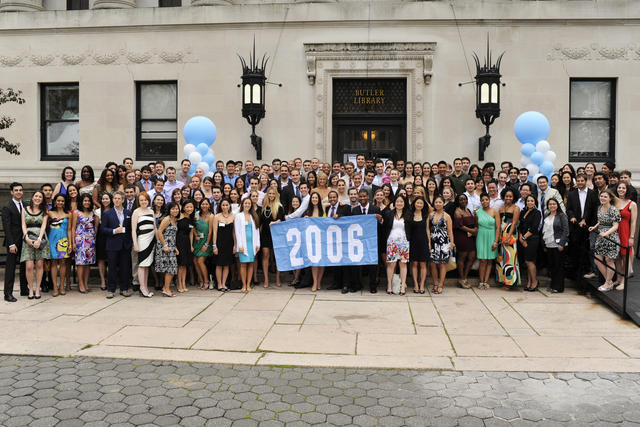 Class of 2006: Class members who registered for reunion were Armond Adams, David Adelsberg, John Alvino, Carrie Anderer, Conall Arora, Diana Auguste, Lauren Baranco, Victoria Baranetsky, Michael Barimo, David Bartlett, Christopher Beam, Katelyn Beaudette, Caroline Beck, Catherine Belfi, Johanna Berger, Blair Bodine, Benjamin Bodnar, Anastassiia Botchkareva, Richard Bozard, James Bradley, Ari Brandes, McClain Braswell, Davida Brook, Schuyler Brown, Tabia Brown, Sy Cabria, Carlo Canepa, Matthew Carpenter-Dennis, Katherine Cederbaum, Ying Cen, Kasey Chaleunsouk, Jamie Chan, Spencer Chang, Sandeep Chatlani, Sophea Chau, Bosco Cheng, Tahmid Chowdhury, Tze-Cheng Chun, Allison Cohen, Jessica Cohen, Eva Colen, Jeff Coles, Stephanie Colley, Justin Crocker, Alex Crohn, Gina Cucchiara, Dalen Cuff, Charles Curran, Maria Ana Cusick, Steven Cytryn, Alexandra Daggett, Deepa Danan, Payel Datta, Nico Dauterive, Sling De La Cruz, Iana Dimkova, Tatyana Dorfman, Catherine Dyson, Alex Ehrhart, Michael Fasciano, Katie Fernandez, Brett Fieldston, Simone Gaines, Judd Gartenberg, Christopher Garvie, Rachel Gauvinger, Kelly Gavin, Joanna Geneve, Ronnie Gensler, Lauren Gilchrist, Jennifer Goggin, Dana Gold, Paola Gonzalez, Chloe Good, Laura Goode, Adia Goss, Lindsay Granger, Brandon Green, Delancey Gustin, Raja Harb, Alicia Harper, Mindy Haverson, Emily Hawkins, Alexa Hawrysz, Margaret Hayden, Sasheen Hazel, Helen He, Lisa Heffner, Stephanie Hernandez, Stefan Hildebrandt, Lea Hinderling, Melle Hock, Jennifer Hsia, Yago Amerlinck Huerta, Carly Hugo, Justin Ifill, Charles Jacob, John Jadczak, Michael Jan, Maggie Jenks-Daly, Fausto E. Jimenez-Fabian, Marcel Joseph, Danielle Joset, Michael Kadish, Brittany Kaplan, Meredith Kaplan, Aaron Karp, Beth Katz, Diana Keh, Dan Kessler, Jennifer Kim, Simeon Kimmel, Natalie Kimmelman, Rachael King, Coreen Kopper, Alexia Koritz, Jeremy Kotin, Connor Kuratek, Jared Kushner, Thessaly La Force, Laura Lariu, Jessica Lee, James Leo, Patrick Li, Andrew Lichtenberg, Andrew Liebowitz, Kateryna Lipatova, Samantha Litt, Emily Lo, Jocelyn London, Eric Lorber, Aaron Maczonis, Neeta Makhija, Ted Malawer, Raphael Mannino, Michael McAndrew , Jonathan McLaughlin, Robert Meyerhoff, Ashley Miller, Carly Miller, Benjamin Mills, Karen Milord, Hannah Moster, Jessica Mullin, Lawrence Mumm, Julia Nagle, Vidish Nahar, Pia Naib, Gopi Nayak, Talibah Newman, Prosper Nwokocha, Uzo Ometu, Jon Pappas, Sol Park, Nicolas Pena, Jessica Perez, Alice Peterson, Rebecca Phipps, Marc Pimentel, Dan Pizzarello, Charley Poole, Jonathan Posen, Gordon Radlein, Radha Ram, Kimberly Ramos, Ani Ravi, Ricardo Rios, Alexandra Rizio, Vicki Roan, Courtney Robinson, Katriana Roh, Carolyn Ross, Emily Ross, Jennifer Sabella, Henry Sackler,Roderick Salguero, Claudia Sandoval, Gregory Sanzone, Jen Schnidman, Lauren Schy, David Seidman, Samantha Settembre, Rachel Shuf, Hilary Simon, David Simons, Michelle Oh Sing, David Singerman, Amanda Smear, Tesia Sommer, Kwame Spearman, Sydney Spector, Stefanie Spinelli, Cara Spitalewitz, Matthew Stark, James Stranko, Christopher Sullivan, Nicole Tague, Emily Tang, Colleen Taylor, Semara Thomas, Marques Torbert, Lauren Tortoriello, Carolyn Vine, Brian Wagner, Denise Warner, Tara Wedin, Josh Weigensberg, David Whittemore, Sean Wilkes, Marc Williams, Mica Wilson, Gregory Winchell, Sarah Withers, Brian Wolfson, Jerry Wu and Seth Zuckerman.PHOTO: LYNN SAVILLE
---
Dean's Pin Recipients
Dean's Pins are given to the members of each class' Reunion Committee who have demonstrated particular dedication to and involvement in their reunion.
Class of 1946
Richard Heffner
Bernard Sunshine
Class of 1951
Joseph Ambrose Jr.
David Berman
Willard Block
Joseph Buda
Robert Flynn
J. Mason Gentzler Jr.
Mark Kaplan
George Koplinka
Harvey Krueger
Robert Osnos
George Prozan
Stanley Schachter
Robert Snyder
Leonard Stoehr
H. Elliot Wales
Paul Wallace
Myron Winick
David Zinman
Class of 1956
Giora Ben-Horin
Edward Botwinick
Alan Broadwin
Lawrence Cohn
Stephen Easton
Gerald Fine
Albert Franco '56E
Louis Hemmerdinger
Ron Kapon
Ralph Kaslick
Maurice Klein
Peter Klein
Robert Lauterborn
Philip Liebson
Daniel Link
Alan Miller (in memoriam)
Donald Morris
Mark Novick
Robert Paaswell
Alan Press
Donald Roth
Robert Siroty
Stanley Soren
Michael Spett
Grover Wald
Leonard Wolfe
Class of 1961
Anthony Adler
James Ammeen
Michel Araten
Edvin Auzenbergs
William Binderman
Thomas Bratter
Philip Cottone
Philippe de la Chapelle
Burtt Ehrlich
Joel Friedman
Stanley Futterman
Oscar Garfein
Thomas Gochberg
Arnold Goldberg
Mickey Greenblatt
Jerome Grossman
Michael Hausig
Ira Hayes
Joel Karp
Allen Kaplan
Martin Kaplan
Joseph Lane
Les Levine
Francisco Lorenzo
Paul Lusman
Douglas McCorkindale
James Melcher
Stuart Newman
Robert Pollack
Jeff Rudell
Robert Salman
Bruce Shoulson
Phillip Smith
Morrow Wilson
Class of 1966
Mark Amsterdam
Randy Bourscheidt
Tom Chorba
Dan Gardner
Michael Garrett
Herbert Hochman
Robert Gurland
Ed Kabak
Marty Lee
Chuck Lieppe
Maurice (Rick) Reder
David Tilman
Richard Zucker
Class of 1971
Vincent Bonagura
Joseph Boorstein
John Carey
Bernard Falk
Richard Fuhrman
Peter Hiebert
Richard Hsia
John Hughes
Peter Jacoby
Jeff Knowles
Dennis Langer
David Margulies
Philip Milstein
Chris Moriarty
Dean Porter
Alex Sachare
Jim Shaw
Ed Wallace
Irwin Warren
Greg Wyatt
Class of 1976
Dan Baker
James Bruno
Henry Cohen
Terrence Corrigan
Stephen Davis
Joel Gedan
Joseph Graif
Daniel Gottlieb
Ken Howitt
Mark Joseph
Jonathan Kushner
Jonathan Margolis
Briane Mitchell
Tiberio Nascimento
Andrew Nat
Douglas Neuman
Domingo Nunez
Mozelle Thompson
Michael J. Sackler
Ken Tamashiro
Class of 1981
Jean-Marie Atamian
Vincent Bailey
Richard Baugh
A.J. Bosco
Kevin Costa
Paul Feinman
Kirby Gookin
Mark Hansen
Howard Hoffman
Brian Krisberg
Jay Lee
Jeff Pundyk
Randal Quarles
Scott Solomon
John Stroll
Daniel Tamkin
Ray Warner
Class of 1986
Phillipe Adler
Mark Berman
Joshua Chalmers
Aaron Cooperband
Craig Fenster
Michael Gat
David Lebowitz
Patrick McGarrigle
John "Jack" Merrick
Tanmoy Mukherjee
John Murphy
Michael Parent
Renan Pierre
Michael Solender
Christopher Tahbaz
Stephen Trevor
Everett Weinberger
Rick Wolf
Ed Zahos
Class of 1991
Adam Barrison
Lee Benaka
Heather Brownlie
Jim Burtson
Michael Camacho
Chien-Li Chung
Robert Cooper
Virginia Cornish
Elijah Duckworth-Schachter
Stephen Fealy
Michael Feldschuh
Juny Francois
Thomas Fritsch
Anselm Fusco
Paul Hong
Stephen Jansen
Claude Mattessich
Scott Meserve
Greg Ostling
Stefan Reyniak
Josh Saltman
Theodore Schweitzer
Jon Swergold
Alice Vosmek
Stephen Weinstein
Dana Wu
Class of 1996
Uchenna Acholonu
Charlie Cho
Noah Cornman
Ene Crooks
Moha Desai
Constantine Dimas
Michele Esposito
Franklin Foer
Pete Freeman
Michelle Greenberg-Kobrin
Daria Ibn-Tamas
Bryant Jenkins
Jodi Kantor
Tom Kitt
David Lee
Elie Levine
Jody Alpert Levine
Taariq Lewis
Elena Maydan
Dan Morenoff
Bich-Nga Nguyen
Dennis Paul
Hussein Rashid
Jennifer Rothstein
Julie Satow
Omar Sayed
Rick Shuart
Craig Valentine
Rowena Villanueva
Class of 2001
Ram Ahluwalia
Rachel Augustin
Camille DeLaite
Phillip Druce
Elizabeth Estrada
Jonathan Gordin
Samra Haider
Jorge Herrera
Jennifer Hoekstra
Efrem Kamen
Jennifer Kim
Patricia Larios
Hephsie Loeb
David Matteini
Vijay Mohan
Heather Nelson
Ariel Neuman
Richard Plotkin
Sanetta Ponton
Andrew Pyo
Courtney Reum
Ernest Sabine
Nikhil Shimpi
Benjamin Wheeler
John Wilbeck
Alisa Wood
Class of 2006
Victoria Baranetsky
Ganesh Betanabhatla
Tyler Boyd
Michael Brown Jr.
Schuyler Brown
Sy Cabria
Kelly Gavin
Ronnie Gensler
Jennifer Hsia
Justin Ifill
Beth Katz
Daniel Kessler
Rachael King
Uzo Ometu
Thomas Rudy
Michelle Oh Sing
Greg Winchell