Alumni Profiles
Robert Shlaer '63 Recreates History Through Daguerreotype
By Justin DeFreitas
Though he was born and educated on the East Coast, Robert Shlaer '63, '66 GSAS is a westerner at heart. Sure, he looks the part, with his thick beard, flannel shirt and suspenders, but it runs deeper than that. Shlaer is a westerner in that older, more romantic sense of the word: He's an individualist, determined to carve out his own path wherever it may lead.
And sometimes it leads to someone else's path. For nearly two decades, Shlaer has been exploring America's western landscape with a camera in tow, retracing the steps of the great explorers of centuries past. He has sought both to recreate and expand on the work of the pioneering artists and daguerreotype photographers who documented these 19th-century expeditions, capturing the same vistas that were once framed in the viewfinders of his predecessors.
Shlaer considers daguerreotype — the silvery images that reigned from 1839–60 as the first commercially viable form of photography — to be "the most beautiful of all forms of photography." But it's hardly the most reliable. "My first and greatest love remains the landscape," he says, "so with a process as given to failure as daguerreotypy, it is comforting to know that the subject will be there tomorrow for another try."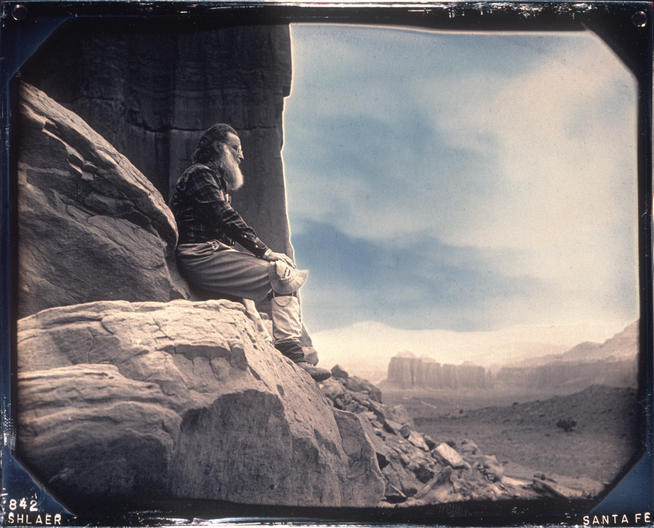 Self-portrait in Cathedral Valley, Capitol Reef National Park, Utah, May 1998.
Shlaer was born in Manhattan and raised in New Mexico, where his father, Simon Shlaer '24, '37 GSAS, was an engineer at Los Alamos National Laboratory. By Shlaer's own admission, his academic career was an exercise in expedience. Though his family put a premium on education, Shlaer applied to the College more because it made its admissions decisions earlier than other schools. "I figured that if I got accepted, I wouldn't have to put any effort into applying elsewhere," he says.
He started out studying physics but became disenchanted and made a late switch to art history, primarily because it was the only degree that could be completed in two years. Later, he pursued a master's in experimental psychology at Columbia in part, he says, as a means of avoiding the draft, then moved on to thesis work in neurophysiology at Rochester before earning a Ph.D. in neurophysiology and sensory psychology from Chicago in 1971.
For a few years Shlaer continued in academia, working as a researcher and lecturer in the Department of Neurosurgery at Northwestern University Medical School, but he struggled with the desire for a different career. It was an "escapist fantasy" that had crystallized during his tenure at Columbia, when he had seen an exhibit of works by Ansel Adams at the Museum of Modern Art. Adams' imagery invoked a longing in Shlaer to wander and document the western landscape. In the mid-1970s, newly inspired by a quote from Adams in which he declared the daguerreotype the benchmark against which he measured his own creations, Shlaer decided to take up the moribund medium.
Shlaer immersed himself in the craft, embarking on a project of self-education. He ordered customized plates from a commercial manufacturer and hand-built the necessary equipment for preparing and developing them and for handling the toxic chemicals the process requires. (In daguerreotypy, an image is captured on a polished and chemically treated layer of silver atop a copper plate and must be developed in short order by exposing the plate to mercury vapors.) After six months of refining his technique, Shlaer left his academic life behind and returned to New Mexico, determined to make his living as a daguerreotypist. He quickly realized, however, that he didn't have the money or the facilities to get his new career off the ground. What followed was an extended period of peripatetic employment that included tutoring at St. John's College in Santa Fe as well as an eight-year stint crafting and selling custom woodwind instruments.
Wetterhorn Peak, Colo., from the Forks of the Cimarron River, July 1996. PHOTOS: ROBERT SHLAER '63, '66 GSASBy the mid-1980s Shlaer finally felt that he had everything he needed to make a go of it. He promoted himself as "The World'sOnly Full-Time Professional Daguerreotypist" and sold his work in local galleries before beginning the project that would become his magnum opus: the recreation of the lost daguerreotypes of Solomon Nunes Carvalho, the young photographer hired by famed explorer John C. Frémont to document his final expedition, in 1853, in search of a viable central route for a transcontinental railroad.
Though Carvalho's plates were lost in a warehouse fire in 1881, many of his images had been copied by engravers for use as illustrations in a book Frémont was planning. Shlaer was intrigued by the idea of recreating them in their original form, a project that combined all of his talents and passions: the delicate daguerreotyping process called upon his scientific and technical skills, the photography itself summoned the artist in him and the exacting research not only made use of his art history background but also provided an outlet for his admittedly obsessive nature.
Shlaer outfitted his minivan as a mobile laboratory and began retracing Frémont's route, tracking down every site that Carvalho photographed. "I was able to find all of the scenes in the engravings and redaguerreotype them," Shlaer says. "I filled in the rest of the expedition from surviving written descriptions, from my knowledge of the route and from my imagination, which I attempted to synchronize with that of Frémont and Carvalho."
"Bob's a remarkable person," says John Morton, a retired chemistry professor from Western New Mexico University and longtime friend of Shlaer. Morton is himself a photographer, his interest having begun with his study of old photographic processes. But Morton has never attempted daguerreotypy. "Too rich for my blood," he says. "It's very expensive and very difficult."
Morton testifies to Shlaer's perfectionism. "If a daguerreotype turns out poorly he'll wipe it off the plate," Morton says. "I've seen him wipe away images I would have been proud to have caught."
Shlaer explains himself differently. "I lack self-discipline," he says, arguing that the single-minded focus with which he pursues his passions is more vice than virtue. "It's just another form of excess."
Shlaer's "excess" resulted in a book, Sights Once Seen: Daguerreotyping Frémont's Last Expedition Through the Rockies, which recreates Carvalho's lost imagery and provides a lucid and thoroughly researched account of Frémont's expedition, correcting the historical record of a journey that had generated much myth and misinformation during the preceding century and a half. Shlaer spent four years researching the expedition in archives across the country and photographing the images out west. He spent another year writing the book and preparing a museum exhibition that traveled the country for five years. "It was the culmination of my career," Shlaer says.
But he's not finished. His current project has him photographing another western trek, that of topographic sketch artist Richard Kern, who created the first visual documentation of the Rocky Mountains as part of the Gunnison Expedition, which also took place in 1853. Shlaer is using conventional photography this time, and the result will be another book, this one due in 2013. "When asked my occupation, I now call myself a 'visual historian of western exploration,'" Shlaer says. "And if pressed further I add, 'specializing in the year 1853.'"
View a gallery of daguerreotypes by Shlaer.
Justin DeFreitas is a Bay Area writer, editor and cartoonist.