Alumni Profiles
Macky Alston '87 Fights for Equality Through Film
By Yelena Shuster '09
Filmmaker Macky Alston '87 spent the past four years shooting at locations around the world, sleeping on the floors of friends of friends and Skyping with his husband and two children while working 12-hour production days during month-long absences. Despite raising $1 million for his project, he hasn't been paid a cent. Yet he's smiling.
Alston's satisfaction is due to the documentary he spent almost half a decade directing. Love Free or Die chronicles the struggles of New Hampshire's Bishop Gene Robinson, the first openly gay bishop in the global Anglican Church, as he seeks acceptance in the face of worldwide controversy and death threats. From scenes of Robinson's invocation at President Barack Obama '83's inaugural ceremony to decorating the Christmas tree at home with his husband, the film offers a full picture of the trailblazing man behind the robe.
Alston's steady camera follows Robinson's attempts to advance LGBT acceptance from America's small-town churches to England's 2008 Lambeth Conference (from which Robinson was banned). In a particularly dramatic scene, the bishop's preaching is interrupted by a heckler screaming "heretic" over and over until the congregation begins singing hymns to drown him out.
"Making this film will be something I'll be able to tell my grandchildren about," Alston says as we sit in the bustling Caffe Reggio, a few blocks from his sunny West Village apartment. "The only reason I'll even have grandchildren is because of historic people like Gene who stood up and fought for my liberation."
Critics agree about the film's impact: Love Free or Die won the Documentary Special Jury Prize for an Agent of Change when it premiered at the Sundance Film Festival in January.
Alston, an animated storyteller who would not be mis-cast in front of the lens, is nostranger to accolades. He received Emmy nominations for his earlier films, The Killer Within, Hard Road Home and Family Name; the last also won the Sundance Freedom of Expression Award in 1997 and scored him appearances on The Oprah Winfrey Show and The Today Show.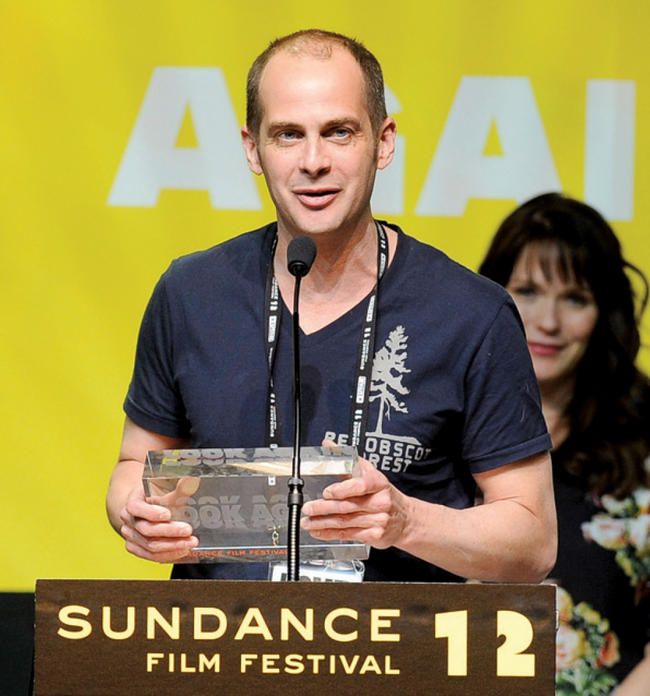 Filmmaker Macky Alston '87 accepts the Documentary Special Jury Prize for an Agent of Change for Love Free or Die at the 2012 Sundance Film Festival in Park City, Utah, on January 28. PHOTO: JEMAL COUNTESS/GETTY IMAGES
The awards circuit, however, does not guarantee extravagant living. "Except for the 1 percent, documentary filmmakers don'tsurvive on documentary filmmaker wages," Alston says. Whennot filming, he is the media director at New York's Auburn Theological Seminary, which is where he met Robinson.
For his part, Robinson knew no one else could do justice to his story. "You don't let someone put your own life up on the screen unless you have a kind of implicit trust, and I really felt that with Macky," he says. "I love the film and how empowered people feel, after seeing it, to make a difference themselves in the lives of LGBT people."
Like many artists unsure of their calling, Alston spent his post-college years trying out different canvases. He worked first as a museum researcher, then made collage art, taking photos wherever he went and selling his work on the street (and in one lucky break, to Newsday). At 25, he got a low-paying job as a production assistant for a documentary and has been creating art through film ever since.
Alston notes the impact of the Core Curriculum on his career. "Being a documentary filmmaker means I'm a journalist and a generalist. I rely on the liberal arts education that I got at Columbia every day of work," he says. In fact, Alston applied early: It was love at first campus tour. "Walking into campus was like walking into Shangri-La," he explains. "It was a thrill to think my story could play out in such a beautiful, epic context."
Even with the accolades, the work of documentary filmmaking can feel endless. In addition to festivals around the world, Alston plans to show Love Free or Die at 500 community-based screenings before its national broadcast on PBS in November.
The long hours, however, don't bother him: "To be screening this in the states where there are ballot measures this year, I feel like I made something that can not only depict history but also impact history."
Watch the trailer for Love Free or Die.
Yelena Shuster '09 is a freelance writer whose work has been featured on Cosmopolitan.com, Refinery29.com and in New York magazine.