Alumni Profiles
Vegas' Alexandra Epstein '07 Revitalizes Her Hometown
By Ben Johnson
Alexandra Epstein '07 starts every workday by moving methodically through the secret passageways of Las Vegas' El Cortez Hotel & Casino. She traverses the kitchens and the unmarked hallways, greeting the cocktail waitresses and bartenders as well as the "back of house" staff. It is definitely the scenic route, but it's one she takes religiously.
Why the long walk? In the service industry, your company is only as good as the people who make it hum and happen — and Epstein knows this.
"I'm a perfectionist," she admits. "And I don't try to direct things without having an idea of what I'm speaking about."
Granted, the El Cortez — Las Vegas' oldest continually operating casino (built in 1941) — isn't Epstein's company, but it may be one day. The 27-year-old's father, Kenny Epstein, now the CEO and chairman, has helped run the 366-room complex since the 1960s. His daughter is the e.v.p., promoted after two years as executive manager, and you'd be hard pressed to find someone who says she didn't earn that title.
With a love for art history and an eye for design cultivated at Columbia, where she majored in art history with a pre-med concentration, Epstein is balancing her creativity with her business pedigree to realize a cosmopolitan vision for her native city. In just a few years she's become a rising star of the downtown — the city's other major district, apart from the famous Strip — spurred by Vegas pride to revitalize her neighborhood despite the greater economic woes.
"The area around Fremont Street on the North Strip is really where Las Vegas began," Epstein says of the area where the El Cortez is located. "Residents here see a silver lining. There are plenty of people who have taken the opportunity to leave, but I think those who have stayed, particularly downtowners, are very optimistic about the potential for change."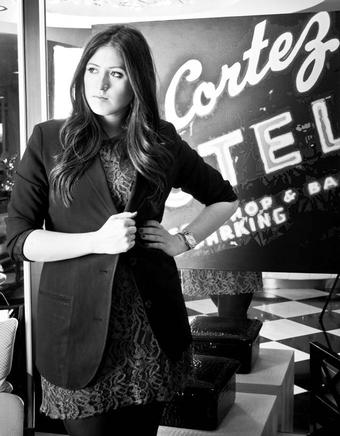 Alexandra Epstein '07 spearheaded a major redesign at her family's El Cortez Hotel & Casino in downtown Las Vegas. PHOTO: BRYAN HAINER
The El Cortez has been an important part of that change. In 2009, Epstein spearheaded a redesign of the hotel's smaller Cabana Suites, bringing the 66-room property from seedy "old Vegas" skeleton to a modern Miami Beach-style boutique hotel. In 2011, she helped the hotel run a contest for designers to revamp the El Cortez's luxury suites that was touted by the Las Vegas Sun as galvanizing interest in new construction and development in a city still struggling with a national mortgage crisis.
It's not only about the family business, though. Epstein also sits on the board of the Neon Museum, which houses many of the city's giant signage fossils, like that of Caesars Palace and the Golden Nugget; on the board of the Jewish Federation of Las Vegas; and on the University of Las Vegas Libraries Advisory Board. She is the youngest member of the City of Las Vegas Arts Commission, appointed by then-Mayor Oscar Goodman to help the commission with placement of new public art, from the new Las Vegas City Hall to outdoor parks.
"She is absolutely the personification of energy when it comes to the redevelopment of downtown Las Vegas," says Goodman, who has worked with Epstein on efforts to bring life to a newly designated entertainment district surrounding the intersection of 6th and Fremont Streets, north of the busiest part of the Strip. "She single-handedly transformed the El Cortez and the Cabana Suites into places that locals and tourists now flock to. Her taste is impeccable. That's why I appointed her to the arts commission."
As a Columbia student, Epstein fell in love with New York's bounty of museums and galleries; but she first fell in love with the idea of a community built around shared knowledge.
"I was really drawn to the Core Curriculum," she says. "I loved the idea that I would have this connection with the past, with people who had been coming to Columbia for decades."
Gathering community around shared knowledge and ideas can be seen in the vibrant Emergency Arts building, an old medical center on Fremont Street, owned by the El Cortez, which since spring 2010 boasts a new creative collective. With 42 tenant businesses, from galleries to web design and photo studios to a bustling coffee shop, Emergency Arts — its name a nod to the building's former use — is another example of Epstein's tenacity in turning good ideas into practical realities. Put together by Epstein and directors Michael and Jennifer Cornthwaite, the collective has been a shining example of revitalization, and how cheap real estate for artists can bring new commerce into downtown.
"It's an awesome concept, and she's made it a reality," says Heather Hyte, owner of the Rad Kisser photography gallery on the collective's second floor. "It's nice to get a lot of people with ideas to contribute to a common goal. To focus on something like that out of passion, even though it's not going to be a major payout, that says a lot about a person. Already, she's done a lot for this city."
Ben Johnson is a writer living in Brooklyn and working at Slate Magazine, where he is an editorial supervisor for Slate's video department, SlateV.