Around the Quads
Encyclopaedia Iranica Project Reaches Milestone
By Shira Boss '93, '97J, '98 SIPA
Ehsan Yarshater knows something about dedication. After four decades of work on the monumental Encyclopaedia Iranica, he announced the reference work has reached the midpoint of its completion: 15 published volumes, reaching into the letter K. Yarshater, the Hagop Kevorkian Professor Emeritus of Iranian Studies, also has been the project's primary fundraiser, successfully lobbying individual donors and the National Endowment for the Humanities (NEH) as well as contributing art and rare books for sale from his personal collection. Most recently, with the economy down and funding becoming scarce, he let go of a prized Rodin sculpture to support the cause.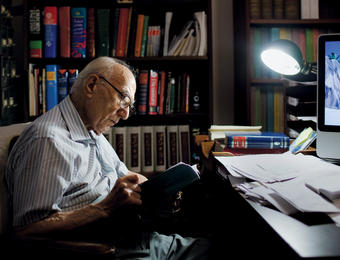 Ehsan Yarshater, seen here in his office, has dedicated 40 years to the Encyclopaedia Iranica project. PHOTO: MARCUS YAM/THE NEW YORK TIMES/REDUXCCT first profiled Yarshater, who conceived the research and publishing project in 1972, in November 2003. At that time, the Encyclopaedia was at letter H and its editors had started publishing entries online, out of alphabetical order. Now, all previously published volumes have been digitized into a free, searchable online version of the encyclopedia with 6,500 entries, including more than 850 entries published digitally in advance of eventual inclusion in the print volumes.
"At a time when accurate information about Islam and Iran is overlooked by Americans in place of simplifications and sound bites, the editors of [Enclyclopaedia Iranica] are performing a public service by making authoritative articles by eminent academics freely available," a reviewer for NEH wrote last year. "The quality, clarity and detail of the articles is remarkable. It is, bar none, the most accurate and trustworthy online resource I know of for information on Islam."
The Encyclopaedia covers not only Islam and the modern-day country of Iran but also the history, culture and science of all the lands that speak or once spoke any Iranian language. Another NEH reviewer called it "unequalled in the scholarly world for its depth, breadth and accessibility to academic and non-academic audiences alike." At completion it will rival the length of some general encyclopedias, but its anticipated 32–35 volumes are unique in their dedication to one country and one culture.
The Encyclopaedia contains extensive essays on art, literature, religion, philosophy, geography, customs, architecture, flora and fauna. But even those labels are too broad: flora and fauna, for example, are considered not only in terms of botany and zoology but also in terms of the uses of plants and animals in folklore and popular medicine. More than 40 languages and dialects have been covered thus far, with explanations of their grammar and sample vocabularies. Various calendars and festivals are catalogued; the stars and constellations are explored as astronomy, astrology and folklore. Clothing through the eras and across provinces is described, not just the style but also the material, and not just the cloth but also the actual weaving (the subject spans 28 articles). Entries extend right up to present-day topics, including Iranian cinema, ecology and feminist movements.
The Encyclopaedia is limited in its progress by the scarcity of experts to cover such vast ground. Scholars must be ferreted out globally and invited to write entries one at a time; more than 1,500 have contributed work so far. "If we had 2,000 scholars ready to write for us, the encyclopedia could finish in 1½ years," Yarshater says. As it is, the project is expected to take nearly another decade. Moreover, the number of Iranian scholars is declining by attrition — Yarshater says today's students cannot go to Iran to study as readily under the Islamic government, so they turn to other areas of the world. "The Encyclopaedia Iranica is not repeatable, because a number of elements came together and made it possible," says Yarshater, who founded the University's Center for Iranian Studies in 1968 and was chair of the Department of Middle East and Asian Languages and Cultures from 1968–73. He founded the project at Columbia (before the 1979 Iranian revolution) out of frustration that there was not an impartial and comprehensive pre-Islamic reference work in the field.
The Encyclopaedia is among the longest continually funded projects (33 years) supported by the NEH, and private donors once generously supported it as well. In the recent recession, however, NEH funding has been reduced to half what it once was (though the project receives the current maximum amount possible for its category, $300,000 for two years). Private donors have largely snapped their purses shut, and gala benefit dinners — which used to raise a half million dollars at a time — have been on hold since 2007.
Through the years, Yarsha­ter's own donations of books and art have been made via the Persian Heritage Foundation, which he formed in 1983 to support research on all aspects of the Iranian world. He'd resisted, however, when a representative of Christie's auction house, who was visiting his apartment on Riverside Drive, asked if he would be interested in selling The Kiss, a Rodin sculpture he bought from a Rockefeller at a 1975 auction. But in 2009, Yarshater changed his mind: "We needed money to run our project. I thought, the time of the Rodin had come."
The 34-inch-high sculpture has a lovely patina and is what Christie's described as an "extremely rare bronze cast, known as the Milwaukee version, one of only five created during the artist's lifetime from the plaster model of the classic sculpture." The auction house catalogue estimated it would bring $1.5–$2 million. Yarshater was working on the encyclopedia in his office when a Christie's representative called with news of the final hammer price: $6,354,500.
"Within a matter of weeks, the money was fed into our account, and our editors and other staff could be paid," Yarshater says. "Rodin came to our rescue."
The sale allowed the encyclopedia staff to expand by two editors; it now has eight. Yarshater, 92, works full-time as the project's volunteer general editor. In recent years he has also conceived and is general editor of another definitive reference project, the 20-volume A History of Persian Literature.
"I am hoping that with the help of my colleagues we can bring the Encyclopaedia project to the end of its first edition in 2020," says Yarshater. "If we succeed, a great project, in fact the greatest academic project ever conceived and carried out in the field of Iranian studies — and one that contributes to a variety of fields in the humanities — will have been achieved."
Shira Boss '93, '97J, '98 SIPA is contributing writer to CCT and a graduate student at the CUNY School of Public Health at Hunter College.