Around the Quads
Virginia W. Cornish '91 Named Helena Rubinstein Professor
Virginia W. Cornish '91, the first College alumna to become a tenured professor at the
University, has been named the Helena Rubinstein Professor of Chemistry.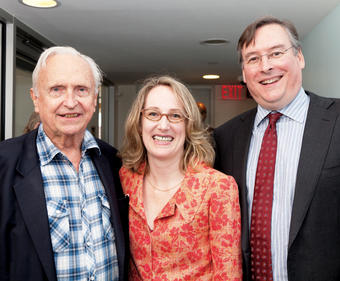 Virginia W. Cornish '91 is joined at the announcement by her colleague and mentor, University Professor Ronald Breslow (left), and Joseph Dougherty '95 GSAS, who also worked in Breslow's lab. PHOTO: SUSAN COOK
The Helena Rubinstein Foundation created a $2 million endowed professorship in
support of the advancement of women in science at Columbia, and Cornish was announced as the inaugural appointee of this chair on June 5 at the Northwest Corner Building, the site of her laboratory. Working at the interface of chemistry and biology, Cornish's lab brings together organic chemistry and DNA technology to expand the synthetic capabilities of living cells.
Trustees Chair Emerita G.G. Michelson '47L, longtime chair of the Helena Rubinstein Foundation, and Diane Moss, president of the foundation, were instrumental in working with Columbia to identify an appropriate and enduring recognition of Rubinstein's legacy. Rubinstein often said that her "fortune comes from women and should be used to benefit them and their children, to better their quality of life" and "to encourage women to undertake higher education and to pursue nontraditional careers."